New app reveals palm oil in Easter eggs
An easy way to find out if there's palm oil lurking in your supermarket product.
Palm oil in products revealed
---
Palm Oil Investigations (POI) has released the world's first palm oil barcode scanner app which identifies the certification status of palm oil used in thousands of products on supermarket shelves.
According to POI the app tells you immediately whether the product contains palm oil and if so, if it has been sourced ethically – ultimately making it easier for people to choose products that aren't impacting on the environment.
Tired of being palmed off?
Lorinda Jane, Founder and President of POI said "Our social media followers are constantly asking whether the products they are purchasing are palm oil free and if they aren't, whether the palm oil has been sourced ethically. This app removes any confusion as the consumer gets an answer as soon as the product is scanned."
POI is also using the app to pressure brands to alter their palm oil sourcing, so that the oil used in their products isn't contributing to deforestation, exploitation, destruction of the eco system, species extinction and human rights issues.
With 70% of Australians in CHOICE's latest survey telling us it's important to them that palm oil is labelled separately on the ingredients list, we think this app can help consumers in the absence of mandatory palm oil labelling.
Currently it's near impossible to work out if a product contains palm oil. In food it's usually masked as 'vegetable oil', 'vegetable fat' or even 'emulsifier 471' in the ingredients list. And with Easter just around the corner - and palm oil often being used in chocolate to help create a smooth and shiny appearance – the app could come in handy.
Palm oil in Easter chocolates
We took the app for a test run at our local supermarket and found a case in point when checking out these similar-looking Easter eggs: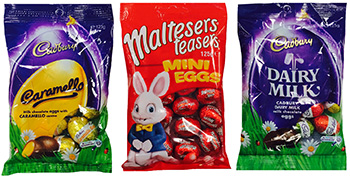 Cadbury Caramello milk chocolate eggs 125g
Maltesers Teasers mini eggs 125g
Cadbury Dairy Milk milk chocolate eggs 125g
Both the Cadbury Caramello milk chocolate eggs and Maltesers Teasers mini eggs list 'vegetable fat' in the ingredients list. And a scan of the barcodes reveals they both contain palm oil – with POI placing Mars (the company behind Maltesers) in a higher category than Mondelez (the company behind Cadbury) when it comes to its palm oil sustainability practices.
The app delivered the message "status not known" when we scanned the barcode of the Cadbury Dairy Milk milk chocolate eggs. But with no mention of vegetable oil, fat or emulsifier 471 on the label, we assumed that this particular product is palm oil free - and a statement from Cadbury on its Facebook page confirms this.
Mandatory palm oil labelling needed
"We believe that consumers have a right to know what they're buying this Easter. In order to make informed decisions, we would like to see palm oil labelling mandatory on food products," said CHOICE spokesperson Tom Godfrey.
"Whether it's for health reasons, environmental concerns, or to make food purchasing decisions that align with personal values and beliefs, consumers should be able to identify palm oil in their chocolate treats next Easter," Godfrey said.
What you can do
The Forum of Food Regulation Ministers will be looking at a recommendation this year which would see palm oil be identified on food products.
In the meantime if you want more information on palm oil when you're shopping go to
www.palmoilinvestigationsapp.com
and download the app.
---
Join the conversation

To share your thoughts or ask a question, visit the CHOICE Community forum.