Death linked to frozen pomegranate recall
A woman has died after contracting Hepatitis A from eating contaminated frozen pomegranate.
---
A South Australian woman has died from Hepatitis A, two months after eating contaminated frozen pomegranates which were the target of a nationwide recall.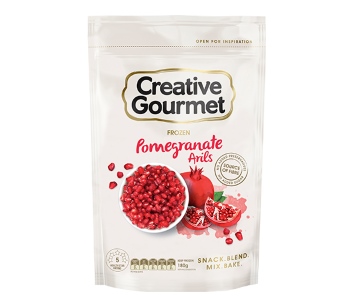 A packet of Creative Gourmet's Pomegranate Arils
Why were they recalled?
Creative Gourmet brand frozen pomegranates, sold in Coles supermarkets across Australia, were recalled in April after NSW Health determined that a number of people presenting with hepatitis A had all consumed the imported product. Genetic testing of those affected identified a unique strain of the hepatitis A virus known as genotype 1B.
Nationally, there have been 24 cases to date of hepatitis A linked to the recalled product.
Exactly which product?
Product name: Creative Gourmet Frozen Pomegranate Arils
Pack size: 180g
Date marking: All Best Before Dates up to and including 21/03/20
Country of origin: Egypt
Availability: Coles supermarkets nationally
I ate these pomegranates. Am I still at risk?
According to SA Health's Chief Medical Officer and Chief Public Health Officer, Professor Paddy Phillips, "The incubation period for hepatitis A is generally 15-50 days, so we don't anticipate further cases because the product was recalled two months ago."
"The majority of people infected with hepatitis A recover fully and the woman's death is the only death linked to this recalled product nationally to date," he adds.
I still have this product at home. What should I do?
If it's in your freezer, don't eat it. Instead, return it to a Coles supermarket for a refund.
Professor Phillips says: "While we expect most people would have disposed of the recalled product, we urge everyone to double-check freezers and remove any affected products. "Fresh pomegranate and frozen Australian-grown pomegranate products are not affected."
How did the contamination happen?
The details on this aren't yet known and will be the subject of an investigation.

NSW Food Authority says fresh pomegranate and Australian-grown frozen pomegranate aren't affected.
How will I know if I contracted Hepatitis A?
Hepatitis A is caused by a virus that spreads in contaminated food or through poor hygiene. Symptoms can present anywhere from 15 to 50 days after exposure, and could include nausea, vomiting, fever and yellowing of the skin, dark urine and pale stools.
In most cases, the symptoms will resolve after a few weeks with treatment, mainly rest and fluids.
Check with your local doctor as soon as you can if symptoms present.
The supplier name, Entyce, sounds familiar. Have they been in this kind of mess before?
Yes. Entyce previously recalled Creative Gourmet's frozen berries on two occasions due to a Hepatitis A contamination, first in 2015 and then again in 2017. The berries were imported from China.
---
Join the conversation

To share your thoughts or ask a question, visit the CHOICE Community forum.