Food supplier dealing with another hepatitis outbreak
Frozen pomegranate sold nationwide at Coles supermarkets is being recalled.
---
A food supplier with a history of recalling foods contaminated with hepatitis is at it again, this time issuing a nationwide recall of frozen pomegranate.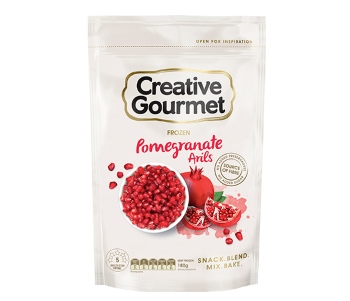 A packet of Creative Gourmet's Pomegranate Arils
What's being recalled?
Entyce, a food supplier with a history of recalling frozen berries carrying the hepatitis virus, is now recalling its 180 gram packets of Creative Gourmet's Pomegranate Arils. They were sold at Coles supermarkets across Australia.
Why are they being recalled?
The recall comes after seven people from NSW contracted a unique strain of the Hepatitis A virus, known as genotype 1B.
So far it appears to be contained within the state, however different state and commonwealth bodies are working together to make sure it hasn't spread as it can take up to 50 days for symptoms to present.
How did the contamination happen?
The details on this aren't yet known and will be the subject of an investigation.

The recalled product is imported from Egypt. NSW Food Authority says fresh pomegranate and Australian grown frozen pomegranate aren't affected.
I have this product at home. What should I do?
If it's in your freezer, don't eat it. Instead, return it to a Coles supermarket for a refund.
How will I know if I contracted Hepatitis A?
Hepatitis A is caused by a virus that spreads in contaminated food or through poor hygiene. Symptoms can present anywhere from 15 to 50 days after exposure, and could include nausea, vomiting, fever and yellowing of the skin, dark urine and pale stools.
In most cases, the symptoms will resolve after a few weeks with treatment, mainly rest and fluids.
Check with your local doctor as soon as you can if symptoms present.
The supplier name, Entyce, sounds familiar. Have they been in this kind of mess before?
Yes. Entyce previously recalled Creative Gourmet's frozen berries on two occasions due to a Hepatitis A contamination, first in 2015 and then again in 2017. The berries were imported from China.
---