Reducing waste at home with reusable food covers
The pros and cons of reusable food covers such as beeswax wraps and reusable sandwich bags.
Wrap stars
---
Lead image credit: Little Bumble.
There are many environmentally friendly 'green' alternatives to cling wrap, such as beeswax wraps and reusable silicon pouches. But with so many options available, it can be difficult to figure out which product is right for your needs.
We look at the pros and cons of four different types of reusable food covers.
Wax wraps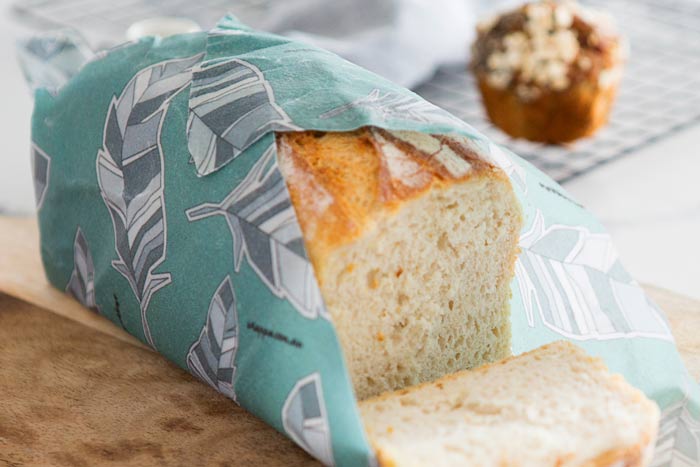 Image credit: Wrappa.
Brands include Bee Wrappy, Little Bumble, Apiwraps, Wrappa, Bee Green
What is it and what's it made from? Cloth wraps are coated with beeswax or, for vegan versions, soy or other plant waxes, making them flexible and helping them 'cling' to food or containers, particularly when they're warmed with the heat from a user's hands. Depending on the brand, they may be made with organic cotton and/or organic, plant-based dyes.
$RRP Most brands sell combo packs of various sizes, and prices vary depending on the size and quality. Bee Green Beeswax Wraps start at $3 for their extra-small size and $12 for their jumbo size.
Suggested uses Wrapping around fruit and vegetables or across bowls or other containers to keep food fresh.
Pros Can be washed and reused for up to 12 months. Then either re-waxed or composted in the garden.
Cons They can't be washed in hot water so they're not suitable for wrapping meat or fish and they can't be microwaved or put in the dishwasher. Some may also need a rubber band to properly seal them around containers.
Silicon food savers/huggers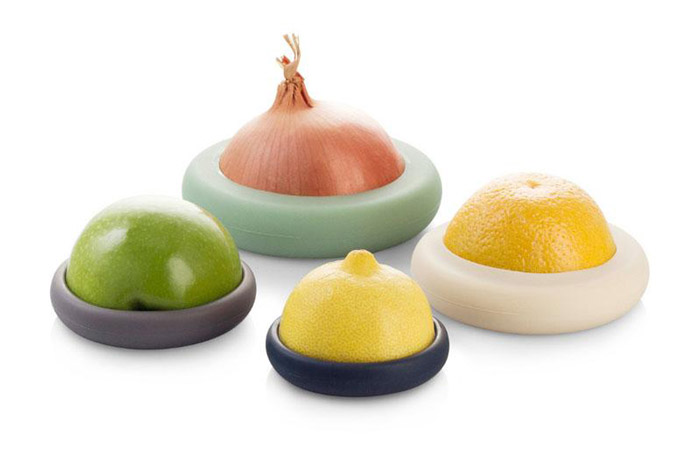 Image credit: Seed & Sprout.
Brands include Food Huggers, Farberware, Seed & Sprout
What is it and what's it made from? Shallow, expandable silicone 'cups' that 'hug' around the cut edge of fruits and vegetables, keeping them fresher for longer.
$RRP Various, depending on size. Seed & Sprout's four-pack of different sizes is $24 plus delivery.
Suggested uses Works on most fruits and vegetables including apples, onions and tomatoes. Can also be used over cans, jars and other small containers. Specialty shapes are sold that work best for avocados.
Pros Easy to use and they keep food fresher – and for days longer – than if food is left uncovered.
Cons Although they're reusable, once they tear or crack they're not biodegradable. They may pick up odours from strong-smelling food.
Reusable silicone 'film'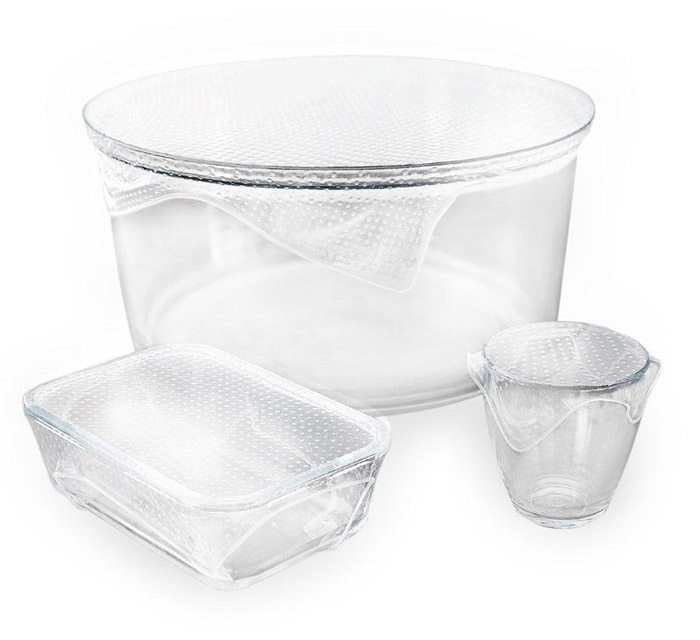 Image credit: Seed & Sprout.
Brands include Agreena, Seed & Sprout
What is it and what's it made from? Flexible, stretchy, reusable, food-grade silicone film that can be used in place of cling wrap or baking paper.
$RRP Agreena's four-pack of 2 x 20cm square wraps and 2 x 30cm square wraps retails for $24.95.
Suggested uses Covering food and baking.
Pros Dishwasher, microwave and oven-safe, although not at high temperatures.
Cons Non-biodegradable, although Agreena has a partnership with an independent recycling facility allowing customers to return used product for recycling.
Reusable sandwich bags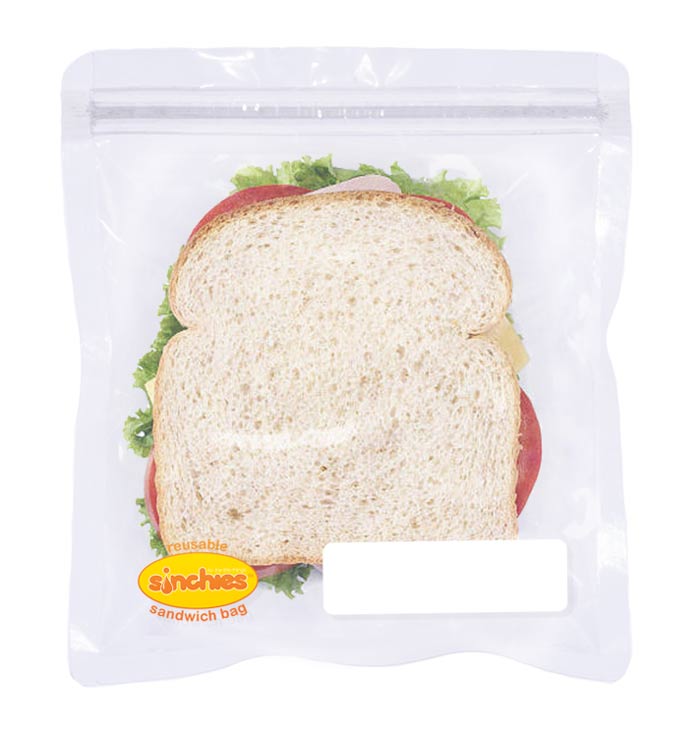 Image credit: Sinchies.
Brands include Kappi, Sinchies, Bare & Co, Ecopocket
What is it and what's it made from? Silicone or plastic reusable 'ziplock' bags and pouches
$RRP The Ecopocket starter pack of three pouches (1 cup, 2 cups and 6 cup sizes) retails for $19.99.
Suggested uses Storing any fresh food that would usually be stored in a disposable zip-lock pouch.
Pros Versatile and easy. Freezer-safe.
Cons Can be used in the dishwasher, but handwashing is more likely to get them clean. The plastic brands like Sinchies are not suitable for microwaves.
Reusable food covers growing in popularity
Green products like beeswax wraps and reusable silicone pouches are becoming increasingly popular for storing and transporting food.
"We saw a 500% increase in sales after our first year, and a 300% increase from last year to this year," says Sam Bala, who owns Blue Mountains NSW-based Bee Wrappy beeswax wraps with his wife Christine.
We saw a 500% increase in sales after our first year
Joanne Shumack from Upcycle Studio in the NSW southern highlands tells a similar story, adding that their reusable product sales including their own-label brand of metal lunchboxes have tripled in the last two years.
"There's an increase in customers who want to go plastic-free," she says. "We believe customers are looking for practical, good-quality solutions that are kind to the planet as well as their health."
RELATED: Can you BYO containers to Coles and Woolworths?
We asked members of our CHOICE Community whether they've used reusable food covers, and 83% of respondents said they've used beeswax wraps, 35% have used silicone lids, and 26% have used silicone ziplock bags.
CASE STUDY 1: "We'll never go back to plastic again"
Kristie Middleton, from the Blue Mountains in NSW, is the mother of two boys, five-year-old Benjamin and two-year-old James. When Benjamin began preschool she, like many parents, sent him with a packed lunch wrapped in plastic.
"The preschool didn't dispose of the rubbish, and when it kept coming home with him it became really clear how much we were using," she says.
First she tried simply leaving Benjamin's sandwiches unwrapped, but they'd come apart in his lunchbox and he'd refuse to eat them. After hunting local markets she bought a starter pack of Bee Wrappy beeswax wraps.
"I'd wrap sandwiches or make a little pouch for his sultanas," she says. "Or use it to wrap round different compartments of his lunchbox if there was wet fruit in it like watermelon, to stop it leaking into the rest of his lunch."
I'd wrap sandwiches or make a little pouch for his sultanas
Once the wraps had proved themselves on the lunchbox front, Kristie decided to buy more wraps for use at home.
"I think we have 10 in total now, which doesn't sound like much but it's all you need," she says. "You might wrap half an avocado, send a few in the lunchboxes but then things get eaten and they're freed up again."
She says most of her wraps have lasted around 12 months, although some don't last that long while others hang in there for longer. And both boys, she says, like picking out their favourite patterns to take to school.
"We'll never go back to plastic again," she says. "It's just one small step but it's something."
CASE STUDY 2: "Use the resources you already have"
Sydney-based Dan The Man Cooking is aiming to be the first catering company in Australia that provides a zero-waste catering service for their clients, which include businesses such as Tesla, Apple and Mastercard.
Managing director Ilana Cooper says the team is always testing out new products and methods to reduce and ideally eliminate their waste.
As a catering company their greatest reusable asset is simple, stackable containers. But they have also tried things such as wax wraps, food huggers and silicon wrap.
"They all have their uses but as a catering company we're less likely to have half an onion leftover so we don't really use things like food huggers," she says.
The company considered silicon alternatives to plastic cling wrap, but felt it was both too expensive and difficult to find in the larger sizes they required.
In the end, the group found that the key to minimising their waste was not to overthink things, and to make use of what they already had.
There are a lot of things you already have in the house that you might not think of as traditional food storage. Tea towels … or the old upside-down plate on a bowl
"We really just need something that will secure our food when we transport it, so any food-grade material will do," she says.
She urges consumers not to get too overwhelmed by the products out there.
"We've become so reliant on things like cling wrap that we think we need an alternative … but often we didn't need that product in the first place," she says.
"There are a lot of things you already have in the house that you might not think of as traditional food storage. Tea towels, for example, or the old upside-down plate on a bowl.
"There's definitely merit in being creative and using the resources you have."
Why use reusable food covers?
According to leading plastic wrap manufacturer Glad, the Australian plastic wrap market is worth $51 million, and nine out of 10 Australian households buy plastic wrap.
That's a lot of disposable, single-use plastic wrap potentially ending up in landfill, or the environment.
Plastic wrap is just one tiny percentage of the plastic we get rid of every year – the World Wildlife Fund says globally there are 53kg of plastic produced per person per year.
And if plastic production carries on as models predict, roughly 12,000 million metric tonnes of plastic waste will be either in landfills or in the environment by 2050.
It's no wonder that many households are looking for alternatives to plastic wrap and other disposable plastic food storage options such as sandwich bags.
Can I REDcycle cling film?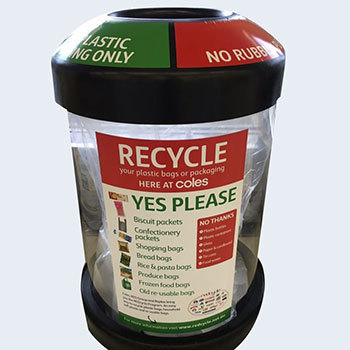 Image credit: REDcycle
While many types of soft, scrunchable plastic can be recycled at selected supermarkets through the REDcycle scheme, cling wrap isn't one of them.
"Some cling wrap is made of PVC, a material we are not able to process, and some isn't," says Rebeca J.O. Gleghorn, marketing and communications manager for REDcycle.
"The issue becomes that with them all mixed together, it's impossible to distinguish between the two once in the recovery system."
So unfortunately you'll need to bin your cling wrap instead – or get yourself some reusable food covers.
RELATED: How to recycle plastic bags and wrappers
Related:
We care about accuracy. See something that's not quite right in this article? Email us at factcheck@choice.com.au or read more about fact checking at CHOICE.
Shopping links on the CHOICE website
CHOICE is an independent, non-profit organisation dedicated to helping consumers. Clicking a buy now will take you to a retailer's website to shop. While we make money if you buy through some retailer links, this doesn't influence any rankings. 100% of the money we make goes straight back into our non profit mission. We're currently testing this service and will consider providing more shopping links in the future. Tell us what you think.
---