Does the latest food recall affect you?
Check here for details of the food product affected, why it's being recalled, who's at risk and what you need to do to stay safe.
Listeria-contaminated frozen vegies
---
Frozen vegetables sold under brand names Bell Farms, Black & Gold and Woolworths Essentials are being recalled, following concerns the products may be contaminated with Listeria.
Why are they being recalled?
The recall is due to possible microbial (Listeria monocytogenes) contamination. Eating food products contaminated with Listeria may cause illness.
Greenyard Frozen Belgium NV, a Hungarian food producer, is conducting the recall, which affects products supplied to multiple countries including Australia.
The European Food Safety Authority (EFSA) has reported that frozen corn and other frozen vegetables produced by the same Hungarian company are the likely source of an outbreak of Listeria monocytogenes that has been affecting Austria, Denmark, Finland, Sweden and the United Kingdom since 2015. As of mid-June this year, 47 cases including nine deaths have been reported.
Exactly which products?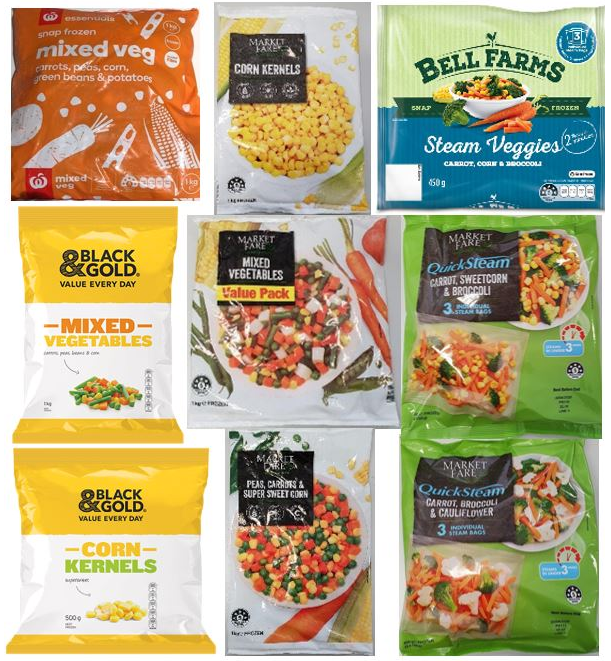 Pack images of the frozen vegetable products being recalled
Woolworths – Essentials Snap Frozen Mixed Veg: carrots, peas, corn, green beans & potatoes (1kg) – National distribution. Best Before 19 MAR 2020 through to 24 APR 2020
Woolworths – Bell Farms Steam Veggies: carrot corn and broccoli (3pk, 450g) – National distribution. All stock
IGA – Black & Gold Corn Kernels (500g) – National distribution. Best Before all dates
IGA – Black & Gold Mixed Vegetables: carrots, peas, beans & corn (1kg) – National distribution. Best Before all dates.
Aldi – Market Fare Peas, Carrots and Super Sweet Corn (1kg) – National distribution.
Aldi – Market Fare Corn Kernels (1kg) – Qld, Vic, WA and select NSW stores. Product of Hungary (only).
Aldi – Market Fare Mixed Vegetables (1kg) – Qld, NSW, ACT, WA stores. Packed in Belgium from Imported and Belgian Ingredients (only).
Aldi – Market Fare Quick Steam Carrot, Broccoli & Cauliflower (450g) – National distribution.
Aldi – Market Fare Quick Steam Carrot Corn and Broccoli (450g) – National distribution.
Aldi – Only products with country of origin of Belgium, United Kingdom or Hungary. All other countries not affected.
Where were they sold?
The products have been available for sale at Woolworths, Aldi, IGA, Campbells and independent grocery stores.
I ate this product. Am I at risk?
Any consumers concerned about their health should seek medical advice.
People at highest risk of contracting listeriosis are pregnant women and their unborn babies, the newborn, the elderly and people with low immune systems.
Listeriosis has a long incubation period (up to 70 days). Taking this into account, along with the long shelf-life of frozen vegie products and the consumption of frozen vegies bought before the recalls and eaten without being cooked properly, it's anticipated that new cases could still emerge.
I have this product at home. What should I do?
Don't eat it. If you've bought one of these products, return it to the place of purchase for a full refund.
How did the contamination happen?
The European Food Safety Authority (EFSA) has reported that it's likely the contamination occurred at the Greenyard Frozen processing plant in Hungary, despite the cleaning and disinfection procedures that were carried out. The same strains of L. monocytogenes have been detected in frozen vegetables produced by the same Hungarian company in 2016, 2017 and 2018.
Who should I contact for more information?
Woolworths: 1800 103 515
Aldi: 1800 709 993
Metcash (IGA): 1300 135 690
www.greenyardfrozen.com
Previous food recalls
Multiple people fell ill with Salmonella poisoning after eating contaminated alfalfa sprouts sold in South Australia. The sprouts were available for sale at Drakes Foodland, IGA and numerous greengrocers in SA. Experts postulated that the source of the contamination could have been from the water used for irrigation, manure or the soil itself. For more information people were asked to contact SA Sprouts, phone: 08 8352 6707
The products affected were:
Gourmet Sprouts Trio Pack - Alfalfa, Snow Peas and Small Sprouted Bean 100g
Fresh Organic Sprouts Alfalfa & Chinese Cabbage 125g
Fresh Organic Sprouts Alfalfa & Onion 125g
Fresh Organic Sprouts Alfalfa & Garlic 125g
Fresh Organic Sprouts Green Alfalfa 125g
Fresh Organic Sprouts Alfalfa 125g, 200g, 1kg
Fresh Organic Sprouts Alfalfa & Mustard 125g
Fresh Organic Sprouts Alfalfa & Radish 125g
Fresh Organic Sprouts Salad Mix 175g
All use-by-dates up to and including 28/6/2018.
A South Australian woman died from Hepatitis A, two months after eating contaminated frozen pomegranates which were the target of a
nationwide recall
. Creative Gourmet brand frozen pomegranates, sold in Coles supermarkets across Australia, were recalled in April 2018 after NSW Health determined that a number of people presenting with hepatitis A had all consumed the imported product. Genetic testing of those affected identified a unique strain of the hepatitis A virus known as genotype 1B. Nationally, there have been 24 cases to date of hepatitis A linked to the recalled product.
Six people died and many more fell ill as a result of eating
rockmelon contaminated with Listeria
. Rockmelons sold in supermarkets including Woolworths and Coles sparked an outbreak of listeriosis (also known as listeria infection), an illness that can be severe and fatal. All of the people affected contracted the condition before the contaminated rockmelons were destroyed, as Listeriosis can take more than a month for symptoms to present. Rockmelons traced back to a grower in Nericon, NSW, were identified as the common cause in all cases, prompting health and food agencies across different states to launch an investigation and coordinate a recall.
Four cases of hepatitis A were linked to Creative Gourmet's Mixed Berries, sparking the
second nationwide frozen berry recall
after a previous outbreak in 2015. Supplier Entyce Foods initiated a recall of 48,000 Creative Gourmet's Mixed Berries in 300 gram packs, most of which were sold at independent supermarkets by March 2017.
Up to 30 different types of pre-packaged and loose leaf lettuce mixes sold at Coles, Woolworths, Bi-Lo and a number of independent retailers around Australia were recalled following a
salmonella outbreak linked with the products
. The affected products, which were grown in Australia, were sold under the Coles, Woolworths, SupaSalad and Wash N Toss brands and came from a Victorian-based lettuce grower Tripod Farmers. A wide range of lettuce types were affected and included both pre-packaged and loose-leaf products such as spinach, rocket, cos and mesculin.
Seven different coconut drink products were
recalled
for not including necessary allergen warnings. The drinks, imported from countries including China, Taiwan, Malaysia, Thailand and Vietnam, were largely sold through Asian grocery stores and independent retailers. For people with dairy allergies, consuming these drinks could have serious consequences. The government stepped up efforts to remove those products containing undeclared allergens from the Australian market.
Packets of frozen mixed berries, sold under the brands Nanna's and Creative Gourmet by Patties Foods, were
recalled
as health officials linked a number of cases of hepatitis A in Victoria and NSW to the consumption of the fruit sourced from China and Chile. The frozen mixed berries were sold mainly in Woolworths, Coles and IGA supermarkets.The recall prompted renewed calls for improved
country of origin labelling
.
Why do food recalls happen?
A food recall is action taken by a food business to remove unsafe food from distribution, sale and consumption. All food businesses must be able to quickly remove food from the marketplace to protect public health and safety. FSANZ coordinates and monitors food recalls in Australia.
Recalls are classified according to the problem with the food. This includes:
undeclared allergen – due to incorrect labelling, incorrect packaging or contamination of the product by an allergen
microbial – contamination with pathogenic microorganisms such as bacteria, viruses or parasites
foreign matter – contamination with material such as glass, metal or plastic objects
biotoxin – contamination with biological toxins such as histamine in fish and paralytic shellfish toxin in oysters
chemical/other contaminants – contamination with substances such as cleaning products, pesticides, machine oil, etc
packaging fault – where an fault in the food packaging results in contamination (presence of glass/metal etc) of the food or a potential choking hazard.
---