Coconut drink recalls: cow's milk not declared on label
8 October 2015 | Consumers with a dairy allergy are being urged to note recent recalls of coconut drink products.
Unlabelled allergens
---
Government food authorities are urging consumers with dairy allergies and intolerance to take note of recent recalls of coconut drink products found to be laced with undeclared cow's milk. The government has also stepped up efforts to remove those products containing undeclared allergens from the Australian market.
Seven different coconut drink products have been recalled in the last five weeks for not including necessary allergen warnings. The drinks, imported from countries including China, Taiwan, Malaysia, Thailand and Vietnam, are largely sold through Asian grocery stores and independent retailers. For people with dairy allergies, consuming these drinks could have serious consequences.
Our table displays the products affected by the recalls.
Cracking down on mislabelled imports
Responding to the findings of undeclared milk in imported coconut drinks, the Department of Agriculture is conducting targeted border inspections. As of 18 September, imported coconut drinks are being tested for the presence of milk where it is not declared on the label. This action has been taken on coconut powders since 25 September. Two more products – Orthodox Coconut Palm and Sasaya Coconut Drink – have been recalled since that time.
The government says it's actively working with importers to ensure they're aware of their responsibilities in managing allergens in food. In its recent statement about action being taken on undeclared allergen in these coconut products, the Department of Agriculture said it's imperative that the importer knows what ingredients are in the food and whether these ingredients are allergens. Upon arrival, the importer must also ensure allergens are correctly declared on the label.
Serious risk to health
It's been reported that a nine-year-old child with a dairy allergy suffered a serious allergic reaction after drinking just a few mouthfuls of a supposedly 'dairy free' coconut milk. And undeclared allergens can have deadly consequences. In December 2013, a 10-year-old child died from an allergic reaction after drinking Greentime's 'Natural Coconut Drink', imported by a Sydney firm. The product contained milk, but this was not declared on the product label. The product was recalled a month later.
Coconut drinks have been growing in popularity in recent years. Countless photographs showing celebrities downing coconut water perpetuate the health fad status of this drink. And coconut milk, along with almond milk and other nut milks, is a standard milk alternative for vegans, as well as for those with allergies or intolerances to dairy and soy. Which makes it all the more important that details of these recalls are widely distributed.
Recalled coconut drink products
Any consumers who have a dairy allergy or intolerance shouldn't consume these products as this may result in a reaction. You can return the products to the place of purchase for a full refund.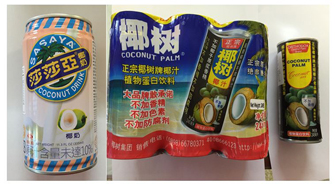 Orthodox Coconut Palm and Sasaya Coconut Drink
Package/size: 245mL and 335mL cans
Date marking: Orthodox Coconut Palm Best Before 6/May/16 and 25/04/2016; Sasaya Coconut Drink Best Before 2017/01/19
Country of origin: China and Taiwan
Distribution: Asian supermarkets in Queensland
Contact: Kaisi Australia Pty Ltd 0408255899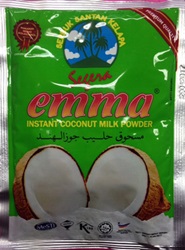 Emma Instant Coconut Milk Powder
Package/size: plastic foil single serve packet, 50g
Date marking: Best Before 29 04 2017
Country of origin: Malaysia
Distribution: Asian supermarkets in Victoria and South Australia
Contact: Lam Brothers Pty Ltd, 03 9311 7600, www.lambrothers.com.au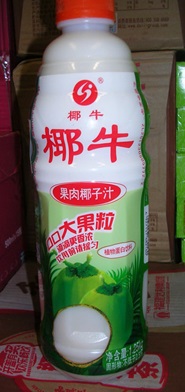 Coconut Juice
Package/size: plastic bottle, 1.25L
Date marking: Best Before 2016 06 09
Country of origin: China
Distribution: Asian supermarkets in NSW, ACT, Qld
Contact: Tongheng Trading Co, 0415187808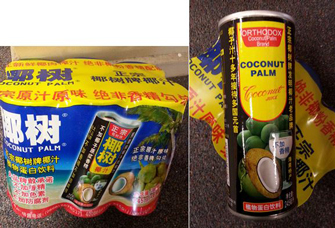 Orthodox Coconut Palm and Coconut Juice
Package/size: 6 pack 245ml in cans AND 1L tetra packs
Date marking: All best before dates
Country of origin: China
Distribution: Convenience and Asian grocery stores in NSW, ACT, and Vic, as well as VHT Perth in WA. Coles stores in NSW, Qld, ACT, Vic and SA
Contact: Sammi Australia 0405223612 OR VHT Perth 0412283860 OR Fortune Town Trading 0401729210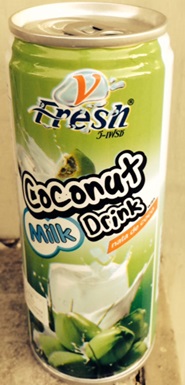 V-Fresh Coconut Milk Drink
Package/size: 240ml, aluminium can
Date marking: Best Before up to and including BBF 06/11/2016
Country of origin: Thailand
Distribution: Asian Grocery stores in NSW
Contact: Sunnation Pty Ltd, 02 9601 6088, www.sunnation.com.au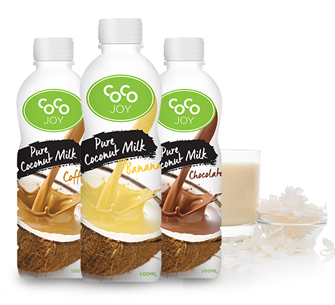 Coco Joy Pure Coconut Milk
Package/size: 500ml PP Bottle, banana, chocolate and coffee flavours
Date marking: All batches
Country of origin: Vietnam
Distribution: Independent retailers nationally
Contact: FAL Healthy Beverages Pty Ltd, 1300 325 238, www.cocojoy.com.au
---