Hot cross buns taste test
Which hot cross bun should you be putting in the oven this Easter?
Bun fight!
---
Christmas mince pies have barely left the supermarket shelves when hot cross buns make their appearance, so clearly Australians have quite an appetite for these spicy, fruity baked goodies – and not just at Easter.
We taste-tested hot cross buns from major supermarkets Coles, Woolworths and Aldi, bakery chains Baker's Delight and Brumby's and national online grocer Aussie Farmers Direct to see which buns are best.
In this article:
Best buns
Coles Traditional Fruit Hot Cross Buns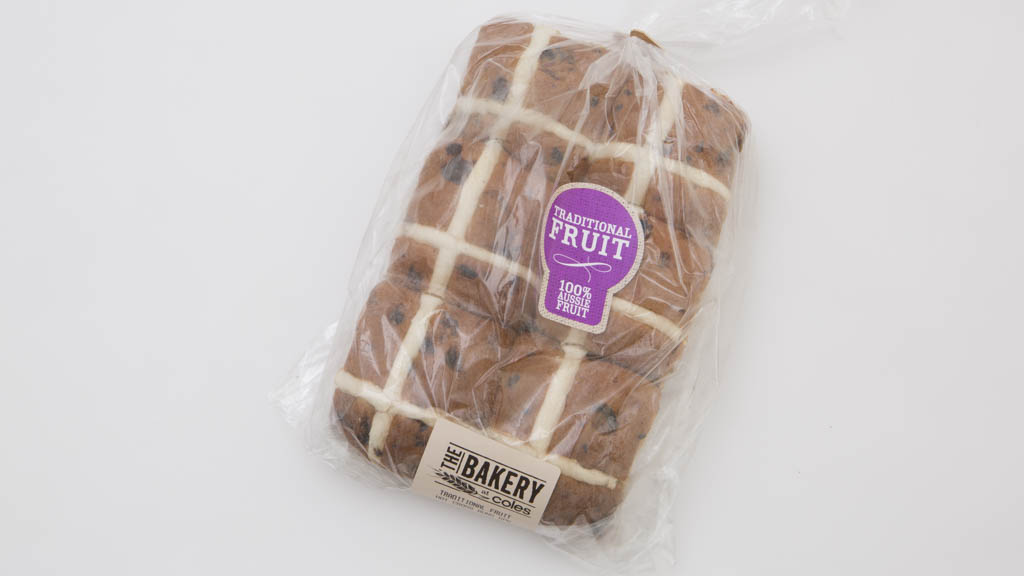 CHOICE RECOMMENDED
Score: 7.0/10
Price: $3.50 per 6-pack
The Coles buns wowed our testers not only with their flavour but also their texture. "Very nice tasting, lovely moist chewy texture," said one tester. "Moist and dense, but not too much so," said another. They were also described as having "a nice balance of sweet and savoury". An impressive 22 of the 37 tasters (59%) gave Coles their highest overall score. By comparison just 12 of 37 tasters (32%) gave runner-up Baker's Delight their highest overall score, although it received decent scores more generally.
Baker's Delight Traditional Hot Cross Buns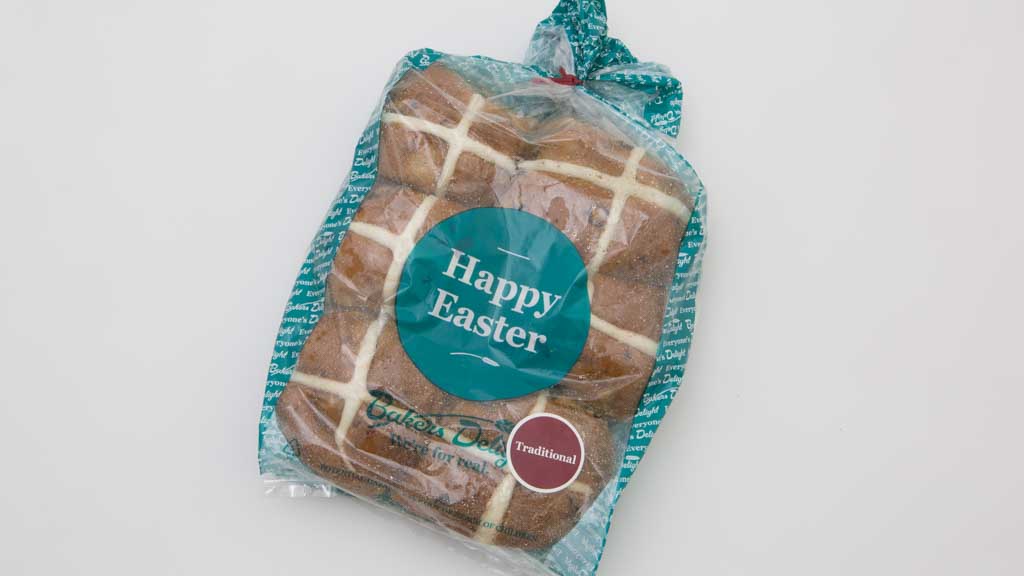 Score: 6.9/10
Price: $7.00 per 6-pack
They say "you eat with your eyes", and it certainly seems to apply to the Baker's Delight buns, which came a close second in our test. They received frequent positive comments about their glossy appearance such as "I love the gloss shine on the bun, gets me every time!" and "glossy top looks appealing and adds a little sweetness". And they weren't all style and no substance, as "tasty" and "soft" (in a good way) appeared regularly in the comments. They were popular overall, with 84% of testers saying they'd buy these buns (compared with 70% of testers who said they'd buy the buns from Coles).
Brumby's Traditional Hot Cross Buns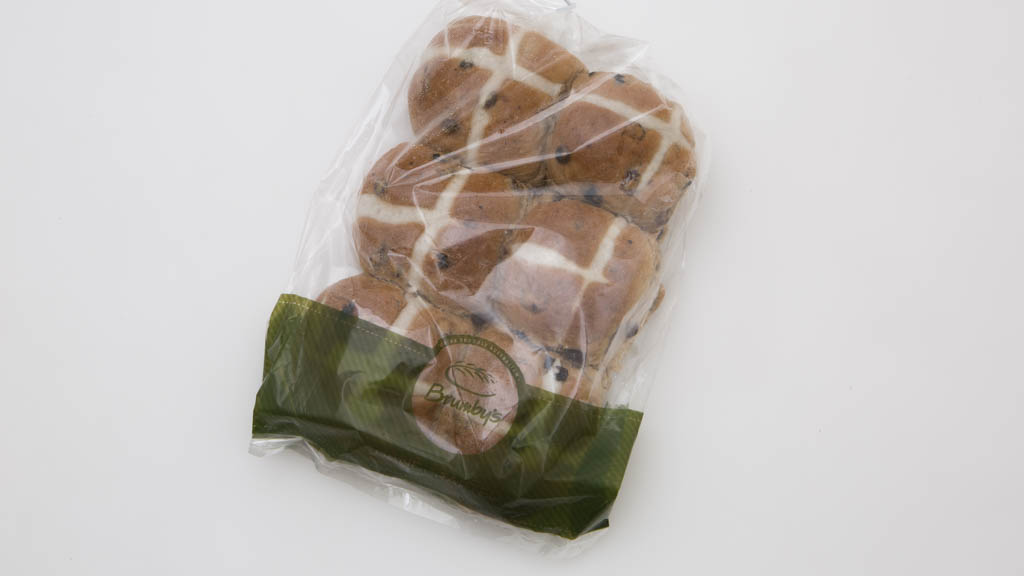 Score: 6.2/10
Price: $7.15 per 6-pack
Although testers generally found Brumby's buns to be tasty and were happy with the amount of fruit in them, for half of the testers they were lacking in spice and a bit dry. "Tastes quite nice, excellent fruit, but too dry," one commented. "Quite liked it but too sweet and not enough spice," wrote another. They were also the most expensive buns we tested, working out at $1.20 per bun when buying a six-pack.
Aldi Bakers Life Fruit Hot Cross Buns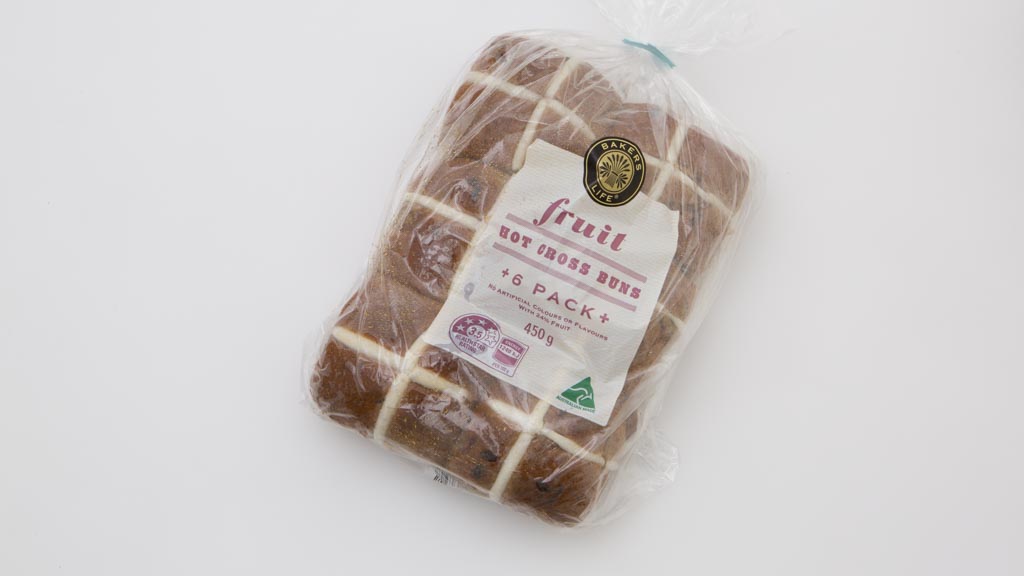 Score: 5.4/10
Price: $2.99 per 6-pack
These were the cheapest buns in the test, and quite the bargain at just 50c a bun. The overwhelming majority of testers reported these buns having too little spice and not enough fruit, and they were frequently described as bland – "a little bland, but passable", was one tester's assessment – and this is reflected in their average score. But if you're on a budget you could do worse than these as a snack with your cuppa or as a lunchbox filler for the kids.
Woolworths Traditional Fruit Hot Cross Buns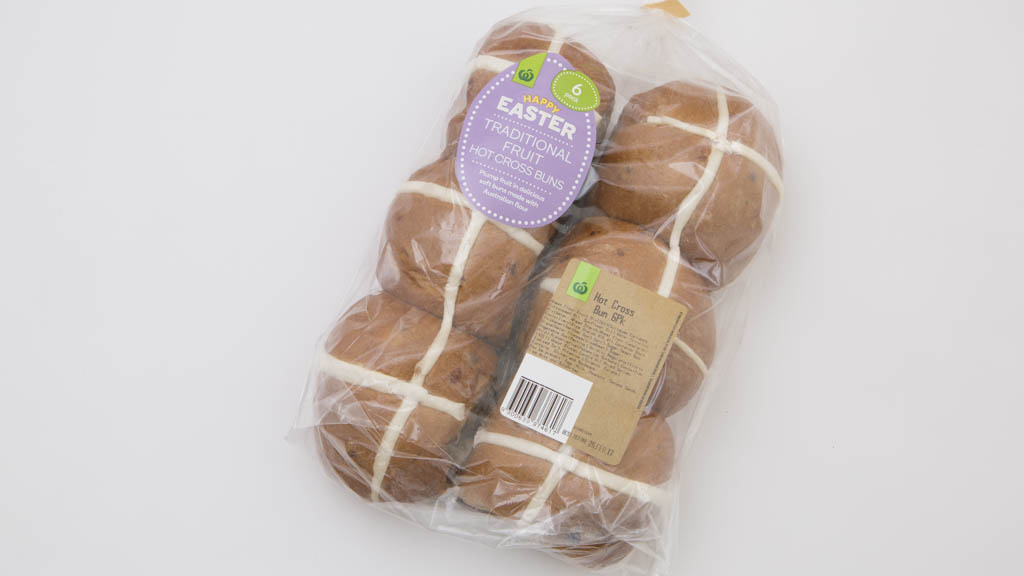 Score: 4.8/10
Price: $3.50 per 6-pack
Several testers remarked on the generous size of these buns, but most found them to be lacking in spice and fruit, and generally rather mediocre. "Boring to look at, boring to taste," announced one. "This bun came across as a lightly spiced bread roll, was too big and lacked substance," scribed another.
Aussie Farmers Direct Hot Cross Buns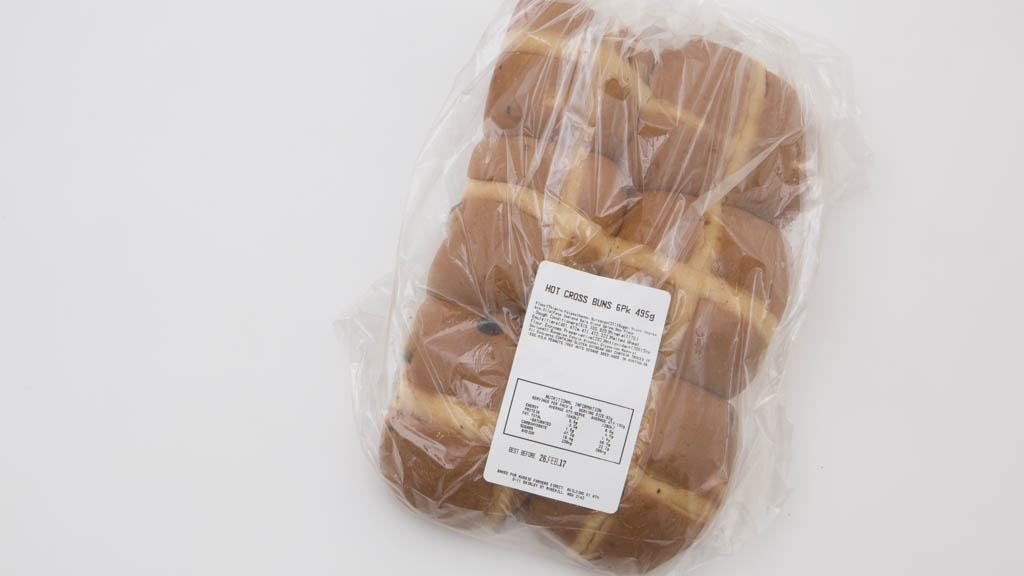 Score: 3.0/10
Price: $5.99 per 6-pack
On its website, Aussie Farmers Direct describes its hot cross buns as "award-winning", but unfortunately the only award they won in our test was the wooden spoon. Testers rated the buns as being dry and lacking in flavour with too little in the way of fruit and spice. "Very bland, like a bad bread roll dressed up as a hot cross bun," was how one tester summed them up, and comments from many of the other testers echoed these sentiments.
How do you like your hot cross buns?
We're spoilt for choice these days in the hot cross bun category. Fruitless, chocolate and gluten-free varieties are available as a matter of course in most major supermarkets, and flavours such as mocha or apple and cinnamon are sold in some bakeries.
But in an online poll completed by more than 100 Voice Your Choice members, we found traditional fruit hot cross buns are still a clear winner, voted by 78% of respondents as their favourite type. Fruitless buns received just 1% of the votes, with chocolate and gluten-free buns picking up 3% and 4% respectively.
Interestingly, our poll revealed that traditional fruit buns with peel were more popular than traditional fruit buns without (49% versus 29%). Sadly for peel-lovers, there was none to be found in the 'traditional' varieties we tested.
How we tested
Traditional fruit hot cross buns from six different retailers were blind-tasted by 37 testers. Each sample was tasted by all 37 testers, in a random order. Testers were asked to comment on aroma, texture and flavour and rate each sample out of 10. The score shown is the average score for each bun. Price is what we paid in February 2017.
Recipe: hot cross buns
Think you can do better than store-bought? Try following this recipe for hot cross buns shared with us by the national president of the Country Women's Association, Noela MacLeod.
INGREDIENTS
The buns:
1¼ kg flour, sifted
2 tablespoons sugar
2 tablespoons bread improver
1 dessert spoon dried yeast
1 teaspoon salt
½ teaspoon cinnamon
½ teaspoon nutmeg
1 teaspoon mixed spice
1 tablespoon powdered milk
1 tablespoon oil
1 egg
2½ cups warm water
1 cup sultanas
½ cup currants
½ cup chopped dried apricots
¼ cup mixed peel
The crosses:
2 tablespoons plain flour
½ cup cold water (approx.)
The glaze:
2 tablespoons sugar
1 teaspoon powdered gelatine
1 teaspoon mixed spice
¾ cup water
METHOD
For the buns, combine sugar, bread improver, yeast, salt, spices, powdered milk, oil and half of the flour in a warm basin.
Add egg and warm water, beat with an electric beater for 5 ½ minutes.
Add dried fruit and the remaining sifted flour. Mix well.
Turn out onto a floured board and knead until dough is smooth and elastic.
Place back into the bowl, cover with plastic, and stand in a warm space until dough has doubled in size.
Turn mixture out onto a floured surface and knead well.
Divide into bun-sized pieces (approximately 60g) and shape into buns.
Place on a greased/lined oven tray and leave in a warm place until well risen.
Preheat the oven to 220°C (200°C fan-forced).
For the crosses, place flour into a small bowl and stir in enough water to make a smooth paste.
Use a piping bag to pipe crosses over the risen buns.
Place buns into a moderately warm oven and bake for 15 – 20 minutes. They're ready when they're golden brown on top and sound hollow when you tap them.
For the glaze, combine all ingredients in a small saucepan, stir without boiling until sugar and gelatine are dissolved.
Brush glaze over cooked buns while they're still warm from the oven.
---