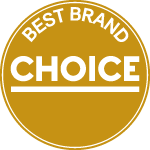 As the manager of testing TVs at CHOICE, I'm often asked: "So Denis, who's making the best TVs at the moment?"
CHOICE tests a lot of TVs in our labs – around 100 models each year. We cover more than 90% of the market, discovering many great models as well as plenty we wouldn't recommend.
Best Brand results are for CHOICE members only.
Our guide to buying the best TV is free and has lot of great information and advice.
CHOICE Best Brand helps guide you when choosing a product – with the knowledge that not only has the brand performed well overall in our lab testing throughout the year, but it's also well regarded by CHOICE members for customer satisfaction and reliability.