School lunchboxes
Which products should you pack in their lunchbox and which should be left on the shelf?
School lunch hits and misses
---
We give you the lowdown on which lunchbox products are worth putting in your child's lunchbox and which ones should be left on the shelf.
Pre-packaged processed snacks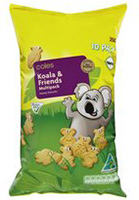 You don't have to look far at the supermarket to find all kinds of pre-packaged processed foods claiming to be great for school lunchboxes, but not all lunchbox snacks are equal.
When we rated more than 200 processed snacks, we found that most of them left a lot to be desired. However, a few did make the grade.
Cereal and muesli snack bars
Muesli bars tend to have a healthy image – after all what's not to like about a bar full of wholegrains and dried fruit? But bars are often loaded with sugars (to hold them together) and fat (to make them taste good). And of course if your school has a nut-free policy, many of the bars you can buy aren't suitable for lunchboxes.
So we scoured the supermarket shelves to find lunchbox-friendly options, then compared them nutritionally.
Squeezy yoghurts
Yoghurt is a great source of protein and calcium, and squeezy pouches of yoghurt are a lunchbox favourite. But are they healthy? We took a closer look at 38 different squeezy yoghurts to see if they live up to the on-pack claims.
Crackers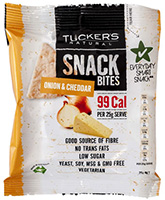 Crackers are often a lunch box go-to as a savoury recess snack with a topping or some cheese on the side. But while crackers are convenient for school, our research finds that not all crackers are equal when it comes to nutrition.
We recently compared the health star rating of crackers from brands including Arnott's, Sakata, Sun Rice, Coles, Woolworths and more, and discovered that while some brands received a five-star rating, many others were no healthier than a packet of chips.
Savoury cracker reviews – we compare more than 300 types of crackers to find which are the healthiest, and which deliver more salt and fat than any kid needs in a day.
Fruit drinks
While many kids adore fruit juice (despite water being the best drink for them) there are hundreds of brands out there and some are far healthier than others. We reviewed fruit juice poppers, so if your child is hankering for a popper in their lunchbox from time to time, see our list of the best buys on the market.
'Canteen approved' logos
A swathe of 'school canteen approved' and 'meets school canteen guidelines' claims and logos have found their way onto the packs of certain snacks sold in supermarkets, most making reference to the National Healthy School Canteens Guidelines and/or at least one of the state-based canteen guidelines.
Finding the right balance
It's unrealistic to expect to pack the perfect lunchbox for your child every day, but we've put together a guideline of what's important and what you should aim for in the mix.
Lunchbox tips:
Kids in Australia typically start the school year at the hottest time of the year so food safety is a top priority. Keep things cool by using an insulated lunchbox or bag.
Pack a frozen drink (the best choice is water) and pack it in with the food to help keep it cool until lunchtime, especially for yoghurts, cheese, meats or salad.
The freezer is your friend – if you pre-make your child's lunches pop them in the freezer until it's time to pack them into the school bag. Bread, cheese, vegemite and meats such as ham all freeze beautifully.
When the lunchbox comes home (hopefully empty), be sure to wash and dry it carefully, and turf out any cracked or broken boxes and water bottles.
Many schools now have a policy of banning nuts and nut-based foods due to children with allergies. Be sure to familiarise yourself with your school's policy and learn to read food labels if you're buying lunchbox snacks.
Little kids starting school often struggle with unfamiliar lunchboxes and tricky packaging. If you have a new school starter make sure they get some practice opening their shiny new lunchbox before their first day. And if you do include packaged food, consider opening it for them beforehand. Not only will this ensure your child won't starve, but thousands of kindergarten teachers across the land will thank you.
---
Join the conversation

To share your thoughts or ask a question, visit the CHOICE Community forum.