How to buy the best school shoes
Does price matter when it comes to school shoes and quality?
A lesson on school shoes
---
Researching which school shoes to buy can leave parents feeling like they're failing at comprehension. Why are some so expensive? Are the cheaper ones OK? Buckles, Velcro or laces? And why-in-the-name-of-all-that's-holy do my kids wear them out so quickly?
It's an annual dilemma for parents of school-aged kids (and sometimes a bi-annual dilemma if the kids have a growth spurt). In the January back-to-school frenzy, you'll find 'school-suitable' shoes from as little as $15 to more than $130. So how do you know which ones to choose?
Video: See how we test school shoes
Why is it so important for school shoes to fit properly?
The bones in young children's feet don't fuse together until puberty. Kids' feet can lack muscle strength and be prone to hypermobility, so firm, supportive shoes help protect their feet while they're growing.
"A good school shoe provides a stable home for immature bones," says Charlotte Bodell, a podiatrist and spokesperson for the Australian Podiatry Association. "Without that support, children are in danger of developing flat feet, sore knees, shin splints and even back pain. A good shoe that fits properly is important."
Always have both of your child's feet measured.
Make sure your child's toes don't touch the end of the shoe. Ideally, there should be a gap about half the width of your thumb between their longest toe to the end of the shoe.
If you can see the outline of your child's foot squashed up against the shoe, then it's not a good fit. Make sure the shoes are wide and deep enough.
Your child should be comfortable in the shoes straight away, without feeling any pain or pressure points.
Shop for shoes in the afternoon; kids' feet tend to swell throughout the day.
Don't be tempted to buy a larger size your child can 'grow into'. Shoes that fit well support and protect vulnerable and growing feet.
Kids' feet grow quickly and can change shape as well as size. Experts recommend doing a size check at these intervals:
One to three months up to the age of three.
Every four months up to the age of five.
Every six months until your child stops growing completely.
What to look for
"The best kind of school shoes should be supportive, durable and comfortable with a good gripping sole," says Bodell. Here's what you should look for:
Flexibility in the front. Pick up the shoe and try to bend it by pushing the toe upwards. A good shoe will bend at the ball of the foot but no further. This helps your child 'push off' with their toes while keeping the back half of their foot stable and secure.
...but not too much flexibility. Shoes that bend all over or are easily twisted don't provide enough support.
A good school shoe will have a small heel. While this may sound counterintuitive, a low heel keeps your child's foot in a neutral position. An entirely flat shoe can cause your child's toes to 'claw' when walking.
Not too heavy. Heavy shoes can mean muscle pain and foot aches, especially for little people.
Plenty of toe room. Check that your child can wiggle their toes and that the 'toe box' (the empty space at the end of the shoe) is deep.
Leather uppers last longer and allow your child's feet to breathe.
The sock liner or insole should be soft, comfortable and made of an absorbent fabric to reduce sweating. You should be able to remove it easily, in case you need to replace it with an orthotic.
Shoe laces, buckles and Velcro are all equally good, but avoid slip-on shoes that can't be adjusted.
When is it time for new shoes?
When toes are touching the end it's time to size up.
When the tread on the bottom of the shoe has worn away, as they can be too slippery.
Lots of wear on the side or scuff marks may mean the shoe is too tight.
When there are holes in the toes, or the heels are worn down badly.
What about trainers?
Both our experts were unanimous in their opinion that trainers (runners) are an excellent option for school children if the uniform policy allows them. As long as the trainer isn't designed to be a super flexible shoe (like a Nike Free), then a quality training or sports shoe has the advantage of being very supportive and light as well as holding the foot stable.
Bodell says the only downside is that many trainers have a mesh upper which can wear out quicker than a leather shoe, yet often cost just as much. But she says more running shoes are being made for school children with a black leather upper, which will wear much better.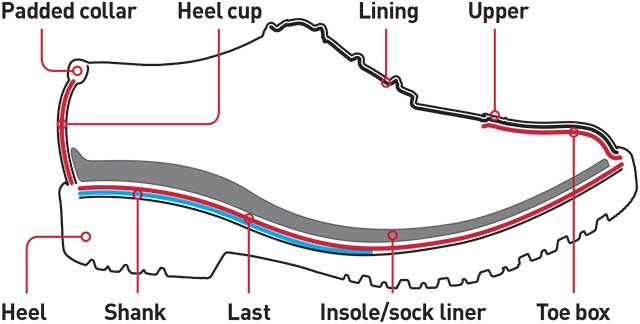 Does price matter?
Kate McArthur, director of City Feet Clinic and a podiatrist with a background in shoe analysis and fitting, says shoes are made differently and with different materials depending on their cost.
So what does the extra money buy you?
Higher quality shoes tend to be stitched instead of glued.
Cheaper shoes often have cardboard for the last (the piece that runs through the sole of the shoe to help hold its shape), while more expensive shoes may use a harder wearing polyurethane material.
Better made shoes will also have well-padded lining made from breathable fabrics and use less synthetics.
The soles of some shoes may be 'blown out', which means there are air pockets inside the sole. Blown out soles can provide cushioning a create a lighter shoe, but they can also make the soles wear out and sink down more easily.
Popular brands compared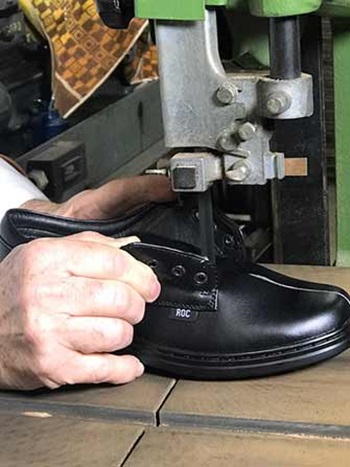 With such a wide variety of school shoes on offer at very different price points, it can be confusing to work out which shoes are best for your child and your budget. So we've taken a closer look at a handful of popular shoes.
This is by no means an exhaustive test of what's on the market, but it will give you some insight into what you get for your money.
We bought five pairs of classic black lace-up school shoes ranging in price from $35 to $139.95 to see what the differences were.
We cut each shoe from toe to heel and asked podiatry experts McArthur and Bodell to assess them.
Here's what the experts found:
Clarks – Daytona Senior (RRP $139.95)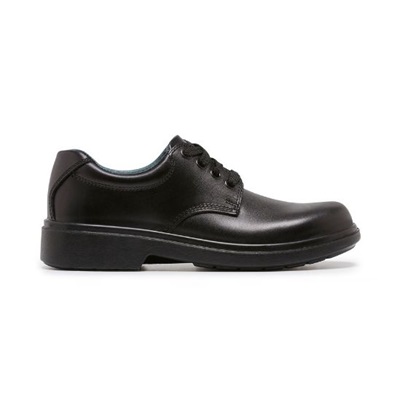 Good points
Supportive, padded heel cup.
Deep, roomy toe box.
Firm toe cap.
Suede lining reduces sweating.
Sturdy last.
Steel shank from heel to midfoot to prevent bending.
Solid sole.
Good heel height.
Bad points
Expensive – particularly if you need to buy multiple pairs each year.
Tread may wear down more easily than other shoes because it doesn't run very deeply on the sole.
ROC – Larrikin (RRP $129.95)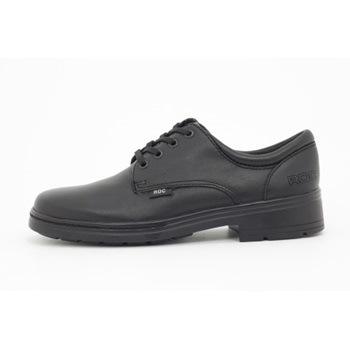 Good points
Steel shank from heel to midfoot.
Sturdy last.
Good heel height.
Fairly lightweight.
Bad points
Heel cup isn't very sturdy.
Synthetic sock liner.
Soles are blown out.
Lynx – Arrow (RRP $79.95; we paid $59.95 on sale)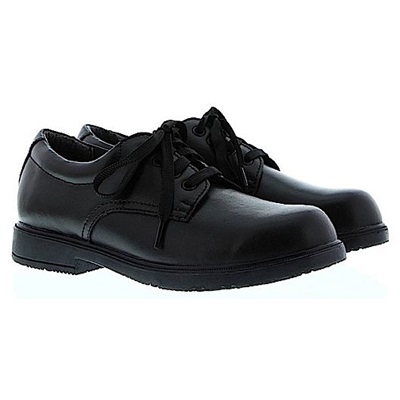 Good points
Firm, sturdy heel cup.
Steel shank from heel to midfoot.
Deep toe box.
Removable sock liner.
Suitable heel height.
Bad points
Last is made of cardboard.
Soles are blown out.
Synthetic sock liner.
Grosby – leather lace-up boys shoes (RRP $35)
Good points
Bad points
No steel shank.
Last is made from cardboard.
Quite heavy.
Synthetic sock liner.
Flimsy heel cup.
Soles are blown out.
Soles too spongy and soft.
Top of shoe is quite wide – not suitable for narrow feet.
Target – Eton Grad lace-up school shoes (RRP $35)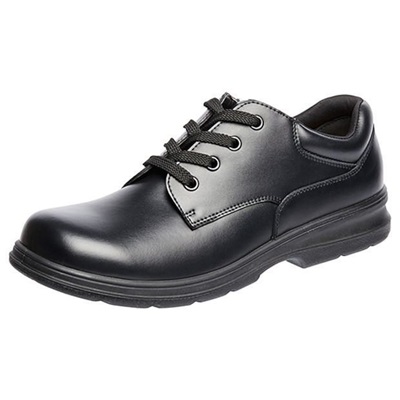 Good points
Lighter than other brands.
Bad points
Too flexible and soft.
Soles are blown out.
No steel shank.
Last is made of cardboard.
Synthetic sock liner.
The verdict
Both our experts called the Clarks shoes the 'gold standard' and agreed they were the best of the bunch, being very good quality and coming in a range of widths and lengths.
However, both commented on the high price. This is something to consider if your child's feet are growing quickly and you may need to go up a size before the shoe wears out.
Bodell thought the Lynx shoes were a good product for a good price, and rated both the Target and Grosby shoes as poor.
McArthur also rated the Grosby shoes as poor, but said the Target shoes could be an option if your child's feet are going through a growth spurt, meaning wear and tear is unlikely to be an issue.
"They aren't great, but they'd be OK if your child is only wearing them for a few months as a budget option," she says.
Shoe clues – spotting problems with your child's feet
A school shoe can indicate if your child is having issues with their gait or if they need to be assessed by a podiatrist. Here are some things to watch out for:
If the shoe is worn down unevenly, this could mean your child has a mechanical imbalance in their foot and may need orthotics.
If your child's big toe is coming through the top of the shoe, they could be hyper-extending their toes as there isn't enough arch support.
---