Junk food advertising to kids
One in four Australian children is overweight or obese. Is junk food advertising part of the problem?
Do ads make kids fat?
---
Around the globe, governments and communities are grappling with the social, financial and health costs of overweight and obese populations. There are many reasons for this weight gain – sedentary lifestyles, too much screen time and not enough exercise are a few, but one of the biggest factors, of course, is food.
Portion sizes have increased dramatically. People cook at home less and eat out more, and junk foods and drinks are cheaper and more readily available in public spaces and schools than healthy snack foods.
Children are becoming overweight earlier in life, and obesity has been associated with the increased number of children and adolescents diagnosed with type-2 diabetes. Obese children are also more likely to become obese adults.
Experts are calling for governments to step in and impose restrictions on junk food to help curb childhood obesity, but so far authorities have adopted a wait-and-see strategy, allowing the food and beverage industries to experiment with self-regulation. Food companies, meanwhile, shift the blame onto parents.
So what can be done about this apparent stalemate? In the absence of government restrictions, CHOICE investigates strategies to help parents and communities wind back junk food intake and promote more nutritious choices.
Why don't we help kids just say no?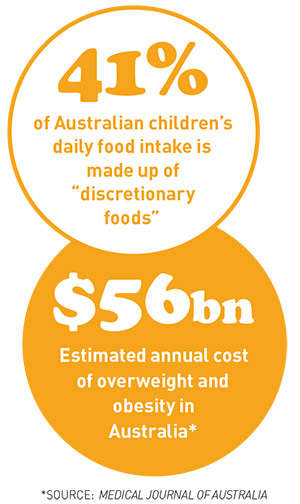 Big food and drink companies are under fire from health advocates and parents for bombarding children with junk food advertising and sophisticated marketing techniques. It's not just TV advertising influencing children anymore – they can be reached in many ways, through new and constantly evolving media platforms.
The food and beverage industry's argument around junk foods is that parents should educate their kids about eating unhealthy food in moderation as part of a balanced diet and active lifestyle.
But the reason moderation is so hard, say health advocates, is that those same companies pushing moderation are undermining parents at every step by spending vast amounts on advertising, and marketing unhealthy foods and drinks to influence children's preferences.
Research has also shown advertising plays an important role in promoting unhealthy eating habits, influencing the brands children choose and encouraging them to like energy-dense salty, sugary or fatty foods.
"The battleground between the food industry and parents is certainly not a level playing field," says associate professor Teresa Davis from the University of Sydney Business School. "Advertising to kids is all-pervasive - [it's] a multi-billion dollar industry with sophisticated, constantly evolving psychological techniques. We expect individual parents to be smarter than clever market researchers and branding experts, but not all parents possess the nutritional knowledge to counteract misleading marketing messages."
Reversing kids' preferences from unhealthy to healthy foods is hard, she says, when kids are swamped with messages about "treat" foods and there is almost no promotion of healthy food.
How marketers influence children
Food and drink companies now have many ways to reach children as the line between entertainment and advertising is increasingly blurred.
It's not just the ads on TV. Children are targeted via:
the internet
social media
viral marketing
celebrity endorsements (particularly sports stars)
product placement in TV shows and films
supermarket promotions and discounts
smartphone "advergames" with embedded brand messages and licensed characters (Hungry Jack's "Shake & Win" smartphone app, for example, generates vouchers for free or discounted food when users shake their phone at any Hungry Jack's store.)
Food and drink companies are interested in selling products but also creating brand loyalty in children that they will carry into adulthood. According to information from a children's marketing conference, "a lifetime customer may be worth $100,000 to a retailer, making effective 'cradle-to-grave' strategies extremely valuable. For this reason, building brand loyalty is critical and marketing to kids is the best way to do so."
At this point there's little evidence that self-regulation has had an impact on the amount of junk food advertising children are exposed to.
Brand awareness through sport
McDonald's say they don't advertise or market to children under 14 – yet they create brand awareness by sponsoring children's sports such as Little Athletics, Hoop Time basketball, and Swimming Queensland. KFC and Milo are sponsors of Cricket Australia. Coca-Cola sponsors Bicycle Network, which has a Happiness Cycle program for teens.
"Fast food companies sponsoring sports undermines the healthy eating messages that governments and parents are trying to promote," says Jane Martin from the Obesity Policy Coalition (OPC). "It normalises the relationship between junk food and sport, sending the message that if I play sport, I can eat what I want."
She argues that junk food promotion should be minimised, while the promotion of nutritious foods needs to be increased to help normalise and reinforce healthy eating in kids.
Experts call for regulation
"What the government's up against is a powerful, well-funded food and beverage industry," says Kerin O'Dea, professor of population health and nutrition at the University of South Australia. She argues junk foods are highly profitable, and it's not in the industry's financial interest to cooperate with public health initiatives - but when governments mandate regulations, the industry does toe the line.
"In the past, governments have legislated to force changes that are good for public health, like seat belts in cars and smoking laws," she says. "But while Australia has been a world leader in the fight against big tobacco, we're quite timid when it comes to the processed food industry, and the media companies that make money out of junk food advertising."
Opponents of government intervention are disdainful of "nanny state" policies. However, O'Dea argues critics of intervention need to realise that the massive financial costs – like the estimated $56 billion spent on obesity annually in Australia – are borne by the whole community.
"The National Broadband Network is called expensive at $30 billion in total," says O'Dea, "but the financial costs of obesity are more than that every year."
The World Health Organisation weighs in
There are no simple solutions to the obesity problem, and no single approach is likely to be effective. However, a World Health Organisation report concluded that marketing of junk food to children has damaging consequences and that tightening restrictions on marketing is central to the fight against childhood obesity.
"In a perfect world this would mean banning all advertising and marketing of discretionary foods to children under 12," says Dr Mark Lawrence, associate professor in public health nutrition at Deakin University's School of Exercise and Nutrition Sciences. "Research consistently finds that government regulation of advertising is among the most cost-effective interventions for obesity prevention."
Regulation saves money on long term healthcare costs, and it doesn't cost much to change the law to protect the rights of children in this way, says Lawrence.
Jane Martin, executive manager of the Obesity Policy Coalition (OPC), agrees. "Getting junk food out of junior sport would be a good start, followed by restrictions on advertising of unhealthy food in the highest-rating children's programs between 6.00pm and 9.00pm."
Has industry self-regulation worked?
In the face of strong evidence that junk food ads are part of the obesity problem, the food industry has created voluntary codes to restrict the advertising of unhealthy foods "directed primarily at children".
In 2008, the National Preventative Health Taskforce recommended legislation be introduced if voluntary self-regulation failed to phase out junk food marketing within four years.
In 2012, the Australian Food and Grocery Council (AFGC) claimed self-regulation had been a success, pointing to an independent review that found "the majority of signatory companies are going beyond the requirements of self-regulatory initiatives".
However, an Australian Communications and Media Authority (ACMA) report in 2012 noted that research done by the AFGC found there was no reduction in the rate of "non-core" food advertising by all AFGC companies, and said there was insufficient evidence to determine whether the codes had affected the rate of food and beverage advertising on commercial free-to-air TV.
The Obesity Policy Coalition believes the voluntary codes have had little impact because they define television "primarily directed at children" as P-, C- and G-rated shows that air in the morning or early evening, and rarely cover shows watched by kids during the family timeslots between 6.00pm and 9.00pm.
Independent surveys in Europe, Asia, Australia and North America have also found that self-regulation codes by the food and beverage industry have made little change in the past five years to the amount of advertising seen by children.
What do the experts suggest?
According to Kerin O'Dea, professor of population health and nutrition at the University of South Australia, the community can make incremental healthy changes, and these can cause positive shifts in community perceptions and behaviour.
As well as regulation of advertising and marketing, the health experts CHOICE spoke to want to see:
state governments mandate, and enforce, healthy foods in school canteens and vending machines
physical education teachers employed (rather than class teachers taking sport) and the current requirement for schools to offer 120 minutes of moderate to vigorous exercise a week to be enforced
mandatory kilojoule labelling in fast food stores extended nationally
better food labelling that is easier to understand.
What can parents do?
Parents can do their part to minimise the impact of junk food advertising and encourage healthy eating.
Explain to kids how too much high-kilojoule, low-nutrition food can contribute to weight gain, which can then lead to health issues such as diabetes and heart disease.
Reinforce healthy eating messages with simple guidelines like "Go for 2 & 5" (two serves of fruit and five serves of veges per day).
Distinguish between "everyday foods" (healthy foods) and "sometimes foods" (junk foods).
Reduce sugary drinks (fruit juice and soft drinks) and treats in lunchboxes.
Offer smaller serving sizes.
Sit down to dinner together with the TV off.
Restrict screen time to two hours a day, at the most.
Keep an eye on what your kids watch and the apps they are downloading.
Teach kids about how advertising and marketing works so they are not simply passive consumers of media messages.
What can communities do?
Teaching kids to cook and participating in school garden projects will help kids learn about nutrition and where food comes from.
Many schools are resistant to converting to healthy canteens and vending machines, saying they need the money to fund school programs – but when parents and schools find out there are cases where canteens with healthy food experienced higher sales, they are more inclined to make healthy changes.
For more information on food advertising and resources for parents, see Junkbusters, The Parents' Jury, Obesity Policy Coalition, or the Healthy Kids Association.
---
Join the conversation

To share your thoughts or ask a question, visit the CHOICE Community forum.