Cause-related marketing
Do companies that claim to give a portion of the profits to charity really do good?
Shopping for a cause
---
Among the many product labels you see when browsing supermarket shelves, you'll often find some that claim to support a good cause. But is the product maker really helping a charity when you buy their products, or is this just a marketing ploy designed to exploit your sympathies?
Who benefits?
What's known as cause-related marketing should be a win for all parties involved. So says Hailey Cavill, who's been developing cause-related partnerships between companies and charities for almost 20 years through her business Cavill + Co. However, depending on how well the partnership has been arranged, some cause-related marketing campaigns may be more effective than others.
Although the emotional part of our brain may be moved by a brand's decision to align with a charity, it's important to remember that the brand has most likely made this decision primarily for business reasons. "[Brands] can see a sales increase of up to 5–10% [as a result of cause-related marketing]," says Cavill.
As well as potentially increasing sales, partnering with a charity can also have a positive influence on the way consumers view a brand. Research in 2012 found cause-related marketing has a better impact on consumers' responses to brands than other marketing strategies such as sales promotions or sponsorship, provided the charities with which brands partnered were a good fit.
But does it help the charity?
"Cause-related marketing can generate significant funds for vital causes," says Rob Edwards, CEO of the Fundraising Institute of Australia (FIA). Provided all relevant laws are being abided by, and it's in line with its Code of Ethics and Professional Conduct, the FIA has no issue with it.
But it's probably fair to say that we can't just shop our way to a better planet. Cavill argues that, in general, the amount raised through cause-related marketing is quite a small part of a charity's overall fundraising budget. Despite this, she argues the money raised can be critical as it is untied, meaning it doesn't have to be earmarked for a particular purpose.
"A lot of charities are good at getting tied income from government or sponsorships, [but] the hardest thing is [getting] untied money they can use to pay staff and so on," says Cavill. One such example is the partnership she secured between Vaalia and the Murdoch Children's Research Institute, which has been able to fund experimental research as a result of untied money.
Cause-confusion?
While Cavill says the amount raised is often small in the scheme of things, it's not always. In some cases, cause-related marketing can actually account for a significant proportion of a charity's overall income. Each October, around 80 partners use the National Breast Cancer Foundation's (NBCF) pink ribbon logo to help raise around $5m for research, which equates to about 20–25% of the charity's income.
However, the sheer number of NBCF partnerships leaves consumers open to confusion. Carole Renouf, CEO of NBCF, told CHOICE there's a number of other organisations supporting women with breast cancer through other means and they are "entitled" to use the colour pink. "NBCF does not own 'pink' nor do we own the pink ribbon," she says.
Since other unofficial partners are able to use the breast cancer ribbon and the colour pink, it can be difficult for consumers to know what cause they are actually supporting. Pantene Pro-V's Daily Moisture Renewal Shampoo, for example, uses a ribbon similar to the well-known NBCF ribbon, with the words "supporting women with cancer". It's not unreasonable for a shopper to think that by purchasing the product, a percentage of the sale price would go to the NBCF. But that's not actually the case; rather, it's a Pantene campaign encouraging women to cut off their ponytails so that wigs can be made for women with cancer.
Free advertising?
Given that many charities don't have big marketing budgets, another potential benefit for them is the free advertising, which is expected to raise the profile of the charity. But whether this is actually the case is contested. US research on college students in 2011 suggests consumers who buy products linked to social causes are less likely to then donate to a charity. But Cavill disagrees, pointing out that her work with Sweeney Research in 2008, which used a sample representative of the Australia population, found 47% of consumers would consider donating to the charity that's associated with a particular product.
Who's paying?
In order for charitable marketing to be beneficial to all parties, surely the money given to charities should come out of the brand's bottom line rather than consumers' wallets? That way, everyone wins – charities receive a financial benefit, consumers help the charity without paying for it, and the brand reaps a marketing reward. Unfortunately, however, it's very difficult for consumers to know whether or not prices have been inflated to include the charitable contribution. If they have been, it's akin to consumers paying the charity while the brand just reaps the marketing reward.
How does cause-related marketing work?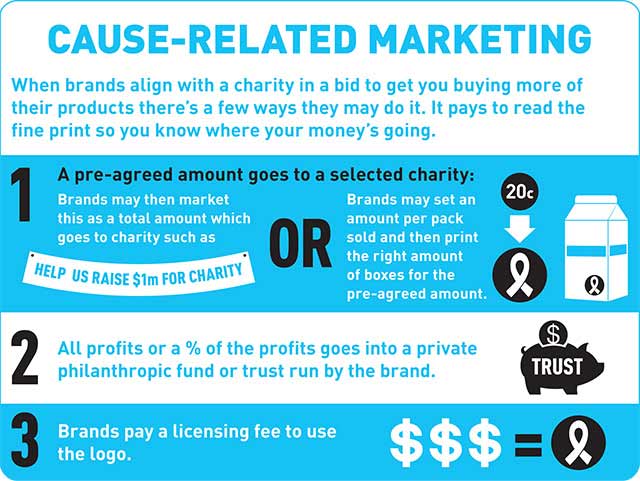 Partnerships between charities and brands can be done in various ways, which can make it confusing for consumers. So it pays to read the fine print to make sure you know where your money is going.
Cavill arranges partnerships by setting a total pre-agreed amount based on current sales; this way, the charity hasn't sold its brand too cheaply if the product fails to sell. Many products aligning with charities still specify a set amount such as 20c per sale, or a percentage amount of the recommended retail price (RRP). But if the total amount has been pre-arranged, as Cavill identifies, then the brand must print the right amount of boxes to match the agreement.
But some brands can be vague about the amount they give. Banrock Station, for example, says "part proceeds of every glass you enjoy supports environmental projects around the world". When we asked Banrock Station how much was given per sale, they said it is calculated based on the volume of wine sold but didn't provide specific figures. However, they did say they have raised more than $6m since 1995 for their own environmental trust, which equates to a little over $300,000 each year.
So how much should brands be contributing?
"As long as the company is genuinely contributing a decent sum of money, then it's a win-win," says Cavill. She suggests that just looking at the amount given per pack could be misleading. It's better to look at the total amount the brand is giving as it gives a better idea as to whether or not it's a meaningful amount, she argues, as different products have different profit margins and sales' rates.
It's not always easy for consumers to know how much money is being given to a charity in total. When we asked around various brands for the total figure being donated, we found there isn't much transparency. A Cotton On spokesperson told us it "do[es] not like to communicate this figure externally", while the director of Madura, Ron Ford, told us the contract they have with the Cancer Council was confidential. Madura does say it donates five per cent of the RRP on the box as well as saying "Help Cancer Council raise $13m". This highlights the importance of wording as Madura has not actually committed to donate $13m, they are simply contributing to the Cancer Council's goal.
Licensing fees
There are also partnerships where there's no mention of money. Kimberley-Clark's Viva paper towels use WWF's logo along with a Love Your Forests campaign. "WWF receives a licensing fee for use of the panda logo from Kimberley-Clark, but the fee is not linked to how many units are sold," a spokesperson for Kimberley-Clark told us.
Kimberley-Clark points out the Love Your Forests campaign is not about fundraising but rather about promoting awareness of sustainable forestry. Yet while the program is arguably genuine about the certification scheme and its goal of raising awareness of, not money for WWF, Kimberley-Clark's sales and market share have increased as a result of the partnership. Consumers who don't pay attention to the finer details could quite easily be duped into thinking at a glance that a proportion of the money they spend on Viva paper towels does go to WWF.
But are consumers buying it?
Despite the potential for brands to increase sales as a result of cause-related marketing, consumers' support for it has been waning. Cavill's research in 2008 found almost one in four people said they had switched from a usual product to one supporting a charity, but that's since dropped to around one in six.
One gripe consumers have with this sort of marketing is that it may simply be a tokenistic gesture to win more customers without making their businesses more ethical. When we asked your thoughts about this on our Facebook page, Kathleen said she "prefers to support companies that respect people, animals and the environment. If they can get this right, then we don't need the remedial action of charities".
Is this sort of marketing a tokenistic gesture to win more customers without having to make businesses more ethical?
Ivan thinks the practice in unethical. "Excess profits should be applied to improving the product, improving employee conditions, rewarding investors and paying taxes, not a cabal of 'old boys' making dubious charity choices for us."
This growing scepticism among consumers has served to keep brands more honest and transparent, argues Cavill. "It doesn't serve them to be dishonest with vigilante consumerism rife."
CHOICE verdict
Cause-related marketing promotions offer consumers the opportunity to make a small contribution to a good cause, but it can't replace actual giving. These promotions can be effective for charities, but it should never be forgotten that cause-related marketing is first and foremost a business transaction.
Don't get cause-washed
Check the price. Are prices inflated compared to other similar products on the market?
Only buy a product you actually want. Otherwise, you're better off directly donating the money yourself.
Check the label. Product-cause partnerships should be transparent about how much is being contributed (if any) to the charity as a product amount, percentage or total amount.
---
Join the conversation

To share your thoughts or ask a question, visit the CHOICE Community forum.