The problems with ticketing
No matter the event, you'll likely be slugged a whole lot of extra charges for tickets.
Tickets taking you for a ride?
---
Most Australians are likely to attend a sporting or cultural event at least once this year. And whether it's a concert, sporting event or the theatre, chances are you're going to have to buy a ticket – and that's where the trouble starts.
When you buy tickets from ticketing agencies such as Ticketek and Ticketmaster, you pay a double commission in the form of "inside" and "outside" charges – and you're even paying to use your own ink and paper to print out your ticket at home.
Consumers should not be continually frustrated by outdated booking systems, especially when paying top dollar to use them. CHOICE believes all components of a ticket price should be revealed to consumers up-front. Feedback we've had from CHOICE members reveals outrage not only at the extra charges for a largely automated delivery system, but at the deceit in hiding the charges within the receipt.
The big two
Although the Australian ticketing industry is made up of a number of companies, Ticketek and Ticketmaster are the two major players selling sports, concert and theatre tickets.
According to Ticketek, it processes 18 million tickets to more than 13,000 events every year, and services 225 venues and clients. These include Sydney's ANZ Stadium and Allphones Arena, the SCG and MCG, Suncorp Stadium in Brisbane, Canberra Stadium and the Adelaide Entertainment Centre.
Ticketmaster claims to ticket more than 10,000 events every year. It has the exclusive ticketing rights for Melbourne's Etihad Stadium, the Sydney Entertainment Centre, Brisbane Cricket Ground and WA's Patersons Stadium.
When CHOICE looked into ticketing back in 2009, we found these exclusivity agreements with venues were constricting competition.
At that time, we wrote: "To get exclusive ticketing rights, these companies have to pay the venue owners 'key money', which they recoup through high ticket profit margins. The result is a duopoly that does little for competitive pricing… event owners and producers may have a choice of venue, but they have no choice of ticket seller when the exclusive ticketing rights of the venue have been signed over to a particular ticketing agency."
Alarm bells over ticketing have continued to sound ever since.
ACCC gets involved
In 2010, the ACCC took action against Ticketek after investigating its treatment of discount-ticketing retailer Lasttix.
In December 2011, the Federal Court imposed a penalty of $2.5m on Ticketek, finding that on four separate occasions Ticketek engaged in conduct with the anti-competitive purpose of deterring or preventing Lasttix from supplying its services.
"Ticketek's market strength allowed it to do things it may not have done in a more competitive environment," ACCC chairman Rod Sims said at the time.
"Their behaviour towards Lasttix was opportunistic, anti-competitive and found by the court to be unacceptable."
Booking and postal charges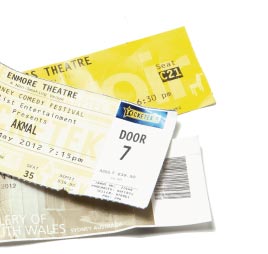 According to industry insiders CHOICE spoke to on the condition of anonymity, Ticketek and Ticketmaster both levy an inside charge – in some cases operating on a sliding scale – that can be up to about 10% of the cost of the ticket.
We have not been able to confirm this charge with Ticketek, while Chris Forbes, CEO of Ticketmaster, did not confirm or deny these charges, saying, "I cannot breach commercial in confidence and disclose ticketing arrangements between ourselves and our clients".
Outside charges can also be high. Fans wanting to buy tickets to Kanye West's 2014 Yeezus tour in Sydney through Ticketek had to pay a "service/delivery fee" of $6.45 for tickets they had to print out themselves, or $8.85 if they wanted the tickets mailed to them via regular mail. And then there's the credit card surcharge.
Meanwhile, theatre-lovers buying tickets to Wicked in Melbourne via Ticketmaster were slugged an $8.25 "handling charge", a "payment processing fee" for paying with a credit or debit card, and an additional charge of $6 if they wanted to have their tickets mailed to them.
Sanna Cormick is an avid concert and music festival attendee. She goes to multiple events each year, and is concerned about the avalanche of charges she pays.
"The excess fees for postage, credit card fees and transaction fees are ridiculous, and ticket prices here are extremely expensive compared with the rest of the world," she says.
"I remember lining up at the box office at 9.00am to get tickets. But now we do it online. I don't think the transaction fee is fair when we do all the work. The ticket companies already get a percentage of the ticket sales."
Ticket tech woes
Ticketek and Ticketmaster have been in the press for all the wrong reasons, with stories circulating of programming errors and malfunctioning websites unable to cope with high consumer demand.
Specifically, in the past few years Ticketek has been slammed for its handling of sales for the One Direction and Prince concerts, while Ticketmaster was criticised after its pre-sale of Radiohead tickets didn't go according to plan. Ticketmaster's Chris Forbes says the Radiohead pre-sale problems were due to a programming error.
"The website did not crash," he says. "The issue was quickly resolved."
Software to blame?
Antiquated software may be to blame. Bartek Marnane is technology director at News Ticketing, which operates ticketing vendors Moshtix and Foxtix. Although unwilling to comment directly on Ticketek and Ticketmaster, he agrees the issue may at least in part be technical.
"Ticketing companies run complex transactional systems that need to cater for large spikes in demand, particularly when a popular event goes on sale," he says.
"There are many technical innovations that allow a ticketing company to handle large volumes, but these may not be available to those tied to older ticketing technology.
"Cloud computing, as an example, offers an opportunity for a ticketing company to scale their systems to handle any sized capacity, but requires a degree of integration and capability that may not be possible on older systems. Having used this capability recently, we were successfully able to cater for the expected high consumer demand of a popular event."
So although there's a hefty price tag attached to the use of the two big ticketing agencies, they may not be best placed to take advantage of new and improved technology that can provide a better experience for consumers. The trouble is, thanks to contracts that bind certain venues and events to the two, there's no incentive to improve.
"Generally, large venues that commonly host sell-out events have multi-year contracts with particular ticketing agencies," says Marnane.
"This means venue managers and promoters have limited options if they're unhappy with the service they receive and the experience their consumers go through during the ticket-purchasing process."
Scalping pain
Teenager Gaynor Jenkins is a big fan of UK boy band One Direction. When the group announced it was coming down under for a whirlwind East Coast tour, she was desperate to get her hands on tickets, which went on sale at 9.00am Eastern Standard Time.
Unfortunately, Perth resident Jenkins didn't realise she would have to account for the time difference. By the time she did, it was too late.
"They're very popular and they haven't come to Australia before so everyone was on a high," she says. "But the show sold out in three minutes, there were no tickets left at all! I couldn't believe it, I was so shocked. I'd already booked my flight to Brisbane, because they weren't playing in Perth."
When Jenkins searched for tickets to the show on eBay, she discovered she could still attend – at a high price: "There was a pair of tickets being sold by someone for $4000 each. Two tickets that should have been $79!"
Ticket scalping is the resale of tickets for more than the original price, by someone who hasn't been authorised to by the presenter.
Like those $4000 tickets to One Direction, tickets of every description to sold-out events are traded openly on eBay.
"People make a living off scalping," says Sanna Cormick. "They hog everyone's tickets and sell them for ridiculous prices."
Is buying tickets from a scalper safe?
Fans may be tempted to buy tickets from online scalpers, but there are a few things to consider, despite the high feedback scores of some sellers. In some states, scalping tickets for sporting events is illegal and those caught engaging in it can face large fines.
In Australia, there is no regulatory body overseeing the setting of ticket prices or pricing structure of tickets, but Live Performance Australia (LPA) is the peak body for the live entertainment and performing arts industry. LPA says its members, which include producers and promoters, venues, ticketing companies and festivals, usually state in advertisements that "additional charges" apply to the advertised price, in a bid to be as transparent as possible about ticket costs.
LPA has a Ticketing Code of Practice, voluntary for the industry but binding for its members. As ticket scalping constitutes a breach of terms and conditions of the Code, LPA members may cancel scalped tickets without providing a refund.
Lucy Smith (not her real name) is an industry insider with extensive experience working at a major venue and for a promoter. "Promoters and ticketing agencies are looking out on eBay for the novice who has printed their ticket number, or who has taken a photo of a part of the ticket we can use to identify the person who bought it," she says.
"Agencies are also bound where possible if they can to void the ticket. The good thing is if they've got the barcodes they can cancel them."
Aside from cancelling scalped tickets, some ticketing agencies are also attempting to discourage scalping in other ways. Ticketek and Ticketmaster, for example, limit the maximum number of tickets that can be purchased in one transaction.
Moshtix aims to deter scalping, according to Marnane, by "collecting the name and date of birth of attendees at time of purchase and printing these on the tickets, limiting the number of tickets able to be purchased in each transaction...[and] cancelling tickets on discovery of a re-sale attempt not in accordance with a Moshtix supported process."
But eBay says ticket scalping is not the reason for inflated online auction pricing. It claims in this video that the problem is to do with the relatively small proportion of tickets that are actually released for public sale.
Cancellation protection
There are some benefits to buying tickets through established ticketing vendors. Some, including Ticketmaster, Ticketek and Moshtix, offer refunds in cases where events are cancelled or postponed. Ticketek and Ticketmaster both also sell ticket insurance, which allows customers to seek a refund in certain circumstances. But if a ticket is purchased through a scalper, or directly from a third-party site like Viagogo, the consumer may not be so lucky.
That's what happened to consumers who had tickets to The Rolling Stones' cancelled shows in 2014. Consumers must be able to show proof of purchase of tickets in order to be eligible for a refund. If you bought your tickets through a third party, such as through eBay or a ticket scalper, this may be difficult to get.
Extra charges at the cinema
Why is it that when you go to the movies – whether at Hoyts, Event, Village, Dendy or Palace cinemas – you get slugged a fee for booking your ticket online, when no such fee is charged for walk-up customers?
Village states this booking fee "covers the administration, development and maintenance required to provide this convenient service to our customers".
Hoyts explains the fee as a payment for premium service: "The main benefit in purchasing tickets online is that you will receive priority service when you collect your tickets. Hoyts Red Carpet delivers a fast and easy way to collect online tickets from a busy box office environment. You are also guaranteed seats for the session and cinema of your choice."
CHOICE believes online bookings save cinemas time and money – instead of having to pay a staff member to select seats, speak with a customer and process payment, the customer does this work for them.
Encouraging online bookings also helps cinemas predict demand for movie sessions. As one annoyed cinema-goer, Russell Barnett, asks: "Shouldn't doing all the work entitle the consumer to a discounted ticket?"
To help make the movie outing more affordable, check out how you can make your dollar go further at the flicks in our article Savings at the cinema.
---
Join the conversation

To share your thoughts or ask a question, visit the CHOICE Community forum.