Australia's weak product safety laws
Businesses are not legally required to ensure the products they sell are safe.
---
Mandatory safety standards only apply to a small number of products in Australia
Current mandatory standards are frighteningly outdated and newer voluntary standards are not being met
CHOICE is calling on the government to strengthen product safety laws
When you walk into a shop, do you assume the products on display are safe? According to CHOICE's 2018 Consumer Pulse survey1, 79% of Australians surveyed believe businesses are currently legally required to ensure the products they sell are safe. Unfortunately, Australians simply aren't afforded these protections, despite the fact almost all of those surveyed (97%)2 think it's important we are.
This means businesses are selling potentially dangerous products and are not required to take any action until after their products cause serious injuries. When this happens, as it recently did with dangerous Aldi pressure cookers and exploding Thermomixes, a business might not launch a voluntary recall until after becoming aware of a safety risk, and individuals can be left to fight for remedies themselves.
In this article:
Most products have no mandatory safety standard
There is currently no explicit market-wide requirement in the Australian Consumer Law for manufacturers or retailers to proactively ensure that the products they sell are safe.
Some high-risk products, however, must meet mandatory safety standards in order to be sold in Australia, including aquatic toys, bicycles and some baby products.
In theory this should mean consumers can buy these products without worrying about safety, but CHOICE tests of baby products reveal a different reality.
For example, when deciding to buy a stroller, cot or portable cot, you may have assumed all the products on offer were safe to use, choosing instead to base your purchase on factors like price, aesthetics and ease of use.
But despite having certification to say they pass legal requirements, a large number of the products we tested consistently fail to meet the mandatory standard, the voluntary standard, or both:
Portable cots (60 tested from 2011–2018): 98% or 59 failed.
Strollers (163 tested from 2012–2019): 83% or 136 failed.
Cots (173 tested from 2012–2019): 59% or 102 failed.
What kind of failures?
Some of these tested products carry risks of strangulation, suffocation or finger, limb, neck and head entrapment, while others may allow a baby to fall out onto the ground or pierce their skin on sharp protruding edges.
We categorise the failures as:
very minor (for example, warning labels not present)
minor (for example, sharp edges, finger entrapment hazards)
serious (for example, suffocation or strangulation hazards).
The sheer volume of these failures and the fact that almost all of these products are still being sold, shows that even for the most strictly regulated products, enforcement of safety standards isn't strong enough to keep Australians safe.
Strollers, cots and portacots that failed
Select the category heading below to see the models that have failed.
It's important to note the year the model was tested in, as results from one year are not applicable to models with the same name which were manufactured in subsequent or previous years.
Some models which have failed in the past now pass all safety requirements.
Mandatory standards out of date
Current mandatory standards for strollers and portable cots are based on documents written almost two decades ago, but since then we've learned a lot about what makes a product safe. While newer standards were written for strollers and portable cots in 2013 and 2010 respectively, they haven't become law. Instead, they're used as voluntary standards which manufacturers are encouraged to adhere but are not obliged to do so.
We've noticed our governments tend to wait until one of these products causes serious injury or death before making the new standard mandatory, even when the newer standard may contain crucial safety provisions. This reactive approach is also inherent in general product safety laws, which allow businesses to react to product safety problems after they happen, rather than actively trying to prevent them from occurring.
Ultimately the result for both regulated and non-regulated products is that consumers have to wait until after tragedy strikes for government to take action and for businesses to take responsibility.
What we're doing
The Australian government will be consulting on options to strengthen product safety laws this year. We're calling for the introduction of a legal obligation on businesses to ensure their products are safe before being offered for sale. This would bring us in line with similar legal requirements in the EU, Canada and the UK.
We want the government to:
make the newest standards mandatory
police violations more vigilantly
introduce a new section on product safety into the Australian Consumer Law so that all products will be subject to safety requirements.
Portable cots: an accident waiting to happen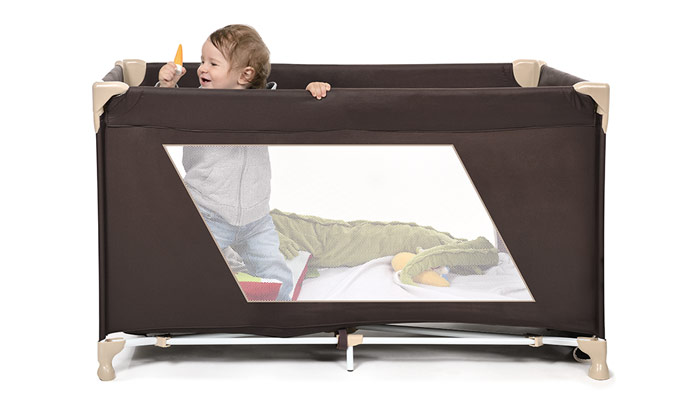 The current mandatory standard for portable cots ensures that a cot is stable and doesn't have unsafe gaps that could trap a child's head or limbs. But it's missing one of the most important provisions for infant safety: breathability.
The newer voluntary standard requires that all the areas that could come into contact with the baby's airways be made of breathable material to reduce the risk of infant suffocation, but our latest portable cot test found that 11 out of 12 models carry a suffocation hazard of some sort, and three models have insufficient breathable zones. This is why we always test to the newest voluntary standard and why we believe our product safety laws need strengthening.
1 CHOICE Consumer Pulse January 2018 is based on a survey of 1029 Australian households.
2 "Total important" is the total of "Quite important" and "Very important" responses, excluding "Don't know".
---