CHOICE calls for a general safety provision
New laws would make it illegal for Australian businesses to sell unsafe products.
Safety not guaranteed
---
Exploding Thermomixes, dodgy cots, flaming Samsung washing machines and Takata airbags that kill… We expect the products we buy to be safe, but clearly something is going wrong. Australia's product safety framework is outdated and letting us down.
So what are other countries, like the UK, doing differently to us? The answer is complicated, but one part is very simple – in the UK, it's illegal to sell unsafe products. In Australia, it's not.
What is a general safety provision?
The UK has a law called the General Product Safety Regulations, sometimes referred to as a 'general safety provision'.
This law states, simply, that businesses cannot supply a product unless it is safe. The law prevents retailers from selling any products that they know, or should know, are unsafe.
Remarkably, Australia has no such law. While our consumer protection law is extensive, there's no explicit obligation placed on businesses to make sure they sell safe products.
Instead, if a product in Australia hurts someone, that consumer can individually seek a remedy – but this won't get the product off the shelves.
In the UK, it's illegal to sell unsafe products. In Australia, it's not
If a body like CHOICE tests one of the 42 types of products that have to meet a mandatory standard and that product fails, the business might choose to redesign that product.
If multiple people are injured by an unsafe product, the business can choose to run a recall, if it feels like it.
And if a massive safety scandal is unveiled, like we saw in our Takata airbag investigation, the government can order a compulsory recall.
All of these actions are only taken after problems are uncovered. This is a reactive system, and it's failing us.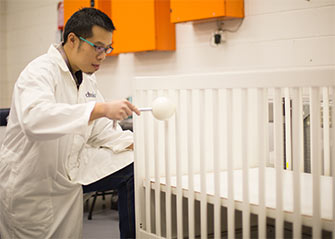 If a product fails CHOICE safety tests, the business may redesign it. But products should be safe from the get-go.
Stopping the flow of unsafe products
The introduction of a general safety provision will help change this by shifting business attitudes.
While product safety risks and subsequent recalls may be viewed as the cost of doing business now, a general safety provision coupled with strong penalties will encourage businesses to instead view the safety of their products as a priority.
This new obligation should be easy to meet for businesses that are already doing the right thing. While the businesses who aren't thinking about safety will have to do better.
It will encourage businesses to view the safety of their products as a priority
A general safety provision will help to stop the flow of unsafe products because businesses will face consequences if, for example, they import and sell remarkably dangerous cots on eBay.
The UK introduced their General Product Safety Regulations in 2005, and it has been seen as a success.
A review of how similar laws operate across Europe found that a general safety provision is a "powerful tool" that helps protect consumers, and that its introduction in Europe has helped "track down and eliminate a vast number of unsafe products"
Time for change
CHOICE has been calling for the introduction of a general safety provision for the last decade, and we're finally seeing a groundswell of support for the change.
In 2017, a review of Australia's consumer protection law recommended that we modernise our product safety law and introduce a general safety obligation for businesses.
Consumer Affairs Ministers across Australia threw their support behind this change, but progress stalled when the reform proposal was sent to Treasury for assessment.
That's where it's been for the last 18 months, and it's not good enough.
CHOICE is calling on both major parties to commit to real and urgent product safety reform as a key promise in this election season.
Related:
---
Join the conversation

To share your thoughts or ask a question, visit the CHOICE Community forum.