BBQ buying guide
What to look for when you shop for a barbecue.
The sauce on cooking outdoors
---
As we all know, things taste a little better on a barbecue and we're here to help you work out which is the best kind of BBQ for your needs, based on size, style and cost.
Want to know how we get our review results? Check out how we test barbecues.
For tips on maintaining your barbecue barbecue and gas cylinders check how to keep your BBQ safe.
For tips on keeping your barbecue clean read our article on how to clean your BBQ.
Video: Handy tips for buying a home barbecue
<
Choosing the right sized BBQ
When it comes time to buy a new barbecue, you have three important factors to consider:
How much money do I want to spend?
How big is my entertaining area?
How many people will I be barbecuing for (most of the time)?
Portable BBQ
Ideal for an impromptu get-together on the veranda, weekend outings or if you have a small balcony or outdoor space.
Can be available with detachable shelves or as a table top option.
Many use charcoal or other solid fuel, but more gas options are becoming available.
As the name suggests, they should be easily portable.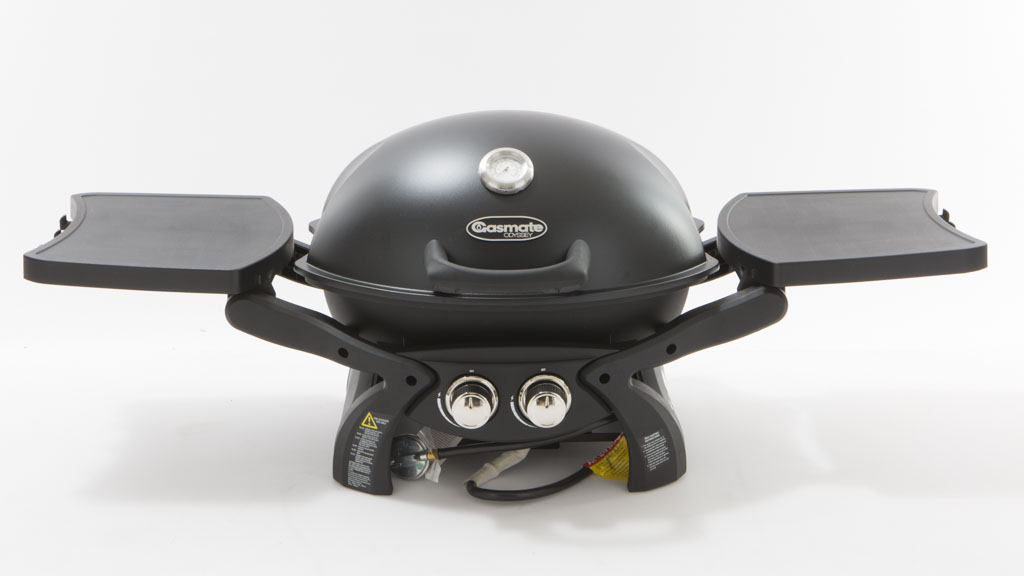 Portable BBQ – Gasmate Odyssey 2.
Small BBQ
Ideal if you're after something a bit more permanent in your backyard but don't need to cater to the masses.
Often comes in one or two boxes and are mostly pre-assembled.
Usually all the assembly that's required is unpacking and placing it on the trolley.
You may have to cook in batches when you have guests over.
Some models offer all the features of the larger style BBQs, such as a hood, char-grill plate, solid hotplate and foldable side tables
Some models can accommodate cooking for around 4 to 6 people at once.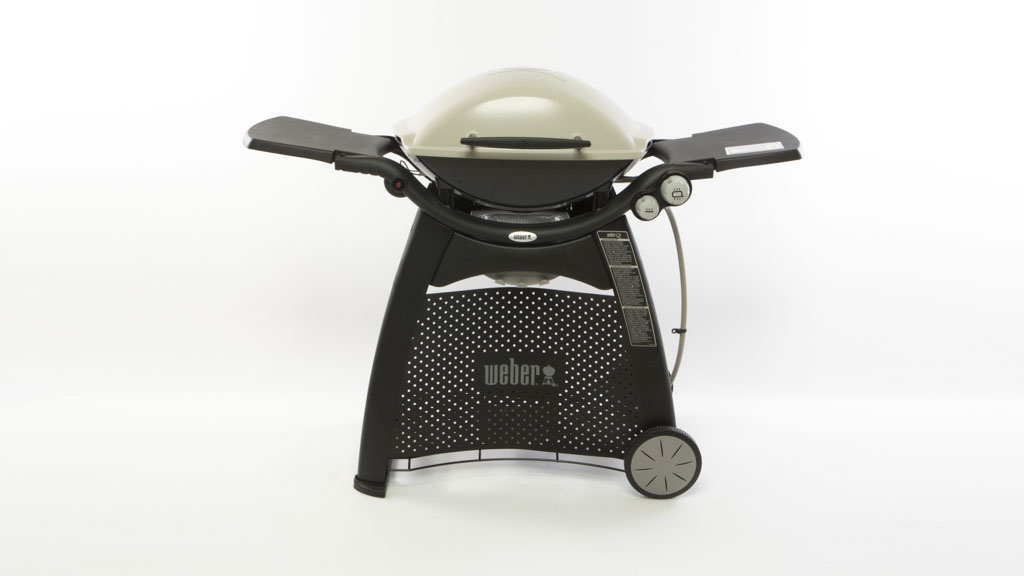 Small BBQ – Weber Q3100.
Large BBQ
Ideal if you have a large family or entertain often.
Takes up more space in the backyard, is more costly and requires extra cleaning effort.
May require significant construction and have many heavy parts.
Some retailers provide delivery of the BBQ fully assembled for a fee; if it's under $100 it'd be wise to take up the offer.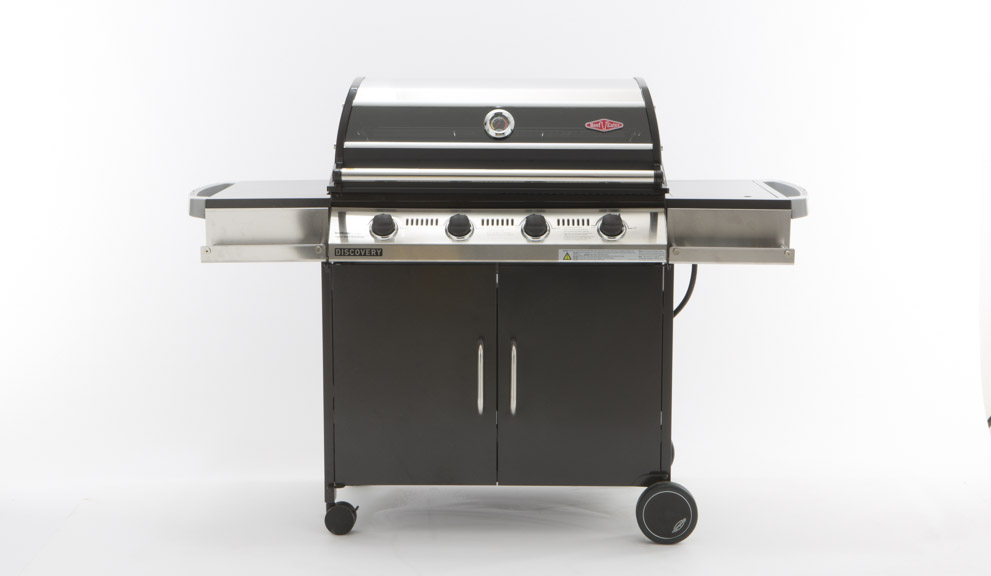 Large BBQ – Beefeater Discovery 1000RS BD47240.
Balcony barbecuing – don't get gassed
Barbecuing accidents are more likely to occur if you live an apartment block. Before buying a new gas barbecue for your balcony:
Check the by-laws for your complex and/or the owners corporation (previously called the body corporate) to see if there are any restrictions on using a gas barbecue on your balcony. It could be obscurely listed in the storing of hazardous material, i.e. an LPG gas cylinder.
Check for restrictions in your contract if you're leasing.
If you're permitted to have a gas babrbecue on your balcony:
Never store more than one gas cylinder and never place these indoors.
Make sure it's used in a very well-ventilated space. Barbecuing in an enclosed balcony is not advisable – even those with louvres, café blinds, or a significant amount of privacy screening could be a very risky venture.
Alternatively, you could consider an
electric barbecue
– unfortunately though, there aren't many on the market. We've tested a couple of electric options in our
BBQ reviews
.
Features to look for
Getting the grill/hotplate mix right
Most cooks suggest you look for a half-grill, half-hotplate cooking surface, although a larger barbecue provides more flexibility, allowing you to use more of the surface you need and leave part of the barbecue unused. Cast iron hotplates are more susceptible to rust; if you live in a coastal area, enamel or stainless steel hotplates are recommended.
Finishes
Exterior finishes include painted surfaces, vitreous enamel and stainless steel.
Paint is the cheapest finish and can scratch or flake off over time.
Vitreous enamel is tougher and more durable.
Stainless steel is also very durable but can discolour when heated, and shows smudges and fingerprints more readily than other surfaces.
Stainless steel has varying degrees of quality. To check the quality, place a magnet on all stainless steel areas. If it sticks, the stainless steel is more likely to rust; if it doesn't, it's better quality.
Hood
A good hood will open enough so it doesn't blow smoke in your face with reasonable resistance against accidental closing from gusts of wind etc. Double-skin hoods will reduce the external temperature. Make sure it's easy to access all of the cooking area as some hoods can restrict access with the warming plates.
Controls
Look for clearly labeled controls with positive stops at both the high and low position. Check to see that they are easy to grip and turn. Knobs that slant out from the fascia are easier to see, ensuring you don't have to bend over.
Ignition
Ignition types are usually piezo or electronic. Piezo is where you press a button or one of the gas knobs and it generates a spark to ignite the gas. Some piezo systems direct a jet of flame into the burners to light them more reliably. Electronic ignition uses a battery to create a spark.
Sensible design
Large side trays are useful for placing food and utensils on but be careful not to place plastic items too close to the BBQ as they may melt. Handles should have enough space so you don't burn your hands on the hot panel behind them.
The fat tray should be easy to remove and replace. It should also be self-centering so that it catches all the fat.
Look inside the babrecue for minimal cracks and crevices where dirt and grime can accumulate. A curved interior allows fat to drip down into the drip tray and is easier to clean.
Side/wok burner
Often included in larger barbecues, this additional burner is very handy for stir fries; look for a model with double or triple ring burner which delivers a higher heat setting, making it more versatile and a better performer. A cover over the side burner is also handy for extra useable space. Look for a recessed burner so it's protected on windy days.
Rotisserie
Most of the large barbecue models currently available can accommodate a rotisserie and some also have a back burner element, which is perfect for roasting a chook. An electric rotisserie turner can be a handy feature as it allows you to deal with another cooking task while turning the meat at a consistent rate.
The trolley
There are many different trolleys available so look out for the features that will suit your specific needs, such as cupboards or a side burner.
If you need to move the trolley, even only occasionally, it will be a lot easier if it has four castors.
If the trolley only has two wheels, check that it is not too heavy to lift the other end for moving and that there are no sharp edges where you grip it.
Stainless steel trolleys require extra attention when cleaning due to smudges and finger prints. Some may also rust in certain environments.
Charcoal BBQ options
If you're looking for a charcoal/kettle barbecue, most models will do the job, as it's essentially a container for the coals with a lid.
Make sure it has:
Accessible vents that open and close easily to control the temperature.
A versatile cooking surface that includes a flat hotplate option as well as a grill.
A lid with a handle that'll stay cool to the touch when the barbecue's lit.
Wheels to make it easier to move around.
CHOICE recently tested an electric ignition charcoal BBQ. Have a look at how the
Everdure by Heston Blumenthal Fusion electric ignition charcoal BBQ HBCE1B
fared in our lab tests.
Solid fuel barbecues
CHOICE hasn't tested solid-fuel barbecues, but we've examined a few interesting options, including the Everdure eChurrasco and LotusGrill delivering a new twist on the basic charcoal barbecue as well as the affordable Jamie Oliver Big Boy BBQ.
How much should I pay?
Small BBQs range from just under $200 to around $800. For the higher prices, you should expect to get extra features such as electronic gas ignition, fold-out side tables and a more solid construction.
Large BBQs, with three or more burners, come in a range of prices from under $300 to over $2000. Our testing has found the cooking performance for some of the cheaper models can be surprisingly good, even when compared to the very expensive models.
But there's a range of different features that can account for a hefty price tag, and you may find the bargain barbecue won't last as long as a pricier model.