Craft beer
Who owns your favourite Australian boutique brew?
Craft beer, brought to you by... Coca-Cola?
---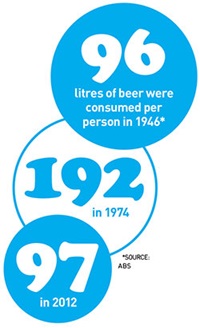 The figures are in – we're drinking less beer but we're getting better at it. Our demand for quality is higher than ever with a record 150 breweries now producing craft beer.
It seems there's some disagreement over how to define this popular sub-category. And if buying local is important to, you might be surprised to learn your favourite Australian craft beer may not actually be Aussie-owned.
Lion, Foster's, Coca-Cola, Woolworths and Coles are all hopping on the craft beer wagon.
What is craft beer anyway?
The definition of craft beer depends on who you ask. Chuck Hahn's Hahn Premium arguably began the current Australian craft beer boom in the late 1980s before he was bought out by Lion Nathan (now Lion). The Hahn brewery was then renamed the Malt Shovel Brewery which today produces Australia's biggest selling craft beer James Squire.
Crediting the large brewers with nurturing the Australian craft beer industry, Hahn argues craft beer has several definitions.
"Part of it is delivering on flavour that people expect and having the credibility of a brewmaster behind it who identifies with brands and controls all stages of the process," he says.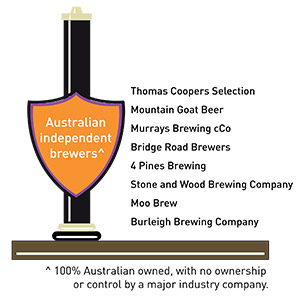 But the Australian Real Craft Brewers Association
disagrees
. For them, a craft beer must be:
independent
traditional
100% Australian-owned with no ownership or control by a major brewer, such as Lion.
Last year's Australian brewer of the year, Shawn Sherlock of Murray's Craft Brewing Co, also lists smaller batch size, allowing more control of the brewing process, as a key characteristic of a craft beer. But he contradicts Hahn reluctantly.
"Chuck has done so much for the industry, it's difficult to criticise him."
Sherlock is also quick to point out that American craft beers such as Sierra Nevada and Dogfish Head are now large breweries with a bigger market share in the US than Coopers have here, "but you can't not see these as craft beers".
Are you drinking Aussie craft beer?
Breweries swallow each other almost as often as we swallow a brew. An IBISWorld report says the Australian brewing industry is still one of the most profitable in the world, making it attractive to multinationals.
Japanese brewer Kirin acquired Lion in 2009, and the world's second largest brewer SABMiller engulfed Foster's (now CUB) in 2011, leaving Coopers as the largest Australian brewer with a 3.5% market share. And Lion and CUB have been busy gulping craft breweries, most recently with Lion's acquisition of Little World Beverages, brewers of Little Creatures.
In 2012 Coca-Cola Amatil sold its local alcohol arm to CUB and stayed out of the market until December 2013 as part of the deal. But it wasted no time in re-entering the market, securing rights to a range of international craft beers and forming the Australian Beer Company to produce locally brewed craft beers.
Even the supermarkets are in on the game. Woolworths owns a 25% stake in Gage Roads, which produce private label beer for Woolworths Liquor such as the craft-branded Sail & Anchor while Coles offers its own private label beer, Steamrail Ale.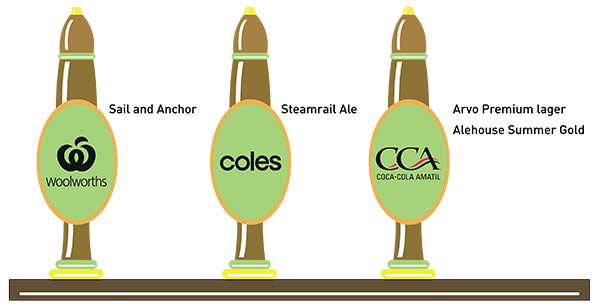 Tap dance
Shawn Sherlock told CHOICE the better margins on tap beer can help grow a business and make it successful. His company pays $32 in excise tax per litre of pure alcohol on the keg compared to $45 for the bottle. Add to that the extra packaging costs and it's clear tap beer is where the war is won.
However, the ACCC launched an investigation into the industry this year querying shady practices in breweries' contracts with pubs.
Most publicans have contracts with the major brewers which commonly offer kickbacks such as rebates or installation and maintenance of lines and taps by the brewery. So the battlefield shrinks to one or two leftover taps known as 'floating taps' which the pubs use for craft brews.
But the common experience is that a big brewer sales rep notices an independent craft beer on the floating taps and, several new umbrellas for the beer garden later, the independent's beer has been bumped off the tap in favour of the big brewer's craft beer line.
Smaller breweries can't compete with these services. The best they can offer the publican is the beer at keg price but Sherlock says the beer is winning the war.
"It used to be that craft brewers could only hold a tap for one to two weeks but now we're able to access and hold the taps better than ever," he says. "As long as the public understands that some of the craft brands they are consuming are big brewery brands, that's all that matters. Let the beer stand up in the glass for itself."
Get less for more! Craft beers are widely regarded as better beers, and that's reflected in the cost. But you also get less beer for your buck.
Standard beer bottles are usually 375mL in Australia, but if you go for the good stuff you can expect to get less. A stubby of Coopers Pale or Sparkling Ale is 375mL, for example, but Coopers reduces its Celebration Ale offering to 355mL. And you'll only get 345mL in a bottle of James Squire or Woolworths Sail & Anchor, and a mere 330mL in Little Creatures or Coles Steamrail.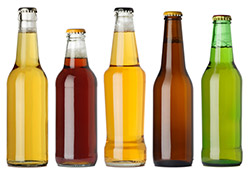 ---
Join the conversation

To share your thoughts or ask a question, visit the CHOICE Community forum.