Map apps compared – Google Maps, Apple Maps and Waze
We review the main three map apps for mobiles.
Personal tour guide
---
We look at the top three smartphone map apps – Google Maps, Apple Maps and the community-based Waze to find out how you can make the most of them.
Features
What else can they do?
Personalisation
The more you can personalise each app, the better it can assist you. Google, Waze and Apple Maps will initially ask you to set up your home and work locations, giving you one-tap access to these destinations within the app. You can also add favourites and places you visit regularly, so each app can suggest these locations as well.
If you allow them to have access to your location data, Google and Apple will start to know your daily routine and alert you when you need to leave for work, and when traffic is busier than expected on your commute. The apps will also pull information from your favourites to tailor your experience, such as knowing which days you go home via childcare.
Apple and Google collect this data in power-efficient ways – pulling location data from known Wi-Fi locations rather than power-draining GPS, so you shouldn't see a big hit to your battery if you allow location services to be on at all times.
Worried about privacy?
Apple only stores your location data on your device, and doesn't share it with third parties, whereas Google will store this data on its servers and use it to target ads to you. You can change these permissions at any time (under Settings -> Privacy -> Location Services).
Features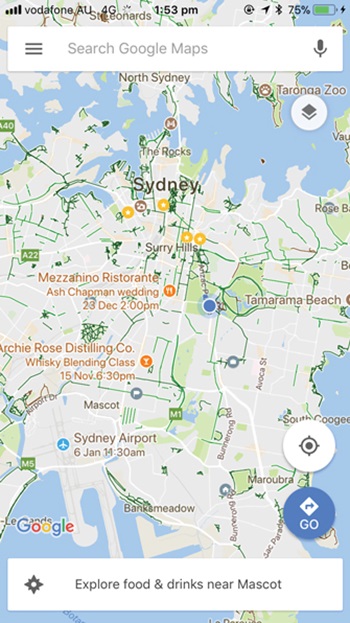 Google Maps, above, can sync with your Google Calendar and Gmail invitations. Apple Maps and Waze also offer calendar sync.
Calendar sync
All three applications can help keep you punctual by reminding you when you need to leave for an appointment, and telling you how bad the traffic is. Of course, for this feature to work you'll need to include the location of appointments in your calendar, but most calendar apps should auto-complete addresses for you. To make things easier, add office and home location information to your most visited friends and family, so you can search just a name to pull up an address.
Apple Maps can utilise the calendars on your device, and any invitations in your inbox – but will only provide driving time estimates for your appointment reminders.
Waze can also sync with your Google Calendar and Facebook events and is also focused on providing information for drivers.
Google Maps stays in sync with your Google Calendar and Gmail invitations, but it will provide travel estimates to your calendared event based on the preference you set in the Google Maps app, so you can be alerted for walking time, public transport or even bike journeys.
Customised audio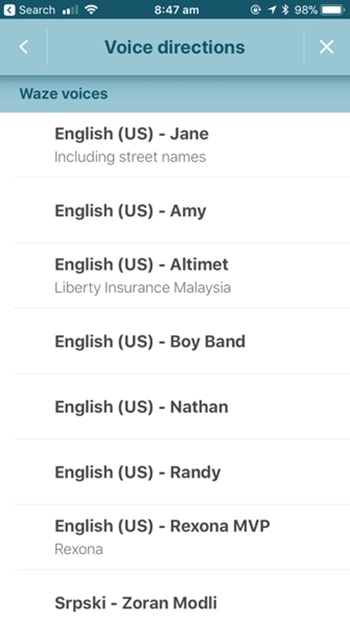 Some of the voices available in Waze.
All three apps allow you to choose the audio settings you want, from turn-by-turn directions to alerts only, such as a road closure or traffic jam ahead. You can even choose the language or accent of your navigator. Waze goes further, with celebrity voices appearing from time to time. Arnold Schwarzenegger and C-3P0 have been featured in the past.
Voice commands
All three apps support voice commands. On an iPhone, if you say "Hey Siri, take me home", Apple Maps will launch and plot a course. With Google Maps and Waze, you can use your voice to navigate by tapping the on-screen microphone button. Waze will even let you change course midway, so if you ask "Find me the nearest petrol station", your new route will be plotted for you (you'll need to tap the microphone button, so wait until you've come to a complete stop).
On Android, when you first say "Hey Google, take me home", Android will use Google Maps. If you have another navigation app installed, Android will ask which app you want to use by default, and choose that app going forward.
Public transport and ride sharing
The map apps no longer assume you'll be driving a car. They can give options for walking, cycling, public transport and even limited support for ride sharing services such as Uber.
Both Google and Apple Maps cover public transport for the major cities around Australia, but Google Maps tends to be available in more cities worldwide.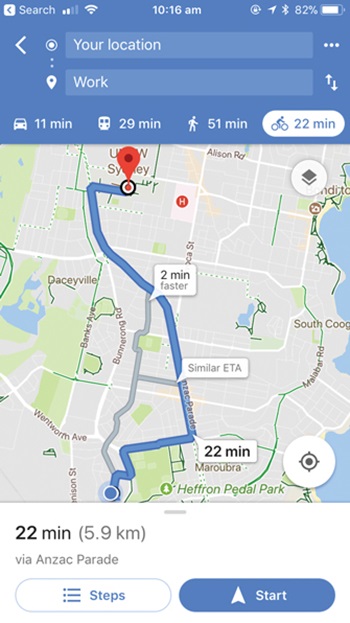 Google Maps is the best options for cyclists.
Cycling
Google Maps is the best option for cyclists. The app plots the best route based on a variety of bike-friendly characteristics, such as flatness of the journey and the number of parks or dedicated bike lanes. Plotting a journey will generally show the most bike-friendly option by default, with the most direct route as an option for more confident cyclists.
Add a stop
All three apps allow you to add a stop on the way to your destination, before you get going, so you won't need to fumble for the screen as you drive. You can ask Apple and Google to add a coffee break or petrol stop along the way, while Waze will show you the price of petrol at the nearest stations, so you can save a few dollars, too.
Real-time location sharing
Apple, Google and Waze allow you to share your location in real time to friends and family in a variety of ways. Google and Waze can also send a live, updating estimated time of arrival, in an interface similar to watching an Uber arrive.
What else can Google Maps do?
If you use Google for email and calendars, the service can provide even more information via Google Assistant on Android phones, or within the Google Search for iOS.
For example, if you've got a flight coming up:
Google Maps will let you know when you'll need to leave for the airport.
Google Assistant will track the flight in real time, letting you know if the flight is delayed and updating travel time accordingly.
The assistant will even show live currency rates and helpful phrases translated in the language of your destination.
Google Trips
Download this app for Android and iOS and all emails related to your upcoming trip will be saved offline, so you won't have to search your inbox for hotel confirmation. Google Trips will also prompt you to download and save the destination you're travelling to on Google Maps, so you won't use valuable data when roaming in another country.
Travel tip: Before going on holiday, open Google Maps and 'favourite' the spots you want to visit. That way, if you use Google Maps while travelling, you'll be able to see if you're close to one of the places you don't want to miss. This works particularly well in cities, so you'll never miss the deli that's just a few blocks from the Guggenheim Museum.
You'll either find Google's predictive smarts magical or creepy, depending how you view your privacy. For Android users, Google Assistant will work in the background at all times, but iOS users will need to open Google's Search app every few days to keep the service from falling out of notifications
What else can Apple Maps do?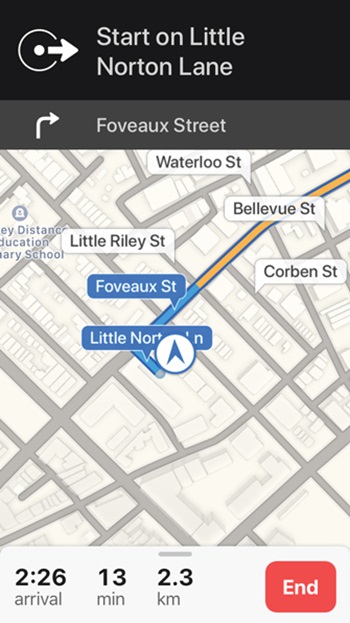 Apple Maps excels at turn-by-turn directions.

Apple Maps was late to the app party when introduced over five years ago, and not quite ready for prime time. Apple has since spent a lot of time improving the data. In Australia, GPS manufacturer TomTom supplies up-to-date road and traffic information, and local business information is now sourced from apps such as Foursquare, Yelp and Microsoft's Bing, and it's rare to find a building or point of interest missing.
Apple Maps isn't perfect. It still makes baffling choices at times, but:
it excels at turn-by-turn directions
the layout of the app is clean and uncluttered, with directions and next action easy to see at a glance
it uses a subtle animation to zoom out of a map when there's no upcoming turn for a few kilometres, then it'll zoom back in as you approach a turn, bringing the map back into focus when you need it.
Apple Watch
Apple Watch users get even more help, with the watch's Maps app displaying simplified next-turn instructions on your wrist and giving you haptic (vibration) feedback. As you approach a turn, the watch taps your wrist a few times for a left turn, or rapidly and longer for a right turn, so you can keep your eyes on the road and still follow directions.
Another feature that's more cool than useful is Flyover, which presents an eagle-eyed view of cities to virtually visit locations such as New York, Paris and even Sydney. However it's limited to only a few major cities worldwide.
What else can Waze do?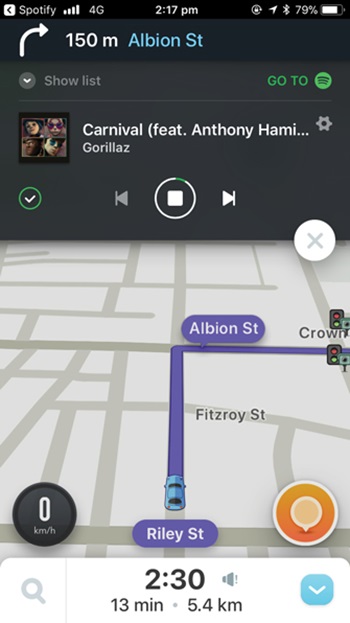 You can operate Spotify without leaving Waze.
Where Apple Maps provides minimal information in a clean layout, Waze gives you more information than you'll need in a heavily-animated design. Some may find the bright colours, cute sounds and cartoon characters a bit too distracting, but if you can get past that you'll have a wealth of information at your fingertips.
Waze's unique selling point is the social layer it adds to maps. The company (now owned by Google but still largely independent) was the first to mine the data of its users for:
shortcuts
real-time traffic updates
incident reports, such as accidents, road closures, and speed camera locations.
As all these reports are user-generated, you can't guarantee that the data is accurate, but Waze will ask you to verify reports (such as a speed trap) as you pass them. Simply give the report a thumbs-up on screen as you pass.
Some other features unique to Waze include:
linking your Spotify account, so you can skip tracks and adjust volume without leaving the app
showing you the nearest parking to your destination, with walking time factored in
(for exhausted parents) alerting you to check the baby seat whenever you reach your destination.
It's the little touches like this that will make an app your go-to helper for getting anywhere.
---
Latest Electronics and technology
Join the conversation

To share your thoughts or ask a question, visit the CHOICE Community forum.