Mental health and travel insurance
Why is the insurance industry so afraid of mental illness?
Are travel insurers discriminating illegally?
---
The first signs of a mental health issue often begin to appear in early adulthood, which is also the time when many Australians set out to travel the world. So why do so few Australian travel insurers offer mental health cover?
And it's one thing for an insurer to have caveats around pre-existing conditions, but what about travellers who couldn't disclose a pre-existing condition because they didn't have one when they applied for insurance?
A groundbreaking legal case brought by Victoria Legal Aid on behalf of a young woman whose mental health claim was knocked back by QBE could signal change, but the case is ongoing.
In this investigation we cover:
Cover-More case study: Mental breakdown costs family more than $15,000
Not having mental health cover can be financially devastating for travellers who have a serious mental health episode for the first time while travelling, since they may only be covered if they had somehow anticipated the event and paid extra to take out mental health cover – an unlikely scenario. It's far more likely they wouldn't be covered under any circumstances.
One distraught Queensland mum who recently contacted CHOICE said her family is out of pocket somewhere between $15,000 and $20,000 in airfares and other travel and medical costs after her son, aged in his mid-20s, had a mental health breakdown for the first time while traveling in Eastern Europe. He was nine days into a five-week holiday.
The travel insurer, Cover-More, indicated to the family they weren't covered on the grounds that the son had experienced a psychosis, which is excluded under the policy unless a customer specifically takes out the mental health cover option. Having not experienced such an episode before, the son had no reason to do this.
"The treatment from the insurer was appalling," the mum told us. "We had to explain the story to three or four different people. Insurers leave people in our situation completely uncovered, and that's not right."
CHOICE-reviewed insurers that cover mental health
CGU, Bupa and AIG were the three insurers in our recent review of travel insurance policies that offered cover for mental health claims, including AIG's Good2Go product.
CGU corporate communications manager Natalie Pennisi says the insurer puts medical and mental health claims in the same category.
"The same terms and conditions apply to all medical cover whether it is physical or mental," Pennisi says. "If a condition is known, a customer must apply to have pre-existing medical cover approved before travelling. If the condition is not known when a customer purchases travel insurance but is developed prior to departure, the insured is required to provide medical information and doctors' advice to support a claim."
Bupa (which, like CGU, is underwritten by IAG) also puts mental illness in the same category as other medical problems, though again, any pre-existing conditions would have to be disclosed.
But how about claims related to mental illness where there's been no pre-existing condition? Both insurers told us that the CGU Plus and Bupa Super and Super Plus products would cover first-time episodes as long as documentation is supplied.
The only exclusion are claims for "disinclination to travel" due to a mental health condition including "nervousness, anxiety, depression, or stress-related disorders".
How much is the mental health cover premium?
As CHOICE reported in our earlier investigation into mental health and insurance, a single visit to a therapist for common ailments including stress, insomnia, short-term depression or mild anxiety can be enough for insurers to deny cover or reject a claim if it isn't disclosed, even if the incident occurred more than a decade ago or is ongoing but well-managed.
Worse, you can be denied a mental illness claim if you had a different type of mental illness when you took out the policy and didn't disclose it.
And disclosing such a pre-existing condition, of course, will result in a higher premium. But how much higher?
We asked both CGU and BUPA to provide a rough figure showing how much more travel insurance customers would have to pay if they disclose a pre-existing mental illness. Both say every case is different and wouldn't commit to a figure.
"Bupa does not rate premiums based on the type of approved pre-existing condition, whether mental or physical," a Bupa spokesperson says. "Premiums vary based on the standard travel insurance premium charged for the journey, which will vary based on distance, age of traveller and the type of cover selected."
Pennisi also says any mental illness cover premium would depend on the age and destination of the traveller as well as other variables.
Victorian Legal Aid challenges mental health discrimination
In recent weeks Victoria Legal Aid (VLA) has brought a case to the Victorian Civil and Administrative Tribunal (VCAT) that centres on 21-year-old Ella Ingram, whose travel insurance claim was denied by QBE after she was hospitalised with depression at age 17 and cancelled an overseas school trip on advice from her doctor. She had no pre-existing mental health conditions when she took out the insurance.
Her $4292 claim for travel expenses was denied by the insurer on the grounds of its general exclusion for mental health-related claims. In what it calls "an Australian-first legal challenge to discrimination by insurers against people with a mental illness", VLA and Ingram are arguing that blanket exclusions on mental illness claims are not justifiable.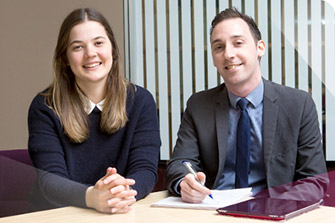 Ella Ingram with Victorian Legal Aid civil lawyer Greg Buchhorn
"We took out the travel insurance well in advance of the travel, and well before my depression. I was certainly under the impression that I was covered," Ingram tells us. "They just sent back a letter that said no."
In Ingram's view, her episode of depression "should have been treated in the same way as someone who accidentally breaks their leg".
"Initially this was just about getting the money back, but then it became so much more when I realised how widespread this issue is," Ingram says. "I didn't ask to be depressed and I don't think this is fair. It's not just about travel insurance – it's people's lives."
VLA is calling on insurers to:
disclose and explain the basis of mental illness claims denials (not currently a practice)
consider a policyholder's individual mental health circumstances rather than imposing a general exclusion covering all mental health-related claims.
Are insurers acting legally?
At least two pieces of legislation, the Commonwealth's Disability Discrimination Act 1991 and Victoria's Equal Opportunity Act 2010, make it illegal to discriminate on the basis of a disability, including mental illness, when providing goods or services.
But the insurance industry has an escape clause – it can discriminate if it has actuarial or statistical data showing that the discrimination is based on a greater level of risk. So far, the industry has yet to provide such information – nor does it explain the basis of claims or cover denials. Technically, the industry could be discriminating illegally.
"Under the relevant anti-discrimination legislation, insurers can only discriminate if it is reasonable to do so, taking into account reasonable actuarial and statistical data and other relevant factors," VLA civil lawyer Greg Buchhorn tells CHOICE. "This case will test whether, in this instance, the insurer's actuarial and statistical data was reasonable."
"We'd like to see transparency around the actuarial and statistical data," adds VLA equality law program manager Melanie Schleiger. "Not having access to such information makes it impossible to know whether the decision to refuse cover or deny a claim is lawful."
Advocates fight for mental health rights
In recent years the Public Interest Advocacy Centre (PIAC), in partnership with Beyondblue and Mental Health Australia (formerly the Mental Health Council of Australia), has taken a strong stance against insurance companies denying cover to people with mental health conditions.
PIAC breaks the insurance discrimination issue down into three common scenarios:
An applicant discloses a mental health condition to an insurer and is denied cover altogether.
An insurer provides cover but excludes any kind of mental health claim.
An insurer denies a claim on the grounds that a customer has failed to disclose a mental health condition.
To date, the publicly funded organisation has provided legal advice or representation in 79 cases. Most have involved life or income insurance, but travellers have also sought help.
"Of the clients we have represented, the majority have either had their claims paid if they had an existing policy, or the insurer has offered a policy on adjusted terms if their application was declined," PIAC CEO Edward Santow tells us.
But insurers will generally only agree to reconsider a denial of cover if you have legal representation, and they won't make it easy, Santow says. The imbalance of power between customer and company will be obvious.
"There are often questions about the breadth of access required by the insurer to the applicant's personal and sensitive medical records during this process. For example, if a person with a mental health condition is willing to accept a broad mental health exclusion on their policy, why should they give the insurer permission to obtain copies of sensitive medical records from their treating psychiatrist?"
Like other critics, PIAC also takes issue with the industry's one-size-fits-all approach. "Insurers generally want to impose a broad mental health exclusion," Santow says. "PIAC's position is that the exclusion should be limited to the condition or conditions that the applicant has been diagnosed with."
Other travel insurance products with mental health cover
As part of its research into the Ella Ingram case, Victoria Legal Aid identified a number of other travel insurance products that offer mental health cover, with various restrictions that can be broken down into four categories.
We've also added the Bupa and CGU products from our review to this table.
NOTE: These results were correct at time of publishing. They may change over time.
Category level
Travel insurance products
Exclusions and restrictions
Category 1

On Tour Annual, International and Domestic Travel Insurance
AIG Annual, International and Domestic travel insurance
Bupa Super and Super Plus (in our review)
CGU Super and Super Plus (in our review)

No general exclusion for mental illness claims, but any pre-existing conditions must be disclosed. The insurer will then choose whether to offer cover or not, and what restrictions and extra premium will apply.
First-time mental illness episodes would be covered.

Category 2

Insure and Go Travel Insurance

Mental illness cover is excluded if the traveller has suffered mental illness and sought help in the previous five years and this is not disclosed, even if the type of illness suffered during travel is not the same as the one disclosed.
If disclosed, the insurer will choose whether to offer cover or not, and what restrictions and extra premium will apply.
First-time mental illness episodes would be covered.

Category 3

1st for Women Travel Insurance

Mental illness cover is excluded if the traveller has suffered any mental illness and sought help in the previous five years, even if disclosed.
First-time mental illness episodes would be covered.

Category 4

NRMA Travel Insurance
Covermore Essentials Travel Insurance
Medibank Travel Insurance

Mental illness claims are excluded unless a pre-existing condition is disclosed; the insurer will then choose whether to offer cover or not, and what restrictions and extra premium will apply.
First-time mental illness episodes would not be covered.
---
Join the conversation

To share your thoughts or ask a question, visit the CHOICE Community forum.