Does travel insurance cover you if you've had a drink?
Most travel insurance policies have alcohol exclusions, so how much can you drink before you void your travel insurance?
Alcohol exclusions
---
It'll be four long, sticky hours before the next bus emerges through shimmering waves of heat on the road in front of you. You're stranded, but mercifully in the shade of a thatched roof with two generous locals and their bottle of home-made rice wine.
You don't speak their language, but thanks to the local brew that's no barrier to camaraderie, and after half a bottle you decide to snooze it off in the dry brown grass beside the bus shelter.
Unfortunately, snakes also love baking in the sun, hidden by the dry brown grass on the roadside. So now the question is ...
Are you covered by your travel insurance?
Most travel insurance policies have an exclusion that reads a bit like this:
"We will not pay under any circumstances if you were under the influence of any intoxicating liquor or drugs, except a drug prescribed to you by a Medical Adviser, and taken in accordance with their instructions."
That means there's a good chance your travel insurer will not pay out for any claims that arise as a result of you being under the influence of alcohol.
But how drunk and under what circumstances?
Plenty of people responded to a post on the CHOICE Facebook page asking how much can you booze before you lose?
Emma said, "It's a very blurred line between having a drink and being drunk! So you have a couple of glasses of wine at dinner then get robbed on your way home or your taxi is involved in an accident, you aren't covered?"
While James asks an interesting question: "How can they prove or disprove you were under the influence? Will someone breathalise you if you slip over by the pool? What's the legal limit to 'void' your travel insurance?"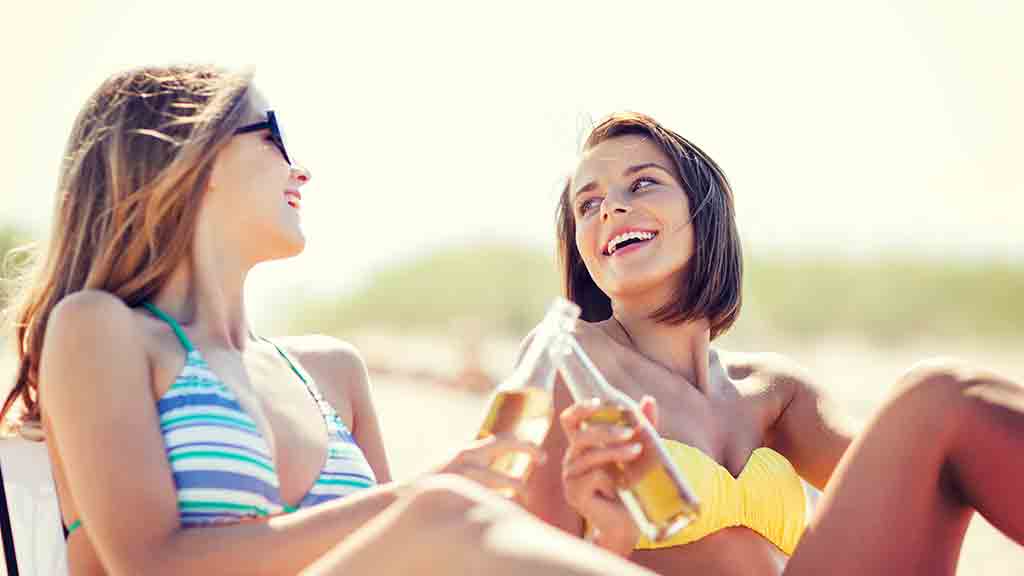 How the alcohol exclusion affects you can be as innocuous as having a few drinks at a wedding and slipping and breaking a leg, or something more sinister like having your drink spiked at a nightclub.
Broken bones
Here's an example provided by DFAT for the CHOICE travel insurance buying guide:
"Lee (not his real name) was attending a wedding in Phuket, Thailand, when he fell down some stairs at the hotel, breaking his leg and several ribs. Because he'd been celebrating with a few alcoholic drinks, his insurer refused his claim for medical expenses, citing his intoxication at the time.
"The incident cost Lee $10,300 in medical expenses, which had to be paid in full before he could leave hospital. Lee's injuries also meant he was unable to work for the next six weeks, causing further financial hardship."
Lost bag
The insurers themselves can find it a challenge interpreting their own alcohol exclusions, with a recent Financial Ombudsman Service ruling that an insurer was not able to rely on the exclusion to deny a claim for a woman who left a backpack in a taxi after a couple of drinks:
"... she (admits to) consuming a number of drinks on the evening but was not under the influence nor did the loss arise directly or indirectly from the influence of alcohol. Other than this statement, there is no evidence regarding the influence of alcohol.
"The Applicant claims the backpack was left in the cab in the confusion of trying to settle the cab fare whilst at the same time keeping an eye on children. There is no evidence to contradict this.
"The evidence is not sufficient to establish that the loss arose directly or indirectly from the influence of alcohol."
Travelinsuranz: "The alcohol exclusion would normally be applied if the intoxication was a contributing factor to the loss, injury or damage suffered – where the actual effect of alcohol has caused / contributed toward the claim. Potentially, rather than a claim being flatly denied, the claims assessors would consider limiting the insurer's liability by the amount that the alcohol had contributed towards the cost of claim.
"Each alcohol related claim is treated on its own merits and very rarely are two cases the same."
AIG (provider of Good2Go and Jetstar travel insurance) give a couple of example scenarios:
"1. If an insured is riding a scooter in Bali and they are inebriated/intoxicated or under the influence of drugs they would not covered.
"2. If a travelling companion is intoxicated or under the influence of drugs and your travel plans are interrupted we cannot provide cover."
Megan found the alcohol and drug exclusion isn't just restricted to you or the people you're travelling with:
"I found out the hard way when my brother tragically passed away from an overdose while we were on our honeymoon. We immediately returned home and were told not to worry about the cost but when it came to the claim we were told it wasn't covered. The Ts&Cs stated if your claim related to 'any person' then it was void … I'd never bothered to read the fine print but I learnt a lot from this sad experience."
Indeed, one of the exclusions we found precludes just such a scenario:
"Your Policy does not provide for losses, liability or expenses as a result of You or Your Travelling Companion, or any other person for whom You may cancel or alter Your travel Plans, whether that person is directly involved with Your travel or not, being affected by alcohol or drugs unless the drugs were prescribed and used as directed by a doctor."
Take it easy on the grog
Many people travel to lose their inhibitions and immerse themselves in new experiences such as 'arak attacks' in Bali, 'snakebites' in London, coffee shops in Amsterdam, and varying concoctions of rice wine across Southeast Asia. It makes for a heady and inviting mix that many can't resist, so perhaps just apply the adage, all things in moderation.
As Kathy said in reply to our Facebook post advising consumers of alcohol exclusions, "that sounds reasonable to me – can you imagine all the claims they would get because of that? So it's a good idea for people to read the 'fine print'!"
---
Join the conversation

To share your thoughts or ask a question, visit the CHOICE Community forum.