Wrap rage
Sturdy packaging might protect your goods, but what happens when you can't even open it?
Can't open your own purchase?
---
Have you ever bought something, taken it home and then gone just about crazy trying to open it?
It might have been a jar of pasta sauce that refused to budge no matter how hard you twisted. Or some electronic equipment sealed in a hard plastic container that can only be opened with some sort of samurai sword. Perhaps it was a toy for an impatient child who grew increasingly hysterical as you struggled to free the item from layers of cable ties, wire, plastic and sticky tape.
Sturdy packaging might protect your goods, but what happens when it protects them so well you can't actually access them – or you're injured trying?
Most of us have been there and it's not fun. In fact, it's so common there's a name for this modern affliction – wrap rage. And with wrap rage comes trouble – everything from total frustration right through to injuries and visits to casualty and, in some cases, going without dinner!
Packaging injuries cut deep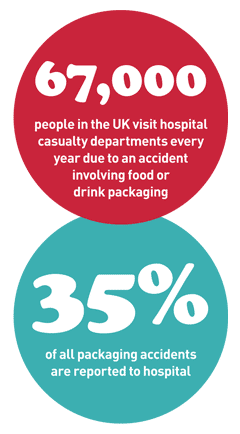 Battles with packaging can end in injury. Australia doesn't record injury statistics related to packaging, but the results of a UK government study in 1997 were alarming.
The report estimated 67,000 people in the UK visit hospital casualty departments every year due to an accident involving food or drink packaging. And a further survey revealed only 35% of all packaging accidents are reported to hospital, with the remaining 65% being treated at home or by GPs. The experts CHOICE spoke to believe the statistics would be similar here in Australia.
Who is the most affected?
Packaging accessibility is an issue that can affect us all, but it's understood a large percentage of injuries happen to the elderly and people with a disability, who may have particular problems with reduced eyesight and hand strength.
Fergal Barry, Partnerships Manager of Arthritis Australia, which promotes accessible packaging, says the problem will continue to grow as our population ages. "There are about 6.4 million people with arthritis or a disability in Australia, seven million people are 50-plus, and 1.7 million have problems with their eyesight," he says. "If you combine the over-50s with the number of people with arthritis or a disability, it means one in two people are facing some kind of restriction with opening packages."
When it comes to packaged food, Barry sees more problems on the horizon. "With an ageing population and society changing, never before have so many people lived alone or not in a traditional family. As a result, more of us are eating at different times to each other, eating alone and eating pre-prepared meals and single-serve packages, which can be particularly hard to access."
The growing popularity of single-serve portions also affects young consumers. Many schools have had to remind parents to send their kids to school only with packaged food their child can open easily, as teachers report that some school lunches go uneaten simply because the child can't get into them.
Access denied
Wendy Favorito has suffered from severe arthritis since she was a child. The board member and consumer representative of Arthritis Australia says she struggles to open packaged goods every day, and without the help of her family, life would be extremely difficult.
"Packaged food items are the worst. Ring-pull cans, jars – not having that hand span to grip or the strength to break the seal are just some of the restrictions for me, and for many other people, especially older people."
However, Favorito is positive about the initiatives taken by some companies who are working with Arthritis Australia. "Before I was involved in this project I hadn't realised packaging was an issue for so many others and didn't think it could be changed. What I see now is that it's an issue that affects a lot of people and there are solutions."
The main offenders
Aside from the serious issues of injury and accessibility, packaging that's tougher than Fort Knox is also just plain frustrating. Below, we've identified the main offenders, from the impossible to the impenetrable.
The clamshell
Commonly found entombing electronic goods, razors and even toys, the clamshell is also called the oyster because you'll certainly need something to prise it open with – bare hands won't do the job.
With a hard sealed plastic back and front, the clamshell requires sharp scissors, a knife or tin snips to open. Some websites even recommend using a tin opener!
Once you've made your incision, the fun doesn't end there – it's all too easy to cut or scratch your fingers on the sharp plastic as you try to retrieve your item from inside.
As Fergal Barry from Arthritis Australia says about the clamshell, "When you buy something it should be yours – you shouldn't have to get into a knife fight with it."
The trapped toys
Many toys come not only entombed in cardboard and plastic boxes but also tied down – sometimes with string, others with a nasty mix of sharp wires, cable ties, plastic spikes and sticky tape.
The manufacturer of the Barbie pictured might claim she's hair-tastic, but we'd say she's more trapped-tastic.
With no fewer than seven hard plastic ties pinning her in place (including some nasty plastic pieces growing out of her head attaching her to the cardboard), we think the child who receives this will either lose interest or go hysterical before their hapless parent struggles to tear Barbie free.
Then of course, there are still the accessories to extract!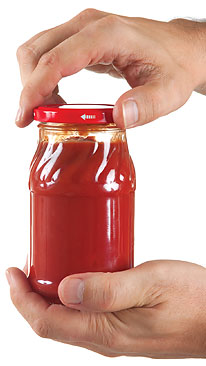 The glass jars
You come home from a hard day and all you want for dinner is a simple bowl of pasta with sauce. The problem is, if your sauce is in a glass jar, it might not be so simple.
Barry says that after the clamshell, glass jars are one of the most complained-about types of packaging as many are vacuum-sealed so tightly you need the strength of a superhero to get them undone.
Of course, you can use a jar key or latex lid opener – but sometimes even they won't do the trick.
Others tricks include tapping on the sides with the handle of a knife, banging the lid on the countertop or standing the lids in boiling hot water to loosen them.
But really, do you fancy third-degree burns or glass cuts with your dinner?
What can you do?
Gavin Williams, CEO of the Packaging Council of Australia, says the importance of ease of use is gaining more weight in the industry. "Of course accessibility is an issue, and I'm sure we've all had examples of packaging that we've found difficult to open."
However, Williams says that although manufacturers and retailers are under pressure to keep reducing prices in a demanding market, he disagrees with criticism levelled at the industry that it's often at the price of accessibility. "If people can't open your product they're not going to buy it," he says.
He concedes it can be difficult for the industry to balance competing needs, but Williams says if consumers don't like something it's vital to speak up. "Get in touch with the brand owner, or get in touch with the Australian Packaging Covenant and let them know you want to see change."
Overseas innovation
Despite plenty of packaging war stories, there are some successful initiatives working towards improving the "openability" of products. And, in the case of US-based online retail giant Amazon, this has proven to be a selling point.
When Amazon launched its Frustration-Free Packaging range in 2008, it started with just 19 items. Now, the range stocks more than 80,000 goods that are free from wires, plastic and the usual trappings, and shipped in a plain brown box with minimal protective filling.
Initiatives at home
In Australia, the Arthritis Foundation has developed the Ease of Use certification program and worked with industry and government to review products and provide recommendations on improving accessibility. So far, the organisation has worked with more than 125 products and collaborated with over 40 organisations, including Nestlé, NSW Health, Goodman Fielder and Amcor.
Gumnut Biscuits, a small Victorian biscuit manufacturer, holds a contract with NSW Health supplying biscuits to hospitals for patients, many of whom are elderly. The Garling Inquiry, released in 2008, heard elderly people were struggling to open and eat their food in public hospitals.
Matthew McAlpin, CEO of Gumnut Country Bakehouse, concedes he was initially apprehensive about participating in Arthritis Foundation's program, particularly due to the costs of resetting machines and production. However, he says feedback from the changes has been so positive that the company has now re-designed its hospitality range as well, acknowledging "our packaging is now a selling point". The redesigned biscuit packets were assessed by a scale developed by US University Georgia Tech for accessible packaging and hold the highest rating (+8), which means they should be opened easily by 95% of the population.
Nestlé has also participated in the program, and as a result rolled out a redesign of its Nescafé Gold, Nescafé Green Blend and Nescafé Short Black jars so they're easier to open. A spokesperson for Nestlé says accessibility is high on the company's agenda and that it's looking at packaging across the business.
Maintain the rage
All the experts we spoke to emphasise how important it is for consumers to speak up when they have a bad experience with packaging. "When the only reward in the current market is price, money talks," says Barry. "It's potent for a manufacturer to hear testimonials from people who've stopped buying their product because it's too hard to open.
"The primary reason most companies approach us to improve their packaging is as a result of consumer complaints. If you're struggling to open packaging then companies want to hear from you, which is why many set up a dedicated packaging complaints line. Consumers have more power than they realise but they have to speak out and let companies know what the problem is."
If you wish to make a complaint about your packaging problems get in touch with the Australian Packaging Covenant or call 02 8249 4080.
---
Join the conversation

To share your thoughts or ask a question, visit the CHOICE Community forum.