How to use quantity statements on packaging to save money
20 January 2015 | Quantity statements on the front of food packaging help consumers compare value for money.
With the latest CHOICE Consumer Pulse Report finding that food and groceries are the second biggest cost-of-living concern for Australian consumers, CHOICE has demonstrated how consumers can get more value at the supermarket.
We compared a selection of similar-looking groceries from rice bubbles to laundry powder, with surprising results.
According to CHOICE Head of Media Tom Godfrey: "We found although Mission Chips and Doritos look similar, Mission Chips give you an extra 55 grams of corn chips while their rival load you up with extra air. Arnotts gets in on the act too with its White Chocolate Tim Tams serving up the same pack size and price as its much loved original Tim Tams but containing two biscuits less."
"We know companies use a range of tricks to fool shoppers into buying less and paying more, so shoppers need to size up their options on the supermarket shelves," said Mr Godfrey.
Basket comparison
To demonstrate the value of quantity statements, CHOICE bought similar products of similar size packaging. The results show how quantity statements on the front of packages can help shoppers get better value for money.
"Our comparison of two similar grocery baskets found that by paying attention to the quantity statements, shoppers can save money and take home more breakfast cereal, laundry powder and snacks," Mr Godfrey said.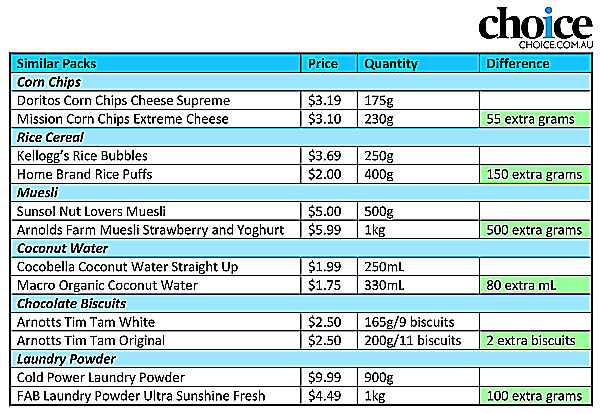 Marketing magic
Retailers often try to trick consumers with fancy branding, celebrity spruikers and bold marketing claims on packaging, so one of the best ways to work out how much you're getting for your money is to look at the quantity measure.
"It's easy to see how consumers can get short-changed because relying on a celebrity endorsement or the look and style of packaging when shopping can seem an easy option but similar looking products often have vastly different quantities," said Mr Godfrey.
"You don't need celebrities or cartoon birds to tell you what the best buy is – if you're looking to get more bang for your buck with your weekly shop you should look past the flashy brands and bright sales signs and read the quantity statements on the front of pack."
A weighty issue
The CHOICE basket comparison comes following a National Measurement Institute review of almost 35,000 prepackaged items in 2013–14, which found numerous examples where product weights weren't properly labelled. On average, 14% of pre-packed items were not labelled in accordance with trade measurement law.
"It's vital that shoppers get what they pay for and that they're able to easily glance at a supermarket shelf to find out if they are getting value for money," said Mr Godfrey.
NB: All products were purchased at Woolworths in Marrickville, NSW on 14 January 2015.
---
Join the conversation

To share your thoughts or ask a question, visit the CHOICE Community forum.