Flood cover
Are you paying too much to insure your home against flood?
Where do you sit on the flood map?
---
In 2014 NRMA Insurance and Suncorp (owner of GIO and AAMI) responded to calls from CHOICE and other organisations for transparency on home insurance premiums by providing sample flood maps showing how they price flood cover into your home insurance quote.
Around the same time, CHOICE partnered with the Climate Institute in the release of a report that, among other recommendations, called on the government to coordinate information on natural disaster risk and insurers to be transparent about the pricing of these risks in their premiums.
There have been signs of progress, but many homeowners are still largely in the dark on the issue of flood cover and home insurance.
Been affected by a flood or other water-related event? Read our breakdown of flood versus other kinds of events.
How much are you paying for flood cover?
Many consumers have voiced their concern about the effects of flood cover on their premiums; many question why they should be paying for flood cover at all, with one CHOICE online member commenting:
"We changed from CGU to OnePath in 2012 after our premium rocketed from around $4200 to $7000. We reinsured for 2012/13 for around $2800, however the premium for the 2013/14 renewal year has increased 45%. I live on a hill in Cairns – flood is not an issue here! This seems grossly unfair. I'm shopping around, again!"
Mandatory flood cover?
The federal government floated the idea of making flood cover mandatory in insurance policies after the 2011 Queensland floods, prompting many insurers to make flood cover as per the standard definition compulsory in their policies. The government did not, in the end, legislate compulsory flood cover, so it's not legally compulsory for insurance policies to include it - but many insurers only offer policies with flood insurance. Check our home insurance review and comparison to find out which insurers allow you to opt out of flood cover.
Insurers Suncorp and NRMA have both maintained that households with zero flood risk don't pay for flood cover, although the cover is still provided should they be wrong. And in contending they don't assess flood risk by postcode or Google maps, they provided sample maps in 2014 of flood prone areas showing how selected households premiums are affected by flood risk in these areas.
The below image uses the maps supplied by the two insurers to show how flood risk is priced into home insurance premiums for selected individual households within a fictional flood prone area.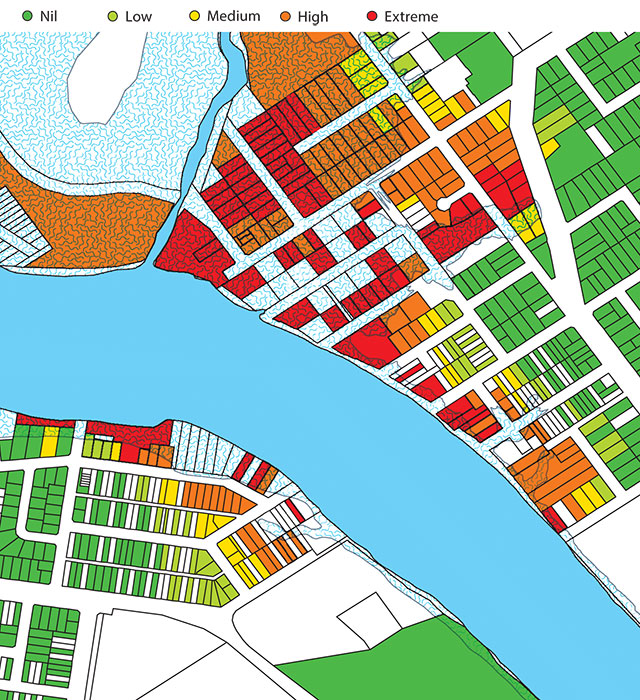 The insurers were unable to provide actual figures in this instance due to the commercial sensitivity of the information, but both agree upon the need for coordination at all levels of government and the insurance industry to reduce the impact of natural disaster.
Suncorp's then public policy manager Duncan Bone said at the time, "We support the call for more transparent hazard information for all consumers to be collected and made easily available, and believe the states should harmonise a requirement for vendors to supply natural hazard risks applicable to properties sold in Australia."
NRMA Insurance said that according to their data, around 13 per cent of properties in NSW will be flooded at some point in time, with two per cent considered high risk.
Floods cost Australia around $550 million a year. They destroy homes and businesses, and devastate communities for years after the water has gone and properties are rebuilt. By working together, communities, government and the insurance industry can reduce the impact of flood in our communities.
Friendly flood maps
Coordination of data between local, state and federal government and insurers is required so government can mitigate the impact of natural disasters such as flood on the community, and so consumers can make informed decisions about the potential impact of home insurance premiums on their budget and their home values.
As it stands, the insurance industry thinks governments should do more to prevent natural disasters from destroying or damaging homes through improved mitigation infrastructure, such as dams and levees.
Governments in disaster-prone areas want insurance companies to find a way to make home insurance more affordable.
Home owners just want to be able to protect their most critical asset at reasonable rates. Meanwhile, they continue to face steep premium increases, often with inadequate explanations of how the higher costs relate to risk.
Shop around
On the flipside of this is an opportunity for consumers in flood- or other disaster-affected areas to take advantage of the imbalance in information between insurers to find affordable cover.
The Australian Pensioners Insurance Agency (APIA) refused home insurance cover for one CHOICE member because her house was deemed to be in a high flood risk area:
"Hi Jane,
Thank you for your email.
Our decision to accept or decline business is based upon the risk address analysis which is built into our internal system. This data is sourced from the NFID (National Flood Information Database).
Please note, not all insurance companies use this database, hence why cover may be available with another insurer."
Jane was able to get home insurance cover from Westpac, who deemed her home to be in a low flood risk area.
One in 100
The chance of a flood occurring "once in 100 years" is commonly used in Australia to designate an area as having an acceptable risk for planning purposes. However, the Office of the Queensland Chief Scientist points out that this measure can be misleading.
If the flood risk of your home is deemed "once in 100 years" and you were flooded yesterday, it doesn't mean that you won't be flooded for another 100 years. You actually have a 1% chance of flooding in any given year but this probability compounds for every year that you haven't had a flood. If you live in a "once in one hundred year" flood area for 70 years, the chance of having a flood in that period actually increases to 50%.
Time for action
In North Queensland, one of the hardest-hit natural disaster areas, cyclones and storms have pushed insurers out of the market and caused premiums to skyrocket. The graph below shows the average proportion of premiums by peril in Brisbane and Mackay as of a few years ago.
A federal government report has found premiums for home building insurance have risen at six times the rate of inflation between 2009 and 2014. And despite insurance for strata properties rising 200% from 2007 to 2012, insurers were losing $130 in payouts for every $100 of premium.
Clearly this scenario is unsustainable for insurers and home owners.
How North Queensland home insurance premiums are split by peril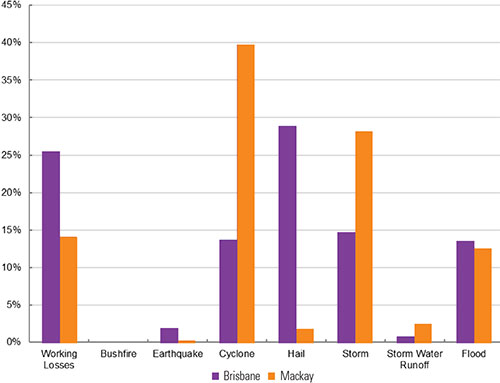 Source: Australian government report - Addressing the high cost of home and strata title insurance in North Queensland
---
Join the conversation

To share your thoughts or ask a question, visit the CHOICE Community forum.