Banks part ways with official rate cuts
Credit card providers bypass rate cuts and rake in $2bn in interest.
Bank costs go down, consumer costs go up
---
The largest credit card providers have been having a field day when it comes to raking in credit card interest – failing to pass on official interest rate cuts in recent years and ending up $2.07 billion richer in the process.
Research undertaken by CHOICE and financial comparison site Mozo has found that Australia's credit card issuers have hit the average credit card holder up for an extra $281 since 2011 by not passing on RBA rate cuts. The big banks collectively control over 80% of the credit card market, raking in the most from the interest rate rort.
CHOICE and Mozo analysed 55 major card providers from November 2011 to May 2015 and discovered that only 16% of card providers made any change to interest rates in the month after a drop in the official cash rate.
The data, released ahead of the Reserve Bank meeting today, examines the trends in the credit card market since late 2011, when credit card providers stopped moving interest rates in line with the official cash rate.
Higher fees along with costlier cards
"If credit card interest rates had moved in line with the Reserve Bank cash rate over the last four years, Australians would have saved $2.07 billion in interest payments," said CHOICE campaigns manager Erin Turner. Over the same time period, the banks' costs for providing credit have decreased.
"We know the average credit card interest rate in June 2011 was 17.41% but instead of falling in line with the cash rate it rose by 0.2% over the last four years to 17.61% by the 31st of May this year," Mozo director Kirsty Lamont said.
"We have also seen the average credit card annual fee rise from $94 in late 2011 to $115 in May 2015. Clearly consumers are getting a raw deal."
CHOICE will be presenting the detailed findings of our analysis as part of a submission to the upcoming Senate Committee on Economics Inquiry into Matters relating to credit card interest rates.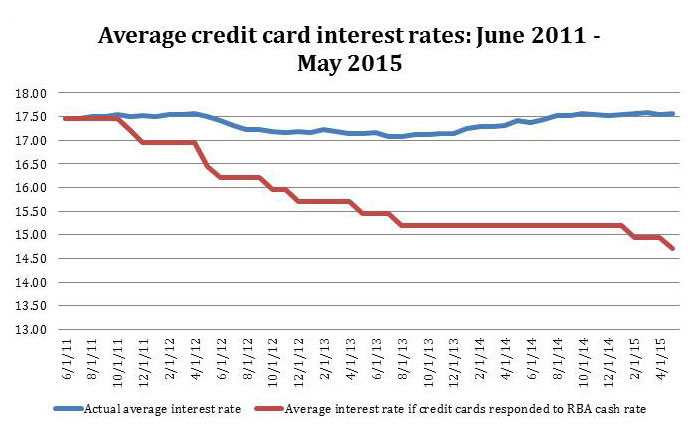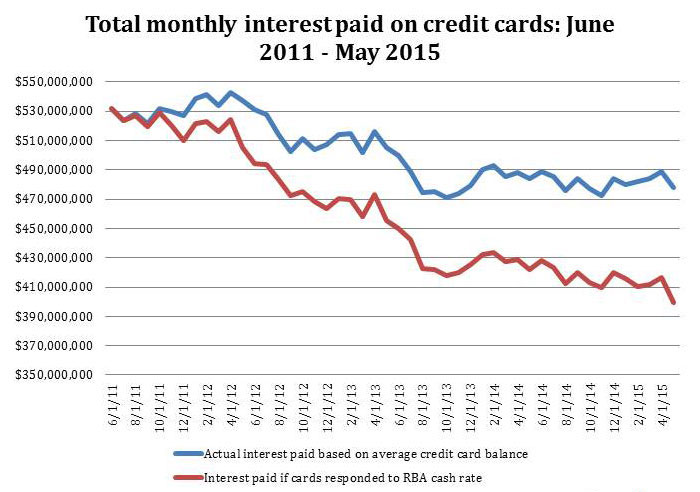 ---
Join the conversation

To share your thoughts or ask a question, visit the CHOICE Community forum.