D­-Link Omna Wire­-Free Surveillance Kit review
Wireless camera kit keeps an eye indoors and outside
Omna-presence
---
D-Link's new Omna security camera kit works indoors and outside and is totally wire-free, so you can position the cameras anywhere you want and move them around on a whim. We tried them out courtesy of D-Link to see how they compare.
The Omna kit comes with two cameras but can support two more. We found it quite capable, though image quality wasn't as high as we'd hoped it would be from the Full HD cameras. It was easy to set up the cameras and view footage locally and remotely, but the app (Android and iOS) requires some time to become familiar with all its features.

Overall, the Omna kit functions well and battery life was quite good, though this will depend on your usage, including how often the camera is triggered automatically. Keep the cameras fairly close to the hub for best results, or use Wi-Fi mesh networking or extenders for further distance.

D-Link Omna Wire­-Free Surveillance Kit
Price: $800
Contact: dlink.com.au
The two-camera kit comes with a hub that connects to your router via ethernet cable and the whole setup is controlled via a mobile app. It supports both Amazon Alexa and the Google Assistant. If you have, for example, a smart speaker with screen such as the Amazon Echo Show, you can simply ask Alexa (via the mydlink Skill that you install) to show you the front door, or backyard or wherever you have the camera located. The Omna also works with the online IFTTT service to add some smart home automation. The app will let you simultaneously view multiple cameras on the one screen.
The cameras use built-in batteries that are rechargeable, but not removable. This means you have to actually plug in the camera to recharge, rather than just swap out a rechargeable battery. Fortunately, you can use the cameras while they are charging, though you only get one charger.
You can sit the cameras anywhere on a flat surface or wall-mount them magnetically to the included dome bases, which take one screw each. You also get a stand, which is better if you need to fix the camera to a wall or ceiling and point it in a specific direction. The cameras have an IP65 protection rating (dust and water), so you can position them outside without weather worries.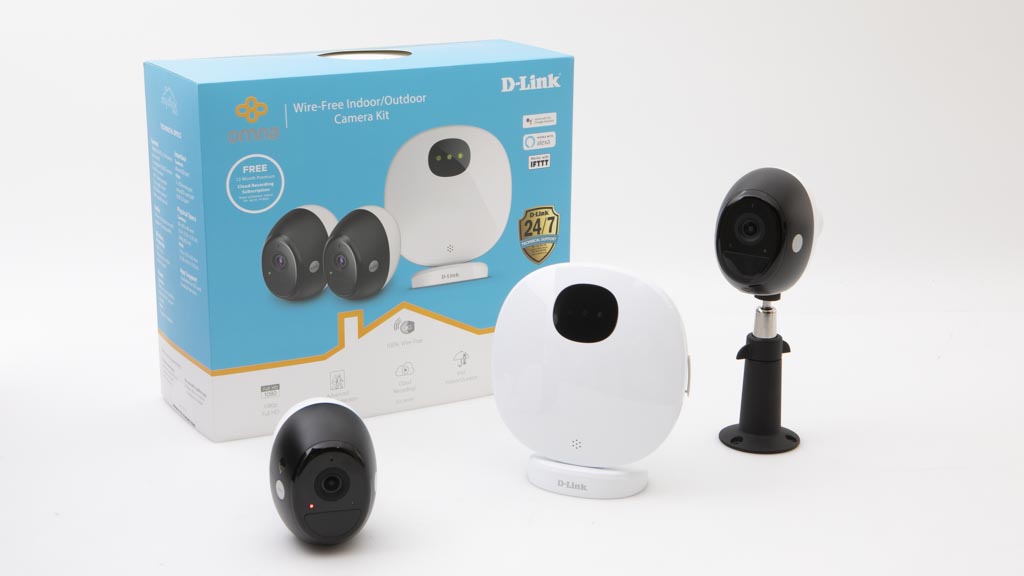 D-Link Omna Wire-Free Surveillance Kit
Set-up is done using a mobile phone and the mydlink mobile app, which also works with D-Link's other cloud-enabled routers and home automation products (such as plugs and sensors). However, we found it a little tricky. We didn't have any problems using the app to creating an account and adding the cameras, but we had to spend some time learning about each app screen before it became easy to use.
Once you see the cameras listed on the screen (tip: give them unique names when setting up) click on them to stream live video. Click on the hub to make changes such as storage location. Footage from the cameras (live or recorded) can't be viewed through a web browser, only through the mobile app.
Video: Motion is captured automatically as soon as the camera detects it. The length of footage varied, with no particular set recording time after motion was triggered. Footage can also be recorded manually when the app is open. There is a button for still images, as well as video. These record directly to the phone.
Sound is recorded by default, and we found it will clearly capture conversations near the camera. The cameras have speakers, but they are fairly small. You could, for example, talk to somebody at the front door via camera if they're close by. There is an alarm that can be sounded through the hub.

By default, the cameras capture footage that is uploaded to D-Link's Cloud servers, for which the user gets 12 months' worth of a Premium mydlink subscription for free. Users are not forced to upgrade, but if they don't, then they will be limited to one day's worth of video capture for up to three cameras on the free plan.
The D-Link website lists pricing for several paid plans but only includes $US pricing, so the following plans will cost you more in Australia:
Basic plan: 7-day retention of footage for three cameras – $US2.50/month ($US25/year)
Premium plan: 14-day retention for five cameras – $US5/month ($US50/year).
Pro plan: 30-day retention for 10 cameras – $US10/month ($US100/year).
Alternatively, you can record to microSD card (inserted into the hub), or connected USB hard drive or USB stick. Remotely viewing footage is easy on a mobile phone, there's no need to configure settings.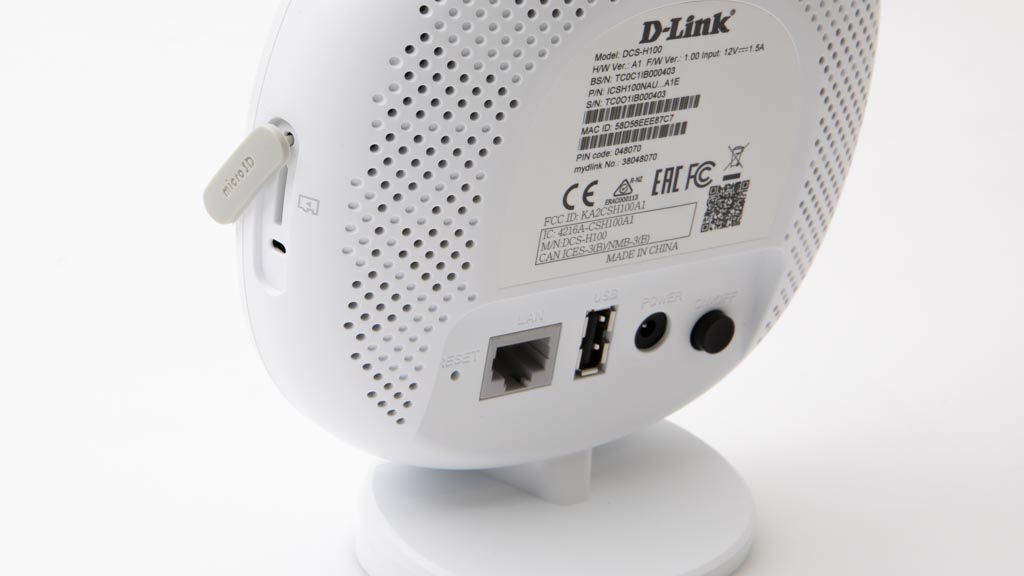 Save to an SDcard or USB drive via the hub
The resolution of the cameras is 1920 x 1080 by default. Image quality was not overly clear in our lit office environment, with test subjects looking rough around the edges and a little soft, especially from four metres away – faces were more recognisable from two metres away. Shadows made the test subject darker on one side.
In the dark (not complete darkness), images were decent from two metres away, with faces being recognisable. From further away they were a blur. In complete darkness, faces tended to be ghost-like, with eyes and skin looking particularly over-exposed with hard to define facial features, but this is not unusual with night vision cameras in pitch blackness.
D-Link promotes the Omna cameras as providing extra-long battery life, claiming "months of performance on a single charge" due to the included 6700mAh rechargeable Lithium battery. This battery is indeed larger-capacity than you get with most cameras. For comparison, the Arlo Pro rechargeable battery capacity is 2440mAh. But you can't draw any conclusions based purely on battery capacity. There are numerous complications to factor in, including that the cameras don't draw exactly the same amount of current, but the major considerations are your camera's settings, type of usage and location.
That's why camera makers are usually a bit coy about providing battery life specifics – they can vary a lot depending on usage. Most will simply claim 'months' of battery life, based on frugal usage settings and situated in an area where they won't be triggered frequently by things such as branches moving in a gust of wind.
We did an initial charge of the cameras overnight and kept them on indoors, but not always connected during this time. When we came back to test them after one month, the battery levels were still showing three bars and, based on our previous experience with reviewing wireless cameras, this is quite a good result.
How long the battery lasts in your own home will depend on many factors, the primary one being how often the camera is triggered and forced to transfer data. If you follow the guidelines for usage and adjust the field of view and sensitivity settings for automatic triggering of pictures and video, you should be able to get weeks, if not months, out of a battery before recharging.
Being totally wire-free makes these cameras easy to set up in a home where you don't want to have cables dangling, or don't have nearby access to power. You can put the cameras in some unusual places, but some drilling may still be needed to fix the mounts to high-up areas.
But because there are no cables needed for data or power, you can simply pull the cameras off the dome mount and stand them anywhere at any time, such as on a table or bookshelf.

You may find that this convenience factor is worth having to keep an eye on batteries (which you can do easily via the app) and recharging them occasionally.
---
Join the conversation

To share your thoughts or ask a question, visit the CHOICE Community forum.