Get the best value from your solar power
How to make the most of your free solar energy when the NSW Solar Bonus Scheme ends on December 31.
The end is nigh for premium solar tariffs
---
Electricity bills are set to skyrocket for the 146,000 households that have been part of the NSW Government's Solar Bonus Scheme (SBS). The generous subsidised tariffs for exporting all of their rooftop solar power into the grid will stop at the end of this year.
If you're one of these customers, or if you're a solar PV owner anywhere in Australia, we've put together some tips to keep your bills to a minimum and make the most of your solar power.
We've drawn on research by the Alternative Technology Association* (ATA) and talked to industry insiders to navigate the confusion for affected households.
New year, new tariff
If you're one of the lucky customers who took up the SBS offer before it closed to new applicants in April 2011, you'll be getting paid 60 or 20 cents for every kilowatt hour of electricity that you generate as it's all exported into the grid.
But come 31 December, you can say goodbye to that little river of gold designed to support the growth of small-scale renewable energy.
When the new year dawns, electricity retailers will be offering just 0-8c per exported kWh. And most retailers will only offer this if your meter supports net metering of the excess solar power that isn't used in your home.
The three best steps to lower your energy costs are:
Video: CHOICE tests solar panels with help from the CSIRO
Upgrading your meter
Your energy retailer uses your meter to measure how much electricity you use and therefore will pay for – and as a solar generator, how much electricity you export to the grid. There are different types of meters: most people on the solar bonus scheme have a gross meter, and some have a net or bi-directional meter.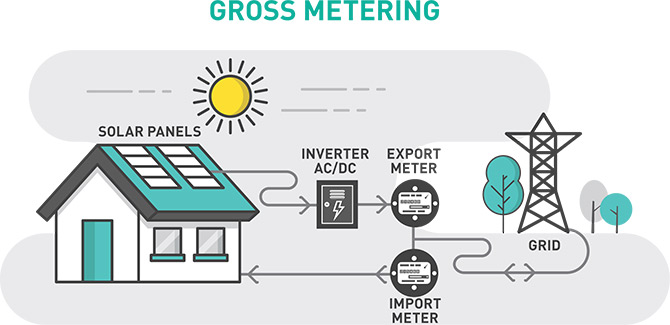 The gross meter
This set-up involves two meters. One is connected to the inverter and measures total electricity generated by the solar system while the other measures how much electricity is being drawn from the grid into the home.
Under this arrangement you're prevented from using your solar energy in your home.
This set-up is beneficial now, if you're charged the retail rate of around 20-30c per kWh for power drawn from the grid and paid the scheme's 60 cents per kilowatt hour for all the electricity generated and exported from your roof.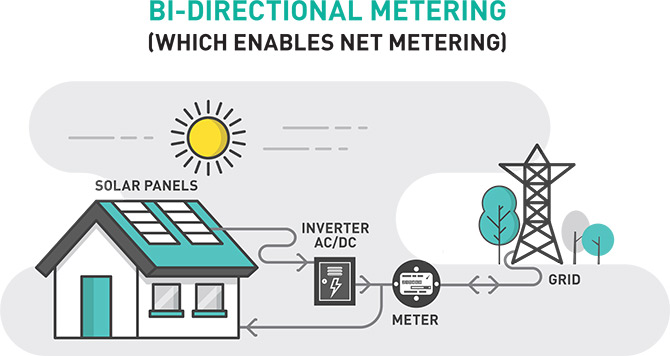 The bi-directional or net meter
If you have a bi-directional or net meter your solar power is being fed into the house, and then into the grid.
With a bi-directional net meter, you're using your solar power onsite, and only being paid the high SBS subsidised rates (60 or 20 cents per kWh) for the unused solar power going back into the grid.
According to Marco Bogaers of Metropolis Metering, a bi-directional meter doesn't measure anything coming out of the inverter, so it can't tell how much solar power you're generating. It measures how much electricity you're taking off the grid and how much you're putting into the grid.
Upgrade the gross meter to a smart meter
If you have a gross meter, it's important you submit a request as soon as possible (to avoid delays) to your energy retailer to upgrade it to a smart meter. The change needs to happen by the end of the year so come 1 January 2017, you can self-consume your solar power and receive the net tariff from the retailer for the energy you export. (See Explore cheaper electricity plans below.)
The benefits of digital smart meters
The NSW Department of Resources and Energy suggests that it's a good time for SBS customers to consider changing from a gross to a digital smart meter but meter expert Bogaers believes everyone on solar, even those with a bi-directional or net meter, should have a smart meter with the solar generation output included.
A smart meter takes accurate, automatic readings of your electricity use every 30 minutes, giving real-time household energy consumption data.
Smart metering enables time-of-use billing and other innovative pricing structures that give greater control to the consumer, and options for changing use patterns and shaving costs. It also allows automatic remote readings.
Smart meters can be automatically switched over, remotely, from gross to net metering on 31 December. Bogaers says, "As long as there's mobile phone coverage at home, then there should be no trouble getting a smart meter."
Digital smart meters have already been installed by providers such as Origin Energy, Powershop and AGL in NSW. (Note that the rollout of smart meters in NSW is different to Victoria, as NSW customers are not being asked to pay upfront for their meters.)
Who pays for the meter changes?
At the time of writing, many retailers we spoke to said there'd be no upfront costs to the householder installing a new meter.
It's likely the costs will be built into electricity bills over time. Energy Australia explains on its site: "Just like your current meter, there will be an ongoing annual cost relating to the maintenance and support of your meter and its readings."
Just to be sure, check the terms and conditions of your new meter for any associated hidden costs such as increased service fees.
Use appliances during the day
A 1.5kW solar photovoltaic (PV) system in Sydney will generate around 5-7kWh each day during autumn and spring, and up to a hefty 10kWh between 9.00am and 5.00pm in summer. (The Clean Energy Council has a table of Average daily production of a solar PV system.)
Most homes only use about 2kWh from breakfast to dinner while typical daily consumption is 18kWh a day. To maximise the use of your solar power when you're not home, use timers or the delay start feature on appliances like the dishwasher and washing machine to run them during those peak sun hours.
Hot water and space heating
Water heating accounts for about 21% of household energy so using your solar PV power to heat your water, and to heat and cool your home, is an effective way to cut energy bills.
And did you know that a hot water tank can be used as an energy storage device?
According to analyst John Rodriguez at Solar Choice, "A large 400L tank will store about 19kWh of usable energy, which is more than double the nominal capacity of Tesla's new daily-cycle 7kWh Powerwall unit." So it's a good idea to use your solar power to heat your tank during the day.
Heating and cooling can account for up to 40% of a household's energy use. If your home is well insulated, the ATA advises taking advantage of excess solar electricity by pre-heating and cooling your home at conservative settings during the day (e.g. 16-18°C in winter; or 28-30°C in summer at 2.00pm).
See
Turn off the gas
Gas is increasingly expensive and the ATA recommends switching it off and transitioning to only solar and grid electricity for your energy needs to cut costs and achieve the best economic return for your solar PV system.
Solar performance and energy usage monitoring
You'll want your solar system to be performing at capacity to cut your bills as much as possible. Smart meters can show the exported solar generation and the self consumption, alongside imported electricity – very useful data when optimising your time-of-use energy consumption.
If your new meter does not have live generation data, you can invest in a solar monitor.
Graph of daily household energy consumption and generation data from a smart meter. It shows solar power consumption (yellow), solar power exported to the grid (green) and grid-drawn power (blue).
Image thanks to Marco Bogaers.
View larger image.
Arm yourself with 12 months of recent electricity bills and, using the energy offer comparison tool from Energy Made Easy, compare your current electricity rates and service charges with the various plans on offer.
With new meters providing much more real-time data about household energy use and solar generation, the options for pricing and plans have expanded.
Time of use (TOU) pricing structures reflect demand for electricity through the day. They vary with each retailer and can differentiate between weekdays and weekends. They offer more capacity for cutting your bills than flat rate tariffs.
Tips for solar households when looking for a new electricity retailer and plan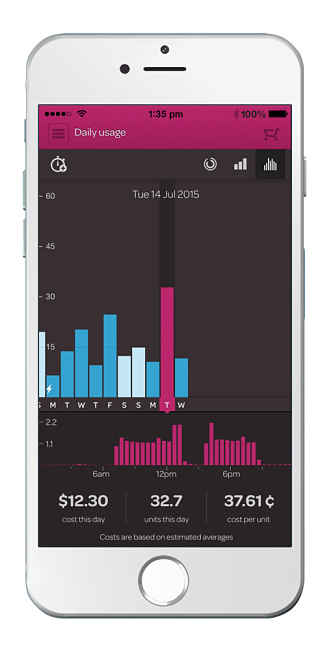 Powershop provides data such as your daily usage through its apps and online.
Look for a retailer offering smart meters with no extra fees or charges.
Be wary of plans that lock you in to long-term commitments. Similarly, be wary of exit fees.
Look at the retail tariff, and net feed-in tariff on offer for the excess solar you export, as well as daily service fees. (The Independent Pricing and Regulatory Tribunal's benchmark range in 2015-16 is 4.7 to 6.1c/kWh.)
Ask the electricity retailer if the smart meter can be installed before 31 December 2016. With a smart meter the retailer can automatically switch you to a net metering configuration on 1 January 2017 to get the net export tariff.
Avoid electricity retailers that disadvantage solar owners from their discount rates or deals (such as offering lower pay-on-time discounts).
Explore innovative plans that give greater flexibility and control over your usage and purchasing such as those available from Mojo Power and Powershop.
For more:
Upgrading your system
According to James Martin, an analyst with Solar Choice, many of the systems installed under the SBS were smaller systems with smaller inverters. This means there won't be much capacity for adding panels.
But Martin also warns homeowners against adding new panels to an older array. "Total system output is 'dragged down' by the weakest solar link, which in this case would be the older panels."
Systems should be sized to meet a home's daytime electricity demand as closely as possible - without exporting much solar into the grid.
And with the arrival of home battery systems that store electricity generated from solar panels, and solar system prices so low, Martin advises it might be time to have a second 'battery ready' system installed for when batteries drop in price.
More information on solar battery storage:
Efficiency – can you avoid some of those big power suckers?
Pools can add about 33% to a household energy bill. Reduce operating times of the pump and filters, and use timers to make use of your free solar power.
Second fridges: Do you really need that beer fridge or a spa running all year round? It can add an average of $300 to your annual electricity bill.
Clothes dryers: Using a dryer once a week can add $77 to your yearly bills and using it daily can add $539.
For more energy efficiency ideas: Five ways to reduce your household energy use.
Case study – the value of Gail's solar power before and after SBS tariffs
Gail has a 1.5kW system on her roof generating an average of 5.85kWh per day, and a gross meter. She's being paid 60 cents for every kilowatt hour of solar generation exported from her roof to the grid.
Comparing the annual value of Gail's solar power
| Metering type and solar use | Details | Annual value of solar power |
| --- | --- | --- |
| Under the current Solar Bonus Scheme, with a gross meter exporting 100% (5.85kWh/day) | 60c per kWh generated | $1281 per year |
| After 31 Dec, with no change of gross meter | 0c per kWh | $0 |
| With net metering, self-consuming 50% (2.93kWh/day) | 6c per kWh net tariff, avoiding 23c per kWh retail price with 50% of solar self-consumed | $309 |
| With net metering, self-consuming 100% (5.85kWh/day) | avoiding 23c per kWh retail price with 100% of solar self-consumed (non exported) | $491.11 |
The table above shows that Gail's solar electricity is worth much less to her when the solar bonus scheme ends, and one of the best ways she can increase its value is by using as much as possible of it at home.
*The Alternative Technology Association research will be in its forthcoming
Life after Fits
report and was commissioned by Total Environment Centre with funding support from Energy Consumers Australia.
---