How to buy the best stick and cordless vacuum cleaners
Easily hidden away in a cupboard, these handy helpers take up less room than a full-sized vac.
How do I choose the best stick vacuum?
---
Stick vacuum cleaners are useful around the kitchen and other areas of the home when you have an annoying spill and don't want to get out the dust pan and brush. Easily hidden away in a cupboard, they take up less room than a traditional barrel or upright vacuum cleaner – and most can be split into two devices, with a handheld vacuum being a part of the stick vacuum.
Want to know how we get our review results? Check out how we test stick vacuums.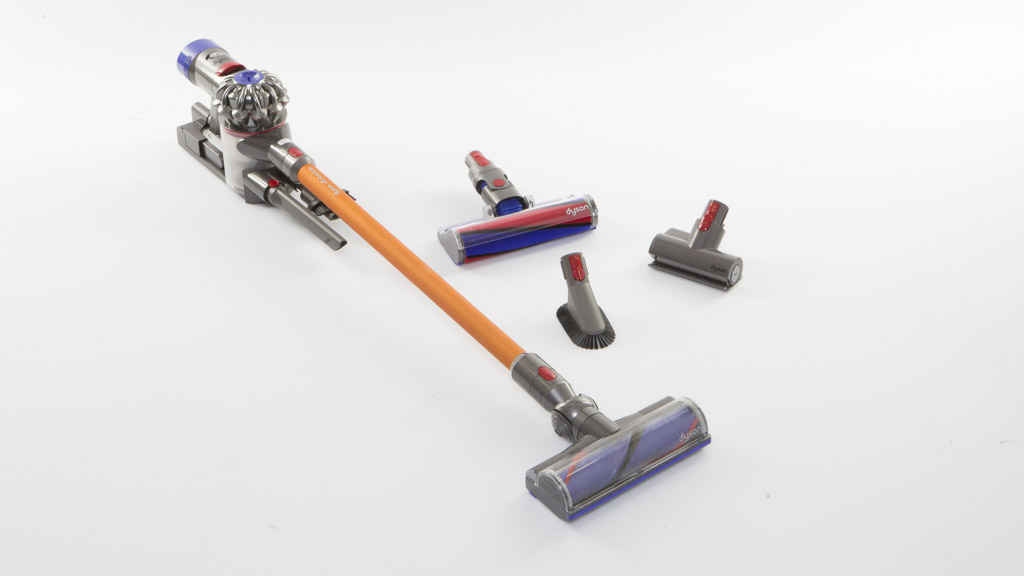 Stick vacuum cleaner – Dyson V8 Absolute.
What do I need to know about stick vacuums?
When it comes to vacuum cleaners, power is no guarantee of performance – it's the overall design of the cleaner that makes the difference.
Stick vacs aren't expected to perform as well at cleaning carpet as a standard vacuum cleaner, at any rate.
For handheld models (as for most cordless appliances), the more juice in the battery, the better the performance is likely to be. Handheld vacs generally lose power as their battery charge runs down.
New designs, and technology such as lithium-ion batteries, have led to improved dirt pick-up and running times.
Do I need a Dyson stick vacuum?
Dyson dominates the stick vac market even more than the barrel and upright market, and it's a product area where Dyson can deliver. Their V8 stick vac (priced from $799) scores well, as does the V6 (priced from $549). The Dyson Cyclone V10 Absolute+ ($999) is an impressive performer and we've recently tested the latest arrival to the Dyson range, the Dyson V11 Absolute ($1199) with new technology and top level performance.
Dyson's small motor technology is part of their success in this area; they've spent a great deal of time and money developing these compact electric motors and implementing them in their stick and handheld vacs as well as other products.
However, other brands also produce good models that have made it into our recommended list.
To find out which stick vac brands our members have found most reliable, see our vacuum cleaner reliability survey results.
How much should I pay for a stick vacuum?
The models in our latest test range in price from $99 to $1199.
What features do I need in a stick vac?
Charging and running time
Look for models that run for a useful length of time and don't take too long to charge. Some may need to charge overnight, or longer.
Light, quiet and easy to manoeuvre
Try out the vacuum in the shop to see if it's all these things; for stick models, check that it moves easily over both carpet and hard surfaces.
Filter
This should be easy to remove and clean or replace. If you have asthma or allergies, consider a vacuum with a HEPA filter.
Tools
The standard items to check for are a dusting brush and crevice tools. Other items may include squeegee tools, an extension tube or a pet hair brush. Tools are especially useful if built-in or stored on the vac itself, rather than separately or on the charging cradle.
2-in-1 models
These can be used as either a stick or a handheld vacuum. They usually have a trigger to release the handheld vacuum located on the torso of the stick.
Variable power/suction
This allows you to lower the suction, which is handy when cleaning fabric items like curtains or upholstery.
Battery
We've found that models with higher voltage batteries – 18V and up – tend to perform better.
Nickel-metal hydride (NiMH) and lithium-ion (Li-ion) batteries are the most common battery types in stick vacs. They're generally better-performing and longer-lasting than nickel-cadmium (NiCd) and lead-acid batteries, which are still used in some models.
Check the warranty details for the battery. Some warranties only cover the battery for a few months, even if they cover the cleaner itself for a year or more.
Batteries should last for a few years of typical use, but eventually they will lose their ability to hold a charge. Once that happens, it's usually cheaper to just buy another vacuum cleaner. So if the battery can be easily swapped out for a replacement, that's a definite plus.
Switch
An on/off switch is easier for continuous operation than a trigger that needs to be held down.
Fallout flap
This prevents dirt falling back out of the vacuum when you carry it with the nozzle facing downwards, such as when moving between cleaning tasks.
Wall mountable charging base
A handy mounted base will help to keep the vac readily accessible and fully charged.
Wet and dry
Some models can suck up wet material or liquids. However, they can usually only take a fairly small amount (about 150mL) and you shouldn't fill the bin with liquid past the indicated maximum level. The bin and filter need to be cleaned and dried separately afterwards.
Find out about other types of vacuum cleaners