Need to know
Convection microwaves, also known as combination ovens, combine the function of a microwave with the ability to brown and crisp food like a standard oven
Their compact size means they are faster to preheat than a standard oven, but the maximum temperature they can reach may be limited to 200°C
Convection microwaves are ideal for cooking and reheating small quantities of food
What do you get when a regular microwave morphs with a benchtop oven? Convection microwaves allow you to steam, reheat and cook food, just like a microwave, but go a step further in that you can also use them to brown and crisp food – a function you'd usually need an oven or grill for.
All this in a unit that's smaller than an oven and can sit on your benchtop. But, do you really need one and are convection microwaves worth spending your money on? CHOICE kitchen appliance expert and home economist, Fiona Mair, says they are a versatile appliance.
"A convection microwave has an element and a fan as well as a top element for grilling. Because of this, it can be used as a microwave, as an oven, as a grill and in combination mode, which is combining the microwave with either the bake or grill functions to reduce the cooking time," she says.
Because they are smaller than conventional ovens, convection microwave ovens are ideal for smaller spaces, such as kitchenettes, caravans, campervans, holiday homes and granny flats.
They would also suit people living on their own who are cooking smaller quantities of food, or can be useful for a large family that could do with the extra oven space. And good news if you always have hungry kids prowling around the house: "They're also great for teenagers who like a hot afternoon snack, as they're easy to operate and heat up more quickly than conventional ovens," suggests Fiona.
Can a convection microwave replace an oven?
Yes and no.
If you're cooking volume, such as a Sunday roast with multiple roasting trays of meat and veggies, you'll still need to use a regular oven as a convection microwave oven can't do multiple shelf cooking.
But if you're cooking smaller quantities in a single tray, you can combine cooking functions such as convection and grill for browning meat and roasting vegetables.

What if you're cooking pizza or pastry from scratch?

"Because it doesn't have a base element," explains Fiona, "results are not great for browning and crisping pastries and pizzas on the bottom." Some models come with a crisp plate, which is designed to heat food from below, but your food is restricted to the size of the crisp plate.
They're also great for teenagers who like a hot afternoon snack, as they're easy to operate and heat up more quickly than conventional ovens
The upside is that they are great for reheating pre-cooked pastries and pizzas, as they can reach a high temperature in a short time – but they may only have a maximum temperature of 200°C.
This quick preheat means they are also cheaper to run than standard ovens, so there can be a considerable saving on energy costs. You can also combine functions, such as roast or grill with the microwave function, to speed up the cooking time.
How much space do I need for a convection microwave?
If you're considering buying a convection microwave, you'll also need to consider the space you have in your kitchen.
A convection microwave requires more ventilation around the unit than a standard microwave, so you'll need to weigh up how much space you have on the bench or in a cavity.
"They are usually larger units with a protrusion at the back of the unit," says Fiona.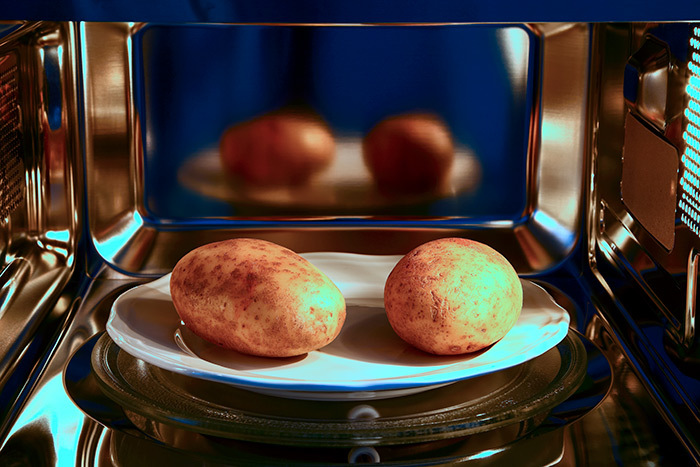 Convection microwaves can be suitable for a small roast, or for roasting small quantities of vegetables.
What can you cook in a convection oven?
There are specific dishes that will benefit from a convection microwave oven. They make reheating easier with their quick preheat, as well as being able to make food crispy. While they're not ideal to cook fresh pizzas and pies from scratch (because they don't have a base element), you can use them to heat up frozen or leftover pizza and pastry.
Because of the grill function, they're also great for melting cheese toasts and browning the top of gratins and pasta bakes. And, they're suitable for cooking small roasts and roasting small quantities of vegetables. "I like to toast nuts and make vegetable chips in my convection microwave, too," adds Fiona. Other pre-programmed settings include steaming and slow-cooking.
Fiona says she has seen the design of these appliances evolve to offer multi-shelf cooking for baking batches of biscuits or cakes, accessories such as crisp plates to help cook food from the bottom, and features such as soft-close doors and reduced operating noise.
Convection microwaves vs air fryers
There is huge hype around air fryers right now, but Fiona says a convection microwave may be a better buy.

"If you choose a convection microwave over an air fryer, you will have a microwave, a grill and an oven all in one, so it's more versatile. Convection microwaves can cook similar foods to air fryers, but they have a slightly larger capacity than a standard air fryer so you can fit more in (one of the downsides of smaller air fryers is that you can't cook a lot of food at once).

"They do take up a bit more bench space and running costs may be slightly higher than with an air fryer, but why have more appliances in your kitchen than you need?" she says.
If you choose a convection microwave over an air fryer, you will have a microwave, a grill and an oven all in one, so it's more versatile
Although they can be slightly more expensive to buy than air fryers, there are options for different budgets. The cheapest convection microwave we've tested is a Kmart model for $129 but other brands can cost over $1000. You can pick up an air fryer for under $100 but the top-of-the-range models cost around $600.

As with many appliances we review, in our convection microwave reviews, we found that spending more doesn't necessarily always get you the best-performing product, so be sure to check our reviews before you buy.

If you're really torn between a convection microwave and an an air fryer, why not have both? Some models now come with an air-fryer mode, which can be used to brown and reheat frozen foods. But, says Fiona, look for models that come with an air fryer basket or purchase one, otherwise the added feature is not effective.
What do CHOICE Community members say?
While a couple of CHOICE Community members are not won over by their convection microwave ovens, many are quick to sing their praises.

One CHOICE Community Member says: "I am on my third combined convection/microwave oven, over many years. They have varied from an expensive Sharp model to a cheap Kmart model. Whilst it does not replace my standard oven, it is great for cooking small quantities, eg crisping up frozen bread rolls, melting cheese on toast or cooking a small casserole. The convection/microwave combination is also great for sponge cakes – cooking in less time, giving a light and airy sponge and also browning. It heats up quicker than my large oven and uses less electricity."
Another member says the versatility is a plus: "I have a Sharp convection microwave. It gets used mostly as a plain microwave but I like that I can use it as a small oven which doesn't heat up the kitchen as much as the regular oven. I use it a lot for baking cakes and making cheese on toast. It also has a setting for cooking pizza which works really well."

Join the conversation

To share your thoughts or ask a question, visit the CHOICE Community forum.