Six things you didn't know about Medicare (and probably should)
It's more than just free visits to the doctor.
Medicare 101
---
Australia's public health system can look complicated if you don't use it often – it can be easy to not think about what that little green Medicare card actually does for you, if you're not the kind of person who goes to the doctor regularly. Trying to find out can lead you into a long, deep rabbit warren of incomprehensible government websites, and that's before we even mention private health insurance.
So here's your CHOICE guide to Medicare – what's free, what's cheap, and how far the safety net really stretches to stop your medical costs spiralling out of control.
The Medicare Benefits Schedule
Introducing: the new Medicare Safety Net
For starters, everything you get in a public hospital as a public patient is free. So for the purposes of this article, we're going to talk about medical services provided outside the public and private hospital systems. Read this for the list of things Medicare does and doesn't cover.
Visits to your GP can be free, if your doctor bulk bills – this means the doctor sends your bill directly to Medicare, leaving you out of it. But some doctors want to charge more than what Medicare pays them, so you have to pay for the appointment. You then get to claim some of the bill back from Medicare as a rebate (sometimes you can do this at the doctor's office).
For non-GP specialist services (like pathology, specialist appointments and diagnostic imaging) you have to pay at least 15% of the bill if you don't get bulk billed. But how do you know how much you're going to get from Medicare?
There's a document called the Medicare Benefit Schedule (MBS), where the government publishes what it thinks is a fair baseline price for the medical services it subsidises, called MBS fees (or sometimes schedule fees – same thing). Remember this, because MBS fees are central to everything that's coming up.
On your doctor's bill you should be able to find an item number, which you can use to look up the MBS fee for each service. When your GP bulk bills, they're billing Medicare the MBS fee for a consultation. If they don't bulk bill, you can claim 100% of the MBS fee on Medicare.
For non-GP services Medicare will cover 85% of the MBS fee as a rebate. You pay the rest, called the gap fee, which brings us to…
The Greatest Permissible Gap (GPG) is a rule that keeps expensive specialist services within reach of people on modest incomes. It does this by capping the gap payment, which in 2016 is $79.50. The GPG means you will pay either $79.50 or 15% of the MBS fee, whichever is lower. It applies to services with an MBS fee over $530, and increases annually in line with CPI.
For example, let's say you have to go in for a procedure that has an MBS fee of $1,000. After the 85% Medicare benefit, the charge to you would be $150. This is where the GPG kicks in, increasing the Medicare benefit another $70.50 so you don't pay any more than the $79.50 cap. So for a $1000 procedure, Medicare picks up about 92% of the tab. Think that's a good deal? Well…
Remember when I said Medicare would only cover 85% of the cost of non-GP services? Well, paying that 15% gap can become pretty costly over numerous treatments, even with the GPG in play. The good news is that the Original Medicare Safety Net (OMSN) limits the total amount you have to pay per year in gap fees to $447.40. Once you cross that threshold, the Medicare rebate for all out-of-hospital services jumps to 100% of the MBS fee.
For our $1,000 procedure, Medicare will front up the whole grand. This doesn't mean you won't still be out of pocket – the doctor might actually charge you $1200, leaving you with a $200 bill, but it does help out with spiralling medical costs. Keep in mind that it's only the gap fees that count toward the OMSN threshold: that is, the 15% of the MBS fee that you pay. Anything your medical provider charges over and above the MBS fee doesn't get a look in, at least until we get to…
Some say that sequels can never be as good as the original. To those intractable naysayers I say: The Empire Strikes Back, Terminator 2: Judgement Day, and the Extended Medicare Safety Net (EMSN). The EMSN kicks in when your out-of-pocket expenses – that is, every dollar you spend – in one year hit $2,030 for singles and families ($647.90 if you have a Commonwealth Concession Card or receive Family Tax Benefit Part A).
Once your expenses pass this threshold, Medicare covers up to 80% of your out-of-pocket expenses for the remainder of the calendar year (though some things are capped at a lower amount). Remember, this is on top of the standard Medicare rebate and anything the OMSN has paid for. That $1200 doctor's bill might end up costing you just 40 bucks.
Absolute bargain. Of course if you've reached the point where you're down more than $2,000 for medical expenses this might not be a year you're going to look back fondly upon, but it pays to appreciate the little things.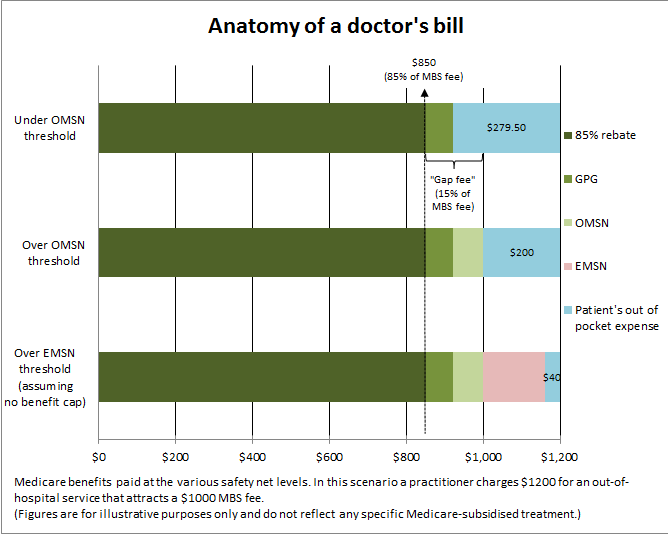 The EMSN isn't perfect: it's tricky to get your head around the details, and a couple of government reviews found that it may be contributing to increased medical provider fees. Changes to the system were set to come in at the start of 2016, but were shelved at the last minute. The reforms are still on the cards, and Health Minister Sussan Ley says she still wants to bring in the changes with a larger suite of public health reforms.
The new safety net itself is similar to the EMSN – once you qualify, Medicare will pay 80% of out-of-pocket expenses (capped at 150% of the MBS fee) on top of the 85% of the MBS fee. The changes will do away with the GPG, OMSN and EMSN, replacing them with a new Medicare Safety Net, with lower eligibility thresholds for most (unless you're in one of the 1.5 million families who receive Family Tax Benefit Part A). And there will be an equally confusing new way of calculating your eligibility, because not every dollar you spend over the MBS fee will go toward meeting the threshold. In a bid to discourage medical practitioners from charging fees much higher than the MBS fee, only money spent up to 150% of the MBS fee will count toward the threshold.
The Australian Medical Association slammed the changes when they were first announced in 2015. "With higher out of pocket costs, patients will delay seeking treatment, or not seek treatment at all," then-AMA President Brian Owler said at the time. "The current safety net arrangements, particularly the Extended Medicare Safety Net (EMSN), were designed to help people with the out-of-pocket costs they experienced as a result of Medicare rebates no longer reflecting the true costs of providing quality private medical care."
The broader reform of Medicare failed to appear in 2016, but watch this space: it may well be that 2017 is the year we see comprehensive changes to the public health system.
---