Apps and gadgets to get fit and lose weight
Can wearable gadgets and fitness apps help you kick your fitness goals? Or are they just setting you up for hi-tech failure?
Getting fit with gadgets and apps
---
Three months ago you committed to joining a gym, changing your eating habits and maybe even getting more sleep. A few months later, you're slipping off the wagon and back into your old ways, so if your willpower isn't up to the job, will a wearable fitness tracker or a smartphone fitness app help keep you on track? If you're more concerned with improving your posture than getting physically fit, then a posture improver such as the Upright Go 2 could help.
In this article we look at:
Popular fitness gadgets
There are lots of different gadgets out there, but three of the most popular are the Fitbit range, Jawbone Up and Nike+ FuelBand.

Fitbit is something of a fitness ecosystem. The company sells a "fitness family" of wearable activity trackers (such as the wristband-style Flex or the pedometer-style Zip or One) that can be linked to your mobile app, and an optional Aria Wi-Fi "smart scale". Fitbit devices can also be linked to MyFitnessPal and other third-party apps.
The idea is to seamlessly integrate the Fitbit into your life, and track (almost) all your bodily functions, including exercise, sleep and diet. The activity trackers, which in Australia include the wristwatch-looking Flex and the pedometer-like Zip and One, have a silent alarm that vibrates you awake, a display screen, stair tracker, sleep tracker and distance tracker.
But wearing a fitness gadget 24/7 can have unintended consequences. Some US consumers have reported suffering a rash allegedly caused by the Fitbit Force. The company said in a statement that the rash could be as a result of an allergy to the device or to do with a bacterial build-up on the skin under the gadget.
CHOICE staffer Matthew is a fan of his Fitbit One; he likes that it's light and can be attached to anything or carried in a pocket. There is, however, room for improvement when it comes to the practicalities of the gadget. While it is sweat, rain and splash proof, Matthew points out that "it's not washing machine resistant. I've killed two now".
Price
Zip: $79.95
One and Flex: $129.95
Aria Wi-Fi Smart Scale: $169.95

Similar to the Fitbit, the Jawbone Up is a rubber wristband designed to be worn at all times to track activity, sleep and diet.
Some CHOICErs have reported that the Up can be lost quite easily due to its wrap-around style. One user reported that she found it somewhat useful, but says it isn't for everyone. "Consider how you'll use the data you get out of the Jawbone Up. If you like gadgets and stats it's pretty cool, but I'm not sure how helpful it is in real-life terms. The downside is it made me more anxious about my sleep patterns rather than less, because suddenly I knew how many times I was waking up in one night."
Price
From $129

The Nike+ FuelBand is all about physical activity: it keeps track of your exertions by converting exercise into "NikeFuel" points. You set how many points you want to collect every day based on your fitness goals, and the band transitions from red to green to "GOAL" as you go about racking them up. The band links up with your smartphone, and you can connect to a network of other users and set each other challenges.
Unfortunately, the FuelBand isn't currently available in Australia directly through Nike. That being said, there are plenty of online retailers (both Australian and otherwise) that will get the device to you without much hassle.
Price
Approximately $200
Which fitness gadget should I get?
Deciding which fitness gadget to buy really comes down to comfort, usability and functionality. Here's a checklist of what to look for before you make your choice:
Does it have a display? The instant gratification of seeing how far you've travelled can be motivational.
How bulky is it? For those who are used to wearing slim watch bands, a bulky gadget can take some getting used to.
How much do you want it to track? The more complex and feature-rich the gadget, the more effort required to keep it up-to-date.
Are the goals sustainable in the long term? If it requires constant ramping up of your effort or commitment, you can lose motivation quickly.
Check with your doctor. An app or gadget shouldn't replace your healthcare professional, and you should always consult your doctor before embarking on a new fitness regime.
Fitbit vs Jawbone vs Nike+ FuelBand
If you don't care about tracking your food or sleep and just want a gadget that will motivate you to get out there and exercise, while also connecting you to a like-minded community of goal-setters and go-getters, the Nike+ FuelBand is marketed straight at you.
If you want to track as many bodily functions as possible (such as sleep quality and quantity, nutrition etc), then a Jawbone Up might suit you well.
If you're after something that will track your bodily functions and integrate well with a wide selection of third party apps, then aFitbit may be for you.
Best apps for tracking your fitness
Don't want to fork out for new hardware? Fitness apps for your smartphone can be a cheaper way of keeping an eye on your progress without investing in a (potentially unsustainable) gadget. The options are endless, but include MyFitnessPal, MapMyFitness, Gymprovise, RunningMap, Trackometer, Couch-to-5K, MapMyRun and CalorieKing, among others.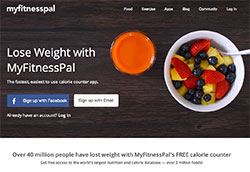 Available free for Apple and Android, MyFitnessPal is an app that has some of our members convinced. It allows you to keep track of your activity and the food you're eating (it claims to have a database of over three million foods), and can sync with your Fitbit device. The app analyses the nutritional value of the food you've consumed, and highlights any nutritional imbalances, such as consuming too much saturated fat, for example. You can also set goals for exercise and weight loss, and track your progress against them.

The similarly well-equipped CalorieKing is an Australian-based app, meaning it will recognise lots of local food and takeaway options. However, it's only available on Apple iOS, and costs $5.99.

The Couch-to-5K app offers a training plan for beginner runners. It promises to get you "off the couch and run a 5K in just 30 minutes a day, 3 days a week for 9 weeks". It includes training tools to help you stay on track, has the functionality to connect with others on the same program, it tracks distance and pace using your phone's GPS and provides you with an interactive motivational coach. It costs about $2 in both the Android Play and Apple iTunes stores.
Gymprovise is a specialised exercise tracking app for the gym and outdoors.
It comes with exercise plans that target particular areas of the body and provides you with workout programs of various skill levels. It's available only on the Android platform, both in a free version and in a more feature-rich version that costs about $4.50.
Trying to lose weight fast or get fit fast? Why it doesn't work
Keeping up a healthy routine can be difficult once the motivation of swimsuit season subsides and temptation gets the better of us. The oft-quoted statistics on the sustainability of dieting are grim: about 80% of those who lose weight won't be able to keep it off in the long term.
CHOICE has long explored techniques for sustaining weight loss, but with consumers looking for quick-fix options available like online diet programs, weight-loss clinics and diet pills, it goes to show it can be difficult to keep the extra kilos off.
In fact, one large-scale review of the long-term outcomes of calorie-restricting diets found up to two-thirds of dieters regain more weight than they lost. According to the authors, "dieters were not able to maintain their weight losses in the long term … It appears that dieters who manage to sustain a weight loss are the rare exception, rather than the rule. Dieters who gain back more weight than they lost may very well be the norm, rather than an unlucky minority."
Dr Rick Kausman, a medical doctor specialising in healthy weight management, says people are doomed to fail if their sole focus is on counting calories. "We need to take the focus off weight loss, and [put it] onto healthy behaviours and healthy thinking."
Focusing on fitness
Kausman argues the main focus should be on general fitness. "Fitness is a much stronger measure of health than a person's weight. People who happen to be a lower weight may well be unhealthy if they're not doing any activity or are smoking. Human beings come in a range of shapes and sizes, and we want people to take care of themselves, rather than focus on a number on a scale."
So rather than looking at a short-term diet to shed those extra kilos, a long-term healthy eating and lifestyle change is a much better bet.
---
Join the conversation

To share your thoughts or ask a question, visit the CHOICE Community forum.