Running app reviews: Apple and Android
We road-test performance, features and privacy.
The starting line
---
A good fitness app can double as a loyal running mate, waking up when you do, working just as hard and lending a little motivation. Just like a wearable fitness band, they can chart your progress, which is important if you want to track your improvement. And using sensors built into your smartphone, they cost significantly less than a wearable fitness tracker.
But can they replace a fitness tracker? How do they rate for features, performance and ease of use? And importantly, do they treat your data as private or share it with third parties?
We took 12 fitness apps for a run to find out.
Which fitness apps we tested
We looked at the most popular version – the free version – of five fitness apps, on Android and iOS smartphones. Many of the apps have been designed by hallmark sporting brands, such as Nike, while others have been developed by companies dedicated to sports and technology. Each is available on the Apple Store and Google Play Store, which covers 90% of the world's smartphone users. Some are also available on smartwatches that support third-party apps.
Apps behave differently depending on the smartphone model and operating system. Every now and then, you'll find that the iOS version, for example, has extra features that aren't in the Android release, and vice versa. This is why some apps have different names across multiple platforms.
Android
Endomondo Running & Walking
Nike+ Run Club
Runtastic Running & Fitness
RunKeeper – GPS Track Run Walk
Sports Tracker Running Cycling
iOS
Running, Walking and Biking with Endomondo
Nike+ Run Club
Runtastic GPS Running, Jogging and Fitness Tracker
Runkeeper – Track Running with GPS
Sports Tracker for All Sports
Overall results
We tested the apps for workout history, features, ease of use, performance, website, social interaction and data privacy.
Workout history
Being able to chart your long-term progress is directly related to the number of workouts an application can store. We assessed the app based on its recording of time, speed, distance and calories, and we also took into consideration elevation, weather forecasting, weight loss and more. The best performing apps were Runtastic, Runkeeper and Endomondo.
Features
For breadth of features, Runkeeper, Runtastic and Nike+ (iOS) had more to offer, not only during workouts but in terms of nutritional information, planning and the ability to integrate music.
Ease of use
The results varied when ease of use was factored into the equation. Endomondo, Sports Tracker and Nike+ handled phone calls well. Overall, they were well designed, with faster opening times, cleaner layouts, easy-to-read buttons, large icons and a detailed menu structure.
Performance
A number of factors were taken into consideration when we measured performance. How accurately the fitness apps measured distance was a primary concern, but we also evaluated the toll these apps would take on a smartphone's battery and the presence of annoying pop-up advertisements. The best-scoring applications included Runkeeper (Android), Sports Tracker (Android), and Nike+ (iOS). All of the apps generally proved to be accurate; the largest margin on a 9.6km run was 300m – about three percent. Battery performance was decent across all of the apps with times between 250 minutes and 331 minutes. The worst scoring was Nike+ and the best was Endomondo (Android).
Website and social interaction
Application websites summarise workout history and progress. Among the highest scoring applications were Endomondo, Runtastic, Sports Tracker and Runkeeper.
Data privacy
What the makers of these apps do with your personal information is an important consideration. We assessed each fitness app for how they treated sensitive information, who they sent it to, and did they encrypt it. We've reported on our results in some detail below.
Other features
Some features are shared by the apps. All show the recorded path over a map and it's possible to select different layers to better understand where you've been running. They all record distance, time and calories – some for the last workout and last week, while others offer monthly and yearly totals. Some apps offer these in the premium versions. All apps give audio feedback during the workout, sometimes even incentives.
Pros and cons of the different apps
Endomondo - Running & Walking
iOS/Android/Applewatch/Android Wear
Pros:
Very easy to set up and use and to start a new workout.
Supports a lot of sports other than running.
Can be connected to Google Fit and Apple Health.
Cons:
The Android version sends location data to third party server.
Annoying ad banner at the bottom of the screen.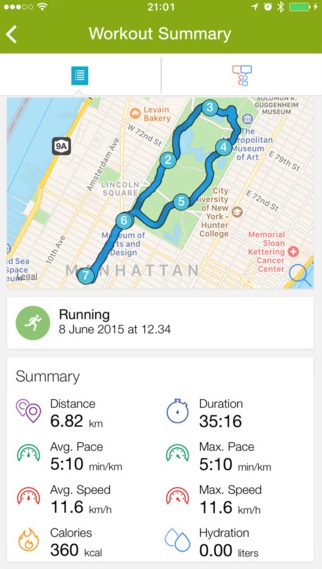 Nike+ Run Club
Pros:
Free and no ads.
Training plans.
Cons:
Lowest battery life of all apps on test (Android)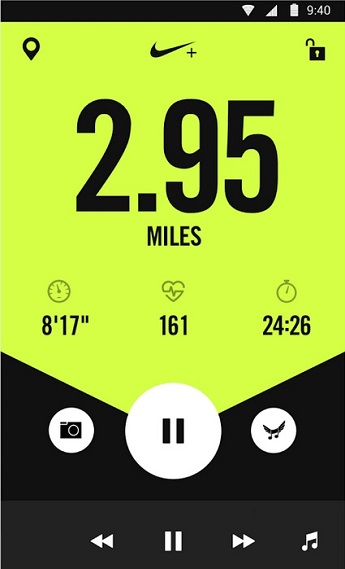 Runtastic Running & Fitness
iOS/Android/Applewatch/Android Wear
Pros:
Supports a lot of sports other than running.
Can be connected to Google Fit and Apple Health.
Cons:
A subscription is needed to unlock all of the features.
A lot of advertising.
Long launch time.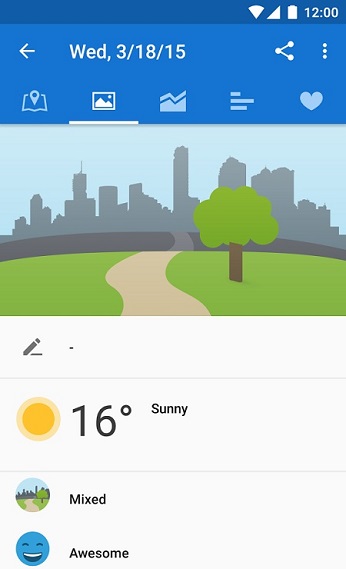 RunKeeper – GPS Track Run Walk
Supports a lot of sports other than running.
Can be connected to Google Fit and Apple Health.
Training plans.
Cons:
The Android version sends email addresses to a third party server.
Android and iOS versions send location data to a third party server.
The voice feedback does not come back once the phone call is over.
The screen layout is not extremely clear.
The app doesn't lock the screen.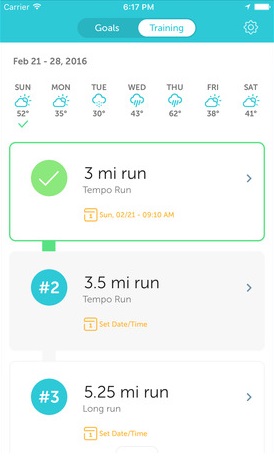 Sports Tracker Running Cycling
iOS/Android/Applewatch/Android Wear



Pros:
Supports a lot of sports other than running.
Very easy to set up and use and to start a new workout.
Cons:
The iOS version sends location data to third party server.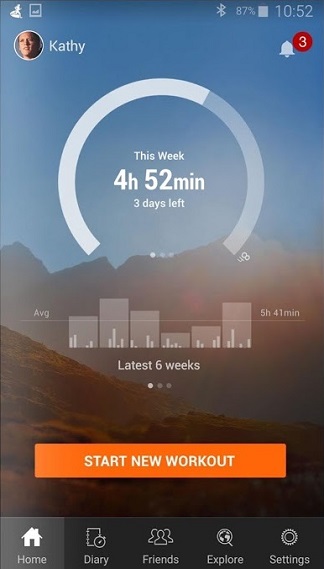 Zombies, Run!
Zombies, Run wasn't included in our test, but we did put the gamified fitness app through its paces in and around our labs. It turns out hordes of undead hobbling humanoids make great personal trainers. Zombies, Run! puts you in the shoes of someone surviving in the zombie apocalypse, and tells an audiobook-like story of survival through your headphones while you get your legs pumping. The further you run, the more you hear until the episode ends, at which point you can start the next one or complete missions and mini-objectives such as "supply drop", which means using your GPS to find a nearby location and sprinting there to gather goods. These supplies, as well as others that are automatically stored as you run further and further, upgrade, maintain and defend your home base. Supplies are particularly important as your base, named Abel Township, will run low over time, and the only way to gather more is to go for a run.
Some of these features require a paid premium subscription, but you can access all five seasons of the main story for free. The real highlight, however, is the zombies. Every now and then a groaning mass will suddenly bear down, leaving you with two options: 1) stay put and become a meal, or 2) run.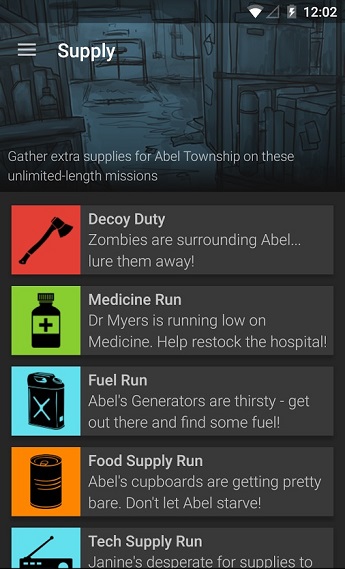 Personal data and your privacy – who does what with your data?
Your personal data is often the price paid for free apps. To evaluate what information is shared and with whom, we created a network where the data traffic would be intercepted by a computer, acting as an access point and as a gateway to the internet. Both encrypted and non-encrypted data could be registered over HTTP and HTTPS protocols.
The personal data we looked for included:
Very sensitive
Email address of the phone user
Passwords
Phone number
Content browser favourites
Browser history content
Location data (GPS coordinates)
Photos stored on the phone
Content of the agenda
Call history
Email content
Content of text messages
Contents of the list of contacts (name, email, phone address)
Sensitive
Serial number or unique identifier of the phone (UID IFA)
IMEI
Not very sensitive
Phone information (make, model version, operating system, screen resolution)
Name of the network operator
Wi-Fi network name connected
The worst behaving apps were Endomondo, Runkeeper and Sports Tracker (iOS). All of these applications were caught sending sensitive data without encryption to third parties. More precisely, they were exchanging a device's unique serial number with advertisement companies, such as googleadservices.com and flurry.com, which track a user's online behaviour to target them with tailored advertising. Sending this information without encryption means it can be seen by hackers.
Another piece of sensitive information is the geo-location. This information, which triangulates a user's location, is shared with advertising companies by Endomondo (Android) and Runkeeper.
Runkeeper (Android) goes even further by sharing a user's email address with partners. The app also asks for permission to access your call log, which is worrying because there's no reason why a fitness application would need this personal information.
The fitness apps that were best at preserving the privacy of their users were Nike+, Runtastic and Sports Tracker (Android).
People reluctant to share their personal details with third parties should consider upgrading to the paid apps, as their business model doesn't rely on advertising to make money.
CHOICE verdict
Downloading a fitness app could make spending money on a wearable fitness tracker redundant. Going for a run with a large phone in an arm strap is inconvenient, but it means your smartphone is with you at all times, even when you're running alone and in the dark.
Most people will be happy with the features offered in the free versions of these apps. Only an advanced user interested in training plans, for instance, might see value in purchasing the full version. Others will sign up to a subscription because they don't want to wave goodbye to their privacy.
Updates will continue to be progressively rolled out, packing software patches and additional features, so it's wise to check your app store for newer versions once in a while.
---
Latest Electronics and technology