A beginner's guide to setting up a blog
Dreaming of being the next great food or fashion blogger?
Blogging for beginners
---
Whatever it is you're interested in writing about – game reviews, celebrity news, your opinion on Vladimir Putin or your favourite cup of coffee – starting a blog is simple. Blogging services have evolved to offer mini-publishing platforms for free, or at little cost, to anyone who wants to be heard.
These platforms and theme templates make it easy to create a quality site and be up and blogging in just a couple of hours. But this can be both the charm and the curse of blogging. Content isn't necessarily checked or scrutinised by anyone other than the writer, particularly if it's a personal blog. This means that there's a fair bit of questionable content out there, so try to take care with your own words.
Our guide will take you through the different platforms, and some of the associated issues with blogging, such as paid content and disclosure, blogging etiquette and building traffic.
Blogging sites and platforms
There are a number of popular free blogging platform which have their own domain name and provide you with more customisation options. Some, like WordPress, also offer blogs you can pay for. Free blogging platforms have easy-to-use design templates, as well as the option to add extra features simply by dragging and dropping.
If you're new to blogging, you're better off starting with a free blog. Gain some experience writing regularly and promoting your blog before you decide to pay for it. If you're semi-professional, or the blog is for a club or group that wants extra features and has a bit of money to put towards it, a paid blog might be right for you.
Free blogging sites
Good blogging etiquette
Whether it's for the sake of your readers, your reputation or creators of content you've decided to repurpose, there are some basic etiquette guidelines you should follow with your own blog:
Match your blog title to your blog website address.
Keep your blog and website name short and related to its theme, purpose or content.
Use attribution to credit other people's work (including Creative Commons licences), but don't take words or pictures that are copyright protected from other websites.
Write a short biography and include your photo.
Edit as you go for spelling, grammar, correct context and conciseness.
Use at least one image with each post to give it some visual appeal.
Add an archive – a list of previous posts with dates, categories or a tag list – so readers can find older articles easily. If you can add a search feature, it's always a good idea to do so.
Show good blogger etiquette (and grab more readers) by reading and posting comments on other blogs.
Be your own traffic controller
The best way to gain followers, encourage them to comment on your posts and create a conversation is to write regularly and for the long term. One of the easiest ways to publicise your blog and so attract more readers is by linking to social media sites like Twitter, Facebook or Pinterest.
Most blogging platforms have widgets to add social media buttons to your site, so readers can find you on other platforms. You can also add your new blog posts to your social media accounts so your Twitter followers or Facebook friends know you've put up new material. If you're on Facebook, you can create a Facebook page for your blog so people can "like" it to receive updates on your postings in their newsfeed.
Disclosure of paid content and copyright
Blogging has become so popular it's become a source of income for some. This opens up a whole new can of worms, with debate around how paid product reviews [link to article on review websites] and advertising might compromise the independence of bloggers' opinions. Laws in the US require bloggers to disclose paid content and their commercial arrangements, but there's no such requirement in Australia.
When blogging, be aware that taking copyrighted words or images from other websites is the same as stealing. The law protects against the use of copyright material without payment and attribution.
One way to get around the copyright issue is to look for materials – like images – that have a Creative Commons licence, which you can republish if you credit the creator. This licence lets you distribute, remix, tweak and build upon the original work (depending on the nature of the licence) so long as you give credit for the original creation. Flickr also has a Creative Commons search site for photos and images.
Some sites may also allow you to repost or reblog some of their content, as long as it's credited. A site like The Conversation, which publishes articles from universities and research institutes, allows republishing with a credit or link to the site.
How to start a WordPress blog –& step-by-step
When you register for a free blog with WordPress, it will give you the option to pay for a blog. One of the most significant differences between a free and paid blog is the website address. A paid blog will have its own domain name, like myblog.com, as it occupies its own domain on the web, while a free blog is hosted on WordPress so the web address is always myblog.wordpress.com.
1. Getting started
On the wordpress.com site, click the Get started button. This will take you through to the registration page and ask you to choose a website name for your blog. If you want to start by registering to comment on other blogs before launching into your own, you can just sign up for a username by clicking on the question mark next to the blog address bar.
2. Creating your blog
Choose your blog address, or one that's as close as possible to the one that you want – the exact one you want may already be taken, so try to come up with a few alternatives. Enter an email address, username and password, as well as your chosen blog name. When creating your password, use letters and numbers and at least eight characters, then click on the Create blog button at the bottom of the page.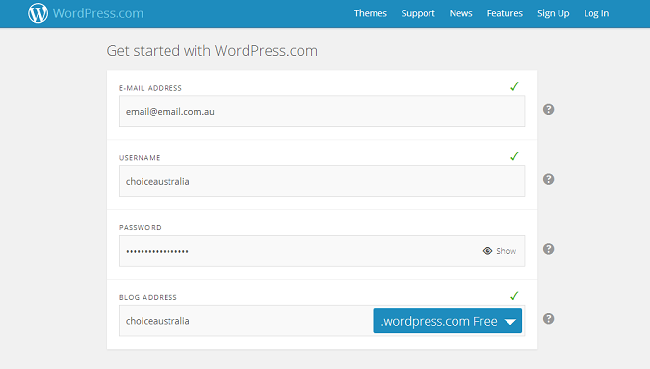 3. Your tagline
The next window will confirm your blog title and tagline, which is a one-line description of your site. The tagline will be shown under your blog name on your blog so visitors can easily get the gist of what it's about. Click Next step when you're done.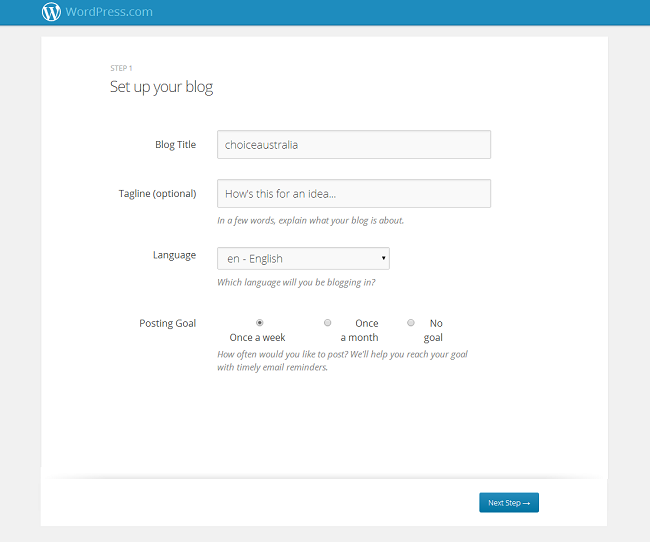 4. Blog theme
A theme defines your blog and gives a visual cue to its purpose and topics. Spend time browsing through the theme templates to choose one that you like and that represents your blog. Don't stress though; you can change the theme later if you want to give it a different look. Click Next step when you've picked the one you like – we're going with Reddle for this tutorial.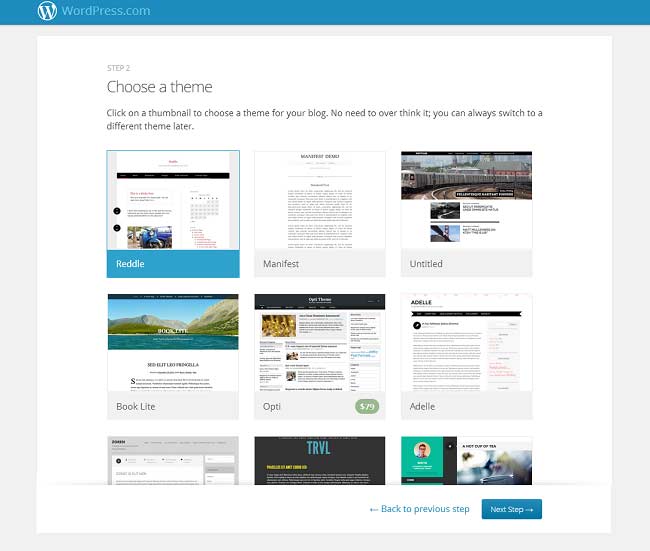 5. Customising your blog
There are some options to change the style of the template. If you want to play around with it, click the Customize It! button (some customisation functions require you to pay) or, if you're happy to leave it as it is, click Next step.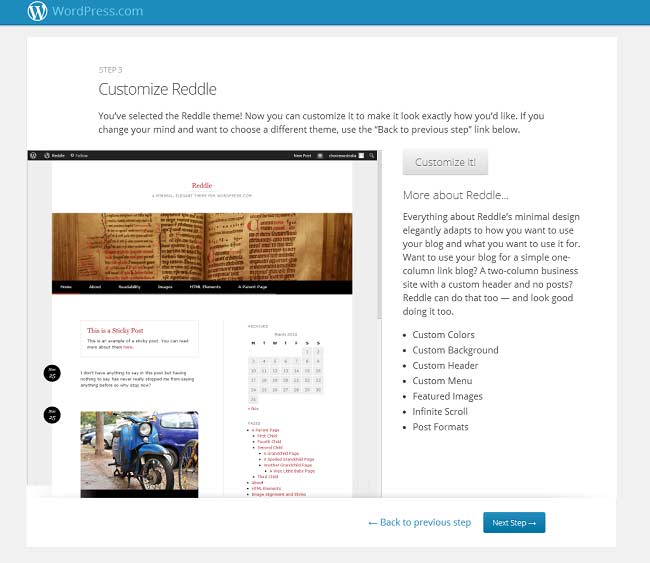 6. Finding other bloggers
You can automatically find friends who already blog with WordPress by connecting to them through Twitter or Facebook. If you're unsure about this or just uninterested, click Next step to skip it.
7. Writing your first post
You can now write your first post. Don't panic – just write a short introductory post about the blog with a catchy title. Keep it simple to begin with. The writing window has some simple formatting buttons much like those in Word. Click Insert photo to add a picture or click the link button to add links to other websites. Click Finish when you're happy with what you've written.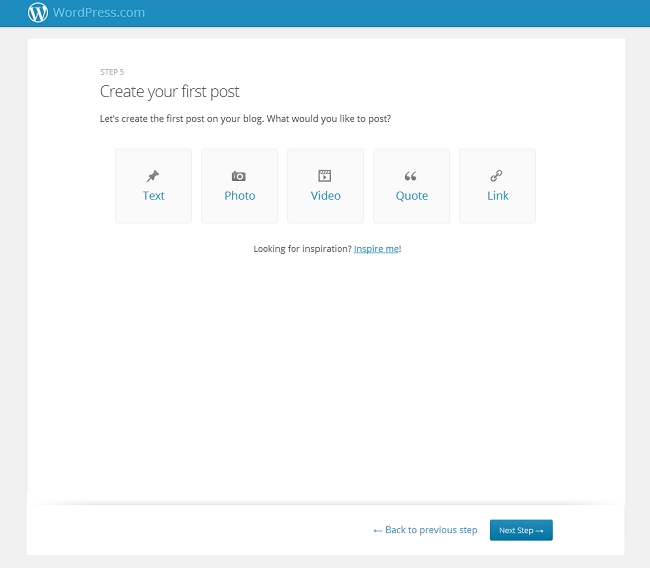 8. Confirming your email address
The next screen will tell you to go to your nominated email account for the confirmation email. Remember to check your spam folder if it doesn't appear, and if it's in there click Not spam so your email will learn not to quarantine these emails.
9. Activating your blog
In your email inbox, you'll see a welcome email from WordPress with a link. Click the Confirm Email Address button in the email to make your blog and username active. This takes you back to wordpress.com, where you'll be able to start blogging.
10. Navigating WordPress
Your first post will be published and you'll be able to see it in your Reader. The Reader also shows postings from any blogs you're following. The tabs along the top at wordpress.com will help you navigate the various sections. The Stats section provides a summary of activity for your blog, like page views and some reader stats. Freshly Pressed allows you to see new postings from other blogs elsewhere on WordPress. The My Blog section lets you make new posts and provides the link to your Dashboard.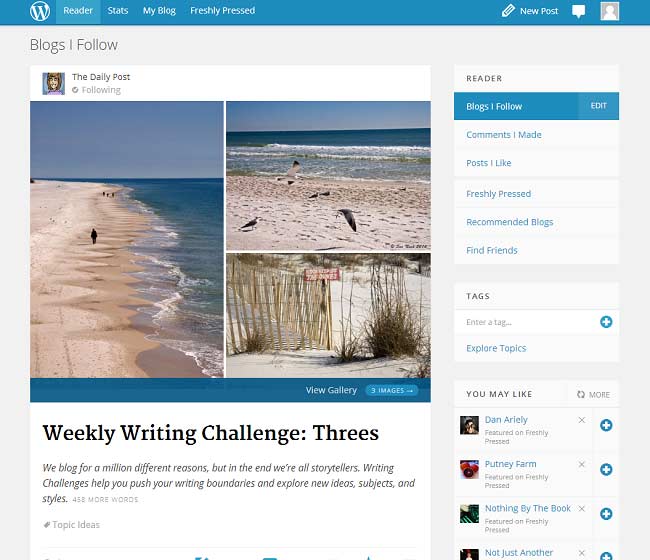 11. Getting around your Dashboard
The Dashboard is the control centre for your blog. It can also be accessed by typing in yourblog'sname.wordpress.com/wp-admin/ into the search bar. The links on the left-hand side allow you to navigate the Dashboard.
Posts displays a list of past posts and allows you to make a new one.
Media shows images, audio and video files uploaded to the site.
Links shows other websites that are connected to your blog.
Pages shows the pages that are part of the blog. Add more pages in this section.
Comments shows all the comments for the site.
Feedback shows ratings and poll results, if you've used these.
Appearance lets you browse and preview different themes and add widgets.
Users is applicable if you have a shared blog and shows other users.
Tools gives you the options to post via email and verify your site for search engines. You can also add the Press This app to your browser to grab things from websites. This is also where you go if you ever want to delete your blog.
Settings contains more options to change the site's title, the number of posts per page, settings for comments and so on.
---
Latest Electronics and technology