Gmail update: New features explained
Google gives users better security options in its latest Gmail update.
---
The Gmail web service has had a facelift and added a bunch of new features. The extensive update includes handy improvements to the user interface (UI), automatic flagging of potentially dangerous emails, and self-destructing confidential messages.
The update is rolling out progressively. If you haven't received it yet, you may be able to opt in immediately by clicking the cog icon at the top right of your Gmail inbox and selecting 'Try the new Gmail'.
In this article:
Guide to the new layout

If you regularly receive emails with attachments, you'll notice Gmail's new look straight away. Instead of a tiny paperclip icon way off to the right, each attachment (up to three) now sits underneath the subject heading.
This has two main benefits. The first is you can see the file types and names without opening the email – useful if you're searching for a specific attachment. The second is that clicking on an attachment lets you access or open it without opening the email first.
You can also now view the Google Calendar, Google Keep and Google Tasks apps from a right-hand sidebar that slides inward. This gives you a quick view without the need to open a new program.
For example, Google Calendar lets you view all your appointments, but you can only view it in single-day view, rather than seeing the whole week or month at once. Click the pop-up icon at the top of the sidebar to launch the full app. Note, however, that it may not open if your web browser has a pop-up blocker turned on.
Mousing over an email reveals the archive, delete, mark as read and snooze options. If it's a calendar invite, you can also RSVP by hovering the cursor and clicking accept or decline.
Scanning emails for security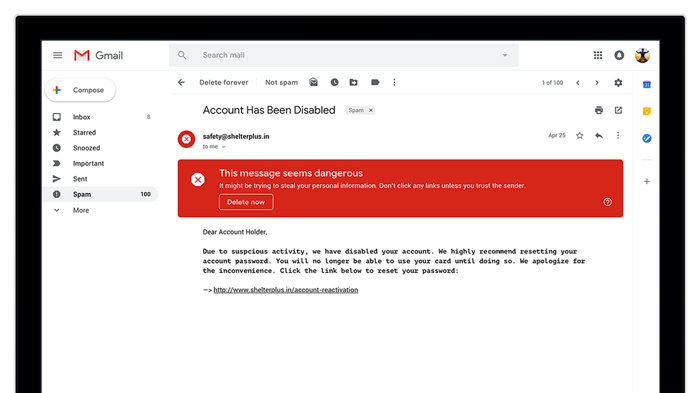 Phishing is a type of fraud where someone masquerades as a trusted person, organisation, company or government body to trick you into giving confidential information such as passwords, usernames or banking details. This kind of scam is getting more advanced all the time, with criminals finding devious ways to hoodwink unsuspecting victims.
Gmail now scans each email, looking for telltale signs. If it finds something questionable, you'll see a large red or yellow "This message seems dangerous" banner at the top of the email – the colour indicates the level of risk.
Google assured users in a blog post that it does not scan emails for the purpose of ad personalisation.
Automatic reminders and 'smart' replies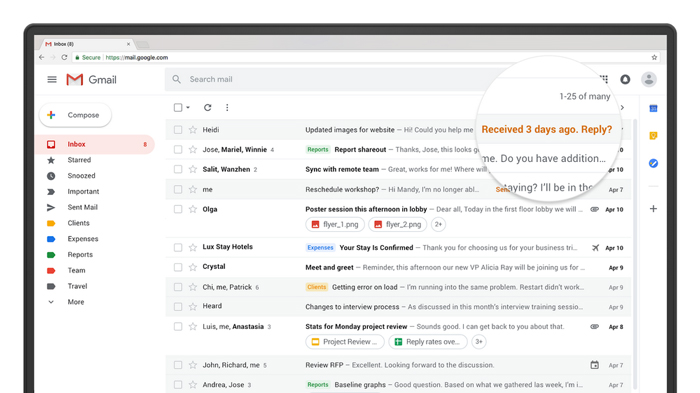 Google has also employed its artificial intelligence scanning to implement the nudging and smart reply features. Nudging proactively reminds you to follow up or respond to an email you may have let slip.
Smart reply first launched on the Gmail phone app last year and is already responsible for 10% of Gmail traffic on mobile. It offers pre-filled responses to simple emails, such as a "Yes, I do" or "No, I don't" reply to an email beginning with the phrase "Do you have …"
Keep it confidential with self-destructing messages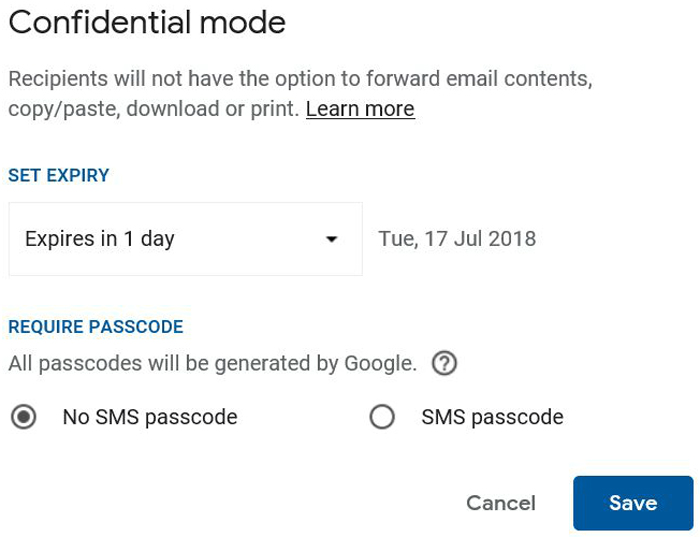 Confidential mode makes it harder for a message to fall into the wrong hands. Recipients of a confidential email will not be able to forward, copy and paste, download or print it.
These confidential emails can be set to self-destruct after a certain amount of time: one day, one week, one month, three months or five years. You can also add two-factor authentication (2FA). For this, Gmail will SMS a passcode to a specified number. The passcode must be entered to open the email. You can't currently send passcodes to Australian numbers, but if your recipient is overseas you might find their country in the drop-down menu.
Ever sent an email to the wrong person? Or perhaps you sent one before it was finished. Confidential mode emails can also be manually deleted after they've been sent, potentially limiting damage or embarrassment. Users on the other end will still have the email in their inbox, but opening it will deliver an "Email not found" message.
To turn on confidential mode, first start a new email, or reply to or forward an email you've already received. Down the bottom of your email box, you'll see an icon in the shape of a clock and padlock. Click it and select your confidentiality options.
Any email sent this way will include the restrictions to forwarding, copying and pasting, downloading and printing. The dropdown menu lets you choose the amount of time before the email will delete itself.
The 2FA option is still visible via the Require password check boxes, despite it not yet working with Australian numbers. If you're sending the email to someone in Australia, leave it set to No SMS passcode for now.
Once you've set up your confidentiality restrictions, hit Save then compose and send your email. To manually delete the email after you've sent it, go to your Sent email box, mouse over the email and click the delete icon (garbage bin) that appears on the right.
---
Latest Electronics and technology
Join the conversation

To share your thoughts or ask a question, visit the CHOICE Community forum.