NBN installation and connection: will you be ready for FTTP?
Do your research so you know what to expect when disconnection day looms.
Don't be left behind on cut-off day
---
When you're facing 'copper cut-off' as the NBN reaches your suburb, it's essential that you're ready when existing phone and internet services are disconnected and you're moving to the fibre to the premises (FTTP) NBN.
FTTP connections are continuing to be rolled out, while the fibre to the node (FTTN) section that connects to copper or pay TV cables has just started construction. Almost a million homes and businesses have connected to the national broadband network (NBN) with fibre, satellite and wireless, and the Government has an ambitious target to connect eight million premises 2020.
Want the latest news on where the NBN is at? Here's our NBN rollout update.
Confused about all the different technology? We spell out what you need to know in our NBN FAQ.
When it comes to FTTP connections, it hasn't been all smooth sailing for the NBN's new customers.We'd heard stories about people who'd had difficulties connecting to the network, including installation problems and confusion about moving from an existing service to a new NBN service. So we decided to investigate for ourselves.
We asked the Voice Your Choice community if they'd had any problems with their NBN installation and how it was resolved, and also got their thoughts on their internet service providers (ISPs). They reported experiences ranging from "seamless" to "a disaster". We also outline what to expect if you're connecting with a full-fibre, or FTTP, connection.
What are your FTTP installation rights?
Standard installation for first time connections is $300.
Standard fibre installation allows a phone to plug into the NBN connection box.
NBN installation includes a utility box (external), standard connection box (internal) and optional (internal) battery backup.
Existing phone sockets will no longer work, unless the wiring is changed at your cost.
Installation location is determined by safety, existing hardware and property restrictions.
Who has final say on location of equipment?
A full-fibre connection requires an 'NBN utility box' to be fixed to the outside of your premises, and an 'NBN connection box' installed inside your premises that your computer, router and phone will be connected to. Customers are also offered an optional back-up battery box for inside the premises. You may need to think about internal cabling to connect your devices.
Under the guidelines of the Nbn™ (the Commonwealth company set up to build and operate the national broadband network), an installer must offer several locations for installation of internal equipment. However, in practice, the home layout or location of internal routers or computers will influence where the equipment can go. This seems to be the biggest area of confusion and unhappiness for consumers.
A member from WA with a fibre connection remarked about their connection box: "It is in a very inconvenient location, but we could only put it in a cupboard in the bedroom because they wouldn't allow it to go anywhere else."
It can pay to explain how or why you need the equipment in a certain location, as our Queensland member found with their fibre installation. "The installer eventually agreed to install the box where I wanted it."
Similarly, the location of the utility boxes on the outside of the home has caused some conflict. A member from Tasmania said: "We returned home one day to find the box on the outside wall of our house as we came up the drive and it's an eyesore. But we're getting used to it."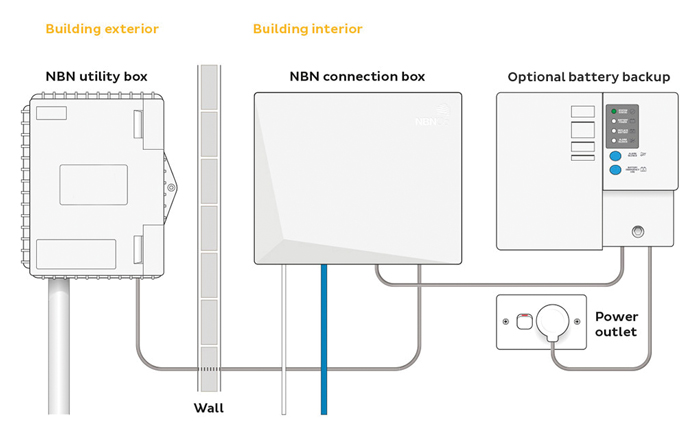 Beware of extra costs for installation
If you need additional work done to install the equipment, you'll probably need to pay for it yourself. There may be extra costs around wiring, extra data points or upgrading your alarm system.
A member from WA with a fibre connection found this problem: "We are waiting on an electrician to put in a data point and hard wire to a second storey. All this is going to cost us extra, which is annoying."
"I also have to change my alarm system. It took a bit of research to work out what I had to do, plus it is going to cost extra as well – both an installation cost and an increase in my monthly monitoring."
Look out for slow wait times
Some members report that it took longer than expected for the process to get started. One member in Queensland who is connected to fibre told us: "It was a slow wait for the node box to be attached to the house once the initial rollout was in the street. Once an appointment was booked with NBN and our ISP (Optus), installation of the internal modem, battery back-up and transition from ADSL to NBN fibre was quick, seamless and speedy. Both NBN and Optus technicians were timely, efficient and friendly."
An NT member connecting to fibre found problems with waiting for technicians who "made appointments and did not turn up. This meant staff waiting around during lunch hours for appointments that never occurred. Then it was connected and crashed. We had to wait days to get it fixed."
Do your research first
If there's one thing you can take away from the experiences of our Voice Your Choice members, it's to do your research first so you know what to expect, who to contact for plans and installation, and what your installation rights are.
As one member from the ACT (fibre connection) said: "I had no issues because I researched thoroughly before choosing a provider then supervised the installation of the internal and external hardware, insisting that everything be installed where and how I wanted it installed. I also assisted the technicians by pulling the fibre cable through my roof as they didn't want to do it. My provider had already sent my modem which I connected following their easy to use instructions and it was up and running in no time."
What happens when you get the NBN?
You'll be contacted by Nbn™ when the network is available in your area and you'll receive updates every few months on how to connect to a new service.
It's best to talk to your ISP and do your research early. Look at your ISP's website for customer information, and there's a lot of consumer information on the Nbn™ website. This way you'll be ready to make the move well ahead of the disconnection date in your area.
Contact your preferred ISP to sign up and discuss contract changeover, if necessary. The ISP will then arrange installation with Nbn™.
A new NBN router may be needed, depending on the service, but you should be able to keep your phone and connect it to the NBN connection box in your house.
For people on fibre to the premises (FTTP) connections, where fibre is replacing copper, your existing phone and internet services will eventually be disconnected. Your landline phone number can be retained if moved before old network switch-off. Mobile, wireless and satellite services will not be disrupted.
VoIP phone services will not work if there's a power outage on the new network, unless you have the battery back-up.
Home security services may need to be upgraded so check with your supplier.
Add your medical alarm to the NBN register.
If you're a pensioner, check if you qualify for a discount for phone and internet services with your ISP. Telstra is required to offer phone services for low-income households and priority assistance services on the NBN.
Tips for making the move to the NBN
Know your disconnection date as advised by Nbn™.
Read the information sent to you from Nbn™ about the network changeover.
Shop around and compare plans from service providers.
Think about preferred location for internal and external boxes and discuss with the ISP.
For help with installation, go to Nbn™; for help with plans, go to an ISP.
Where can I get more information?
---
Latest Electronics and technology
Join the conversation

To share your thoughts or ask a question, visit the CHOICE Community forum.