Synology DS119J NAS review
We get hands-on with the low-cost centralised file and media storage device.
An entry-level NAS for new users
---
Looking for a centralised place to store your documents, videos, photos and music on your home network, that can also be used as your own personal cloud?
Synology's latest entry-level NAS (network attached storage) device gives you all this at home – or over the internet when you're out and about – via your mobile phone, tablet or laptop.
Synology's DS119J is a single-bay NAS designed for home and first-time NAS users.
We borrowed one from Synology to see just how capable and user-friendly a low-cost NAS can be.
CHOICE verdict
The Synology DS119J stores your files in a central location and makes them available to your devices either over your home network (also called a local area network or LAN), or via the internet using a service called QuickConnect.
You'll need to install your own 3.5-inch hard drive (which is easily done), but there's only room for one. Drives are available up to 14TB capacity, but you can start smaller and swap it out for a larger one down the track. With just one drive and a range of apps to choose from, it's more of a media server than just a backup station.
The DS119J comes with built-in apps for videos, photos and music, and you can download more to extend its capabilities. But it doesn't have hardware-based video transcoding, so it won't convert video types on-the-fly while streaming to your TV.
Users with an NBN connection will find remote access faster and thus more useful than those handicapped by the slow upload speeds of ADSL.
If you want to try out a NAS at home, the DS119J is a fairly easy solution, but novice NAS users will still face a bit of a learning curve to get the most out of it.
Synology DS119J
Price:
from $150 (drive not included)
Contact:
synology.com.au
How to install and set up the Synology DS119J
Install a 3.5-inch hard drive in whatever capacity you can afford (the bigger the better). Hardware installation is easy, with just two screws securing the drive bay and four for the drive itself. The quick installation guide shows a 2.5-inch drive being installed, but the adapter parts it shows for that type of installation are an optional extra. In any case, installing a 3.5-inch drive is quick and easy.
Connect the NAS to your router using an ethernet cable (preferably a gigabit connection).
Log in to the NAS (using one of the URLs in the quick installation guide), and download the operating system (DiskStation Manager, or DSM) from Synology's website via the link provided. The hard drive is prepared automatically as part of installing the DSM software, so you don't have to worry about choosing partitions and file systems.
Name the NAS (server) and give it a strong password for the administrator account. This is especially important if you're planning to access the NAS via the internet (QuickConnect set-up is part of the installation).
Install apps. Standard packages (apps) are included in the installation, but others can be added give extra capabilities, such as connecting to a security camera for storing recordings, for example.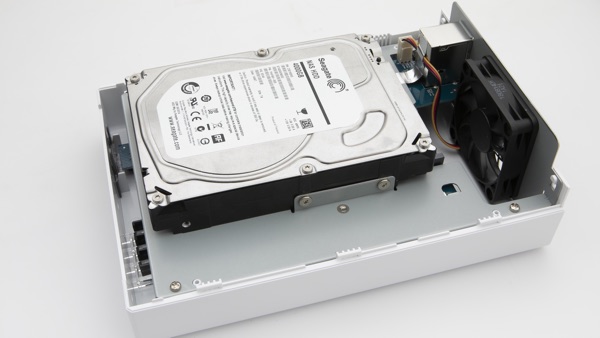 Install a 3.5-inch drive (or a 2.5-inch drive with optional adapter kit)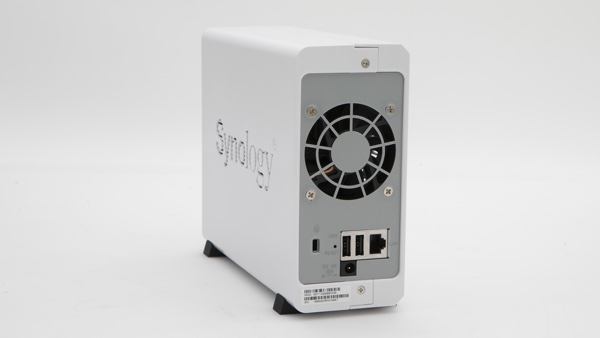 Behind the NAS are two USB 2.0 ports, gigabit ethernet and a Kensington lock slot
How easy is it to use?
The NAS software interface looks like a typical desktop operating system, with menus and apps.
The Package Center has plenty of apps to choose from, including:
Download Station (for torrent files)
Video Station (for serving video to mobile and TV)
iTunes server, for streaming music via iTunes client software
Cloud Server, which lets you set up the NAS as a personal Cloud storage. (This works best if your home connection is on the NBN, which has much faster uploads than ADSL2+.)
Some of the features on offer for Cloud services can be a little complicated, so you'll need to do some research if you want to get the most out of features such as file synchronisation and versioning.
If this is your first NAS, you might find it a bit daunting to do more than just use it for storing and accessing files locally.
Persist, however, and it can be a rewarding experience to expand its capabilities via packages, once you figure out which packages can do what and how to use them.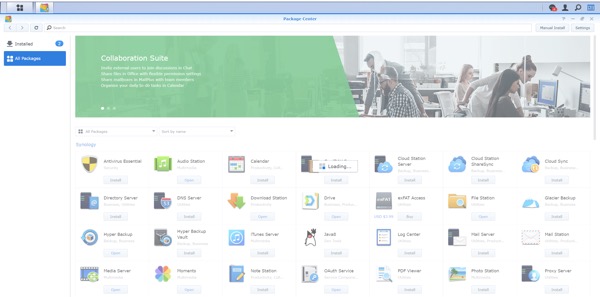 The Package Center lets you choose which apps to install.
How does it perform?
We equipped the Synology enclosure with a 4TB Seagate ST4000VN008 NAS hard drive for our testing.
Large files were:
read at a rate of 114 megabytes per second (MBps)
written at 66MBps
Small files were:
read at a rate of 49MBps
written at an almost identical rate of 50MBps
That's quite a reasonable performance for the price.
A few limitations
Only one drive Don't use this NAS as the sole storage place for your most valuable files. Since it only accepts one hard drive, there's no data redundancy. If, for example, it could take two drives, they could be set up in RAID 1 array, which writes identical data to both drives at once (also called mirroring).
No front USB port There's no USB port on the front of the NAS, so you can't quickly connect a USB stick for copying data directly. However, the rear of the drive has two USB 2.0 ports, which are slow but let you attach external USB drives. Note that if you want to put a USB printer on the network, it's usually easier to connect it to your router if it supports this function (or by adding a printer server if it doesn't).
No hardware video transcoding Not all video file types can be streamed from the NAS to a Chromecast via its Video app (MP4s will work, but other file types may not). This is because it doesn't have hardware-based video transcoding, which converts files on-the-fly to a suitable format. This means you'll have to convert (transcode) some types of files first, using software such as the excellent free and open source Handbrake program.
No Plex Plex is a popular media hub for streaming via a NAS, but it's not yet listed as an app in the DS119J's Package Centre. (At the time of testing, Plex's website as it listed as 'pending' for the DS119J).
Related
---
Join the conversation

To share your thoughts or ask a question, visit the CHOICE Community forum.