Seagate LaCie rugged drives review
Hands-on with two ruggedised LaCie portable storage drives with the emphasis on RAID speed and encrypted data security
Fast and secure, respectively
---
Looking for tough, fast and secure storage? Seagate has released two ruggedised LaCie portable storage drives for speed and security: the Rugged RAID Pro and the Rugged Secure, respectively. We tried out both courtesy of Seagate.
By default, the 4TB (terabyte) Rugged RAID Pro, which contains two drives, is set to RAID 0 (zero), also known as striping, for fastest performance. You can also set it to RAID 1 (mirrored) for data security, with data written to both drives identically.
The LaCie Toolkit and RAID Management software need to be downloaded and installed to get the most out of this drive. The RAID software tells you how much space will be available to use in each of the supported RAID modes – 0, 1 and JBOD (just a bunch of disks) mode. JBOD means you can see and use each drive in the RAID individually as if they were connected as separate external drives.
The Toolkit software gives Windows users the ability to use the RAID drives as backup storage, including creating a continuous backup of specific file types or folders. The 'mirroring' feature lets you select a specific folder that you would like to be copied identically on the LaCie hard drive.
If changes are made to either folder, then both the folders will sync with those changes. Mac users need to use the built-in macOS Time Machine program after formatting the drives to the native Mac file system.
RAID performance
In RAID 0 mode it transfers data at up to 240 MB/s (megabytes per second). While around half as fast as the fastest SSDs (solid-state drives), this is plenty fast for most people and the built-in SD card slot makes it ideal for on-the-go photographers. The USB-C port gives it compatibility with Thunderbolt 3 but you can also connect with USB 3.0. The drive is also shock, dust, crush and water resistant, has a 3-year warranty and data recovery service options.
The drive comes with an external power supply, which is needed for computers that don't have enough power to drive it (for example, the Microsoft Surface Go). Most standard size laptops can power the drive without the need for the external power unit.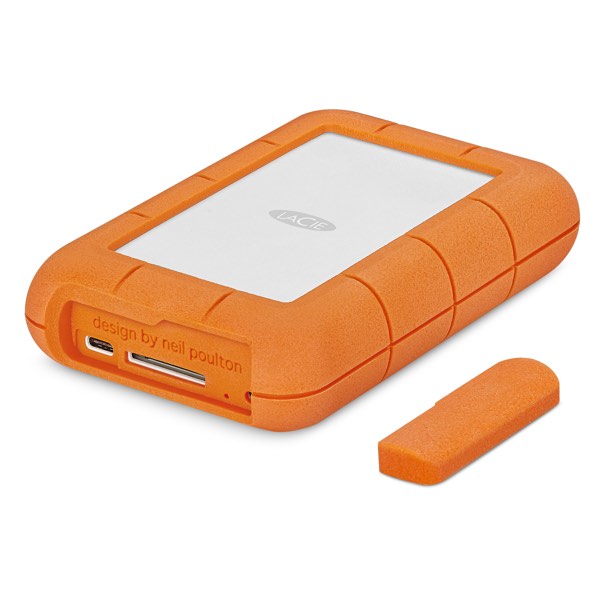 Ruggedised RAID storage with a built-in SD card slot that photographers will love.
The Rugged Secure is the first ruggedised LaCie drive with built-in hardware encryption (AES-256) for super-secure data storage on Windows or Mac. Simply disconnecting the drive locks it automatically, requiring a password to access it.
But first you have to get the software required, which is not supplied on the drive.
We found this to be a bit of a fiddly process as you first have to go through a registration page online. A direct link to the Toolkit software would have been more straightforward and we feel better documentation is needed for novice users.
We timed some data transfers with the encryption enabled and with it turned off and found that using the encryption doesn't slow down performance much. This is a good thing, because if you buy this drive you need to enable its encryption to get the most out of it.
Once set up, the encryption feature will require a password to be entered every time the drive is plugged in to a computer (Windows or Mac) via the auto-launching unlocking program that gets put on the drive after you enable encryption.
A standard word of caution here: if you lose the password, your data can't be retrieved. The drive can be restored to its original state via Toolkit using the PSID code that is on the drive and on the supplied leaflet, but your data will be gone. So, save that password somewhere secure.
As with the LaCie Rugged RAID Pro, the Toolkit software provides several backup options for file types and folders and folder syncing.
If data security is paramount for you, then encryption is a good option. And if you take your data out and about with you, LaCie's ruggedised drive will give you a little extra peace of mind, especially if you are likely to encounter extreme conditions.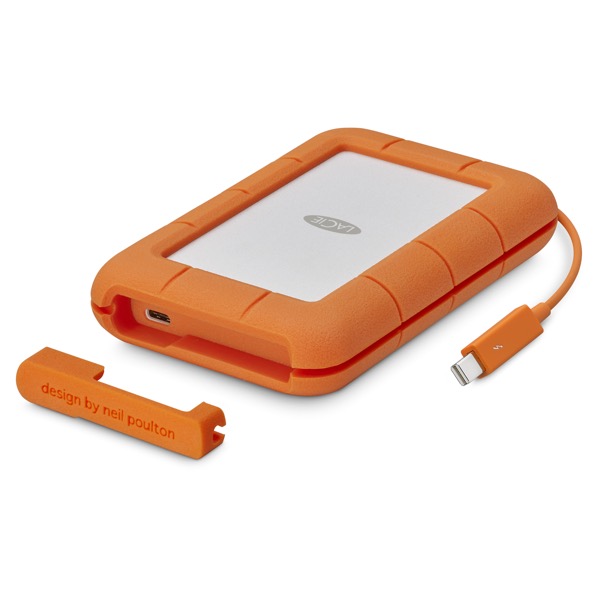 A tough drive that keeps your data encrypted for peace of mind.
LaCie Rugged RAID Pro 4TB – $550
LaCie Rugged Secure 2TB – $220
lacie.com.au
---
Latest Electronics and technology
Join the conversation

To share your thoughts or ask a question, visit the CHOICE Community forum.