Seagate and LaCie 1TB portable SSD review
We get hands-on with super-fast, compact 1TB portable solid-state drives from Seagate and LaCie.
Identical cousins
---
Super-fast mass storage is more affordable than ever. Following our review of Seagate's portable solid-state drive (SSD) released late last year comes an almost identical model from LaCie (which is owned by Seagate). Both offer a slim and light 1TB (terabyte) of storage which you can pop into a pocket or purse.
We tested both drives (courtesy of Seagate and LaCie), putting them through our rigorous storage drive test, comparing them to models in our most recent portable storage drive reviews.
Both palm-sized drives look physically the same, apart from colour; the Seagate 1TB Fast SSD is silver while the LaCie 1TB Portable SSD is black.
We found both had almost identical but very respectable performance, and they come with similar software features. Both can be used with Windows or macOS without reformatting and they come with cables for both USB 3.0 and USB-C.
These are high-performing and very compact drives, but shop around for best pricing, as it can vary quite a bit.
Seagate Fast SSD 1TB
From: $311
Contact: seagate.com
LaCie 1TB Portable SSD
From: $371
Contact: lacie.com.au
The Seagate 1TB Fast SSD has been available since late 2018, while the LaCie 1TB Portable SSD was released early this year.
Each drive is about as big as a beer coaster and not much thicker at around 9mm, weighing 82g without cable and 100g with cable. The physical similarity in both drives is unsurprising, as Seagate owns LaCie, but you can't pinpoint differences until you test them.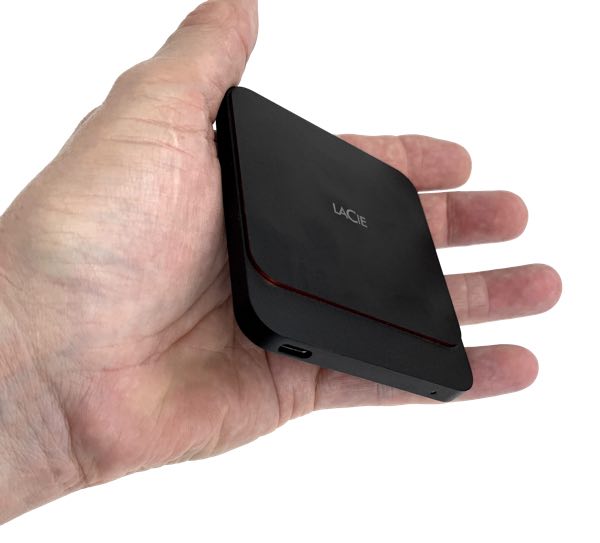 Both the Seagate and LaCie 1TB SSDs are slim and compact.
Both drives are twice the capacity of the 500GB SSDs in our
portable storage device reviews
. They're very fast, although their performance came in a tad under the three fastest SSD models in our recent test: the Samsung portable SSD T5, WD My Passport SSD and Verbatim Vx500 SSD External. However, in everyday use and even video editing you're unlikely to notice much difference. You should still have plenty of performance for easily editing multiple video streams.

Both the Seagate and LaCie drives can be used with Windows or macOS out of the box, as they're formatted as Ex-FAT, but you'll need to reformat for Mac if you want them to work with Apple's Time Machine backup software.
What's also nice is that they both come with cables for USB 3.0 and USB-C. And the connection cable for USB-C is USB 3.1 (Gen-2), to match the port. This is rated at 10Gbps (gigabits per second), which is twice the rated speed of USB 3.0 and USB 3.1 (Gen-1).
The drives have a downloadable Toolkit Software Suite which includes backup software that can set folders on your computer to automatically back up to the portable drive. You can also back up manually and synchronise files and folders.

There's no digital security built-in, so if you lose the drive, anyone can plug it in and access your files unless you employ some software-based encryption.
Being small and light with no moving parts, both drives should be quite rugged, with claims of 2-metre drop resistance (not while operating, of course), so they should stand up to everyday life in and out of a backpack or satchel. That's a good thing because you'll want to take one of these with you everywhere.

Both drives have a three-year warranty but an unusual feature is that they also come with a three-year plan to safeguard your data in the event of mishap, with a service that includes one free data restoration attempt over a three-year period. There's also a month of Adobe's Creative Cloud (All Apps) plan, for the creative types.

The drives come in 500GB, 1TB or 2TB capacity, but 1TB is finally starting to replace 500GB as the sweet spot for a high-capacity portable SSD. When we first reviewed the Seagate 1TB Fast SSD back in October 2018, it had an RRP of $569, but shop around now and you can find it for far less.
We did some searching online via comparison websites and found the Seagate 1TB Portable SSD for as little as $310 (but prices ranging up to $420). We found the 1TB LaCie drive available online for between $370 and $399.
Moving up to the 2TB versions, the Seagate 2TB portable SSD can be found for $599 at time of writing, while the cheapest price for the LaCie 2TB was around $665.


The moral of the story here is that pricing can vary quite a bit and change quickly, so take a few minutes to do a comparison shop online before buying.
Related
---
Join the conversation

To share your thoughts or ask a question, visit the CHOICE Community forum.