LaCie DJI Copilot drive review
Hands-on with LaCie DJI Copilot storage drive and video toolbox.
Mobile digital video toolbox
---
The LaCie DJI Copilot does far more than just hold your pictures and other data. It's more like a digital utility box than just a portable drive.
If you want to travel light (without a laptop) it's a versatile on-the-go storage solution for digital photography and video. We tested it out courtesy of LaCie.
The LaCie DJI Copilot combines a 2TB (terabyte) hard drive with built-in SD card memory slot and power bank.
It's designed to be a one-stop-shop for video makers and, in particular, aerial drone "pilots" who want to lighten their load by capturing and reviewing video footage without needing a laptop. (The Copilot arose from a partnership between LaCie's parent Seagate and drone maker DJI.)
As you'd expect for a companion drive to a drone, the LaCie DJI Copilot is really designed for use away from home, for digital photos and videos. It comes under the category of BOSS drive (Backup On-Set Solution).
You don't have to be a professional though – it can be useful for anyone who wants to offload data from an SD card or smartphone while out in the field or view pictures and footage without having to connect to a computer or mobile network.
Buy now from Amazon
About shopping links on the CHOICE website
Contact:
lacie.com.au
The internal battery independently runs its 2TB hard drive and supports the backup of data to the drive from SD cards, mobile devices, USB hard drives and flash drives and a wide variety of cameras both still and video.
That same battery can also be used to charge mobile devices, such as your smartphone, though you wouldn't want to do much of this or you'd seriously curtail your workday if offsite, unless you had a secondary power source.
Battery life
Though LaCie promotes the Copilot's mobile device charging capability, it doesn't provide any information on the battery size, so you'll need to keep an eye on it depending on the type of use.
We tested battery life was transferring data continuously from the following devices:
iPhone 8
LG Nexus Android phone
Samsung Portable SSD
MicroSD card (via adapter)
The Copilot lasted a total of 2hr 35min when transferring data from the above combination of devices. When the battery life was reported as critical (5 per cent and lower), the transfer failed.
The Copilot comes with an AC adapter to recharge it, though this isn't much use out in the field. Fortunately, you can also charge it using the USB-C port when connected to a computer or portable power bank.
We tested how long it take to charge, using the supplied wall adapter and found it took 2hrs to reach 56% charged, meaning you will probably spend more time charging it than you will get out of its battery on-the-go.


Rugged design
The drive casing is surrounded by a protective bumper, similar to that of LaCie's ruggedised drives, though in this case it's grey instead of day-glo orange.
LaCie says the drive is drop resistant, splash resistant, and dust resistant, but doesn't quote a standard to specify just how much.
Our experience with LaCie ruggedised drives gives us confidence that this drive will withstand the rough and tumble of being in a backpack every day, but there is a mechanical hard drive inside so treat it with respect when turned on. An internal SSD would make the drive smaller, lighter, more durable and a lot faster, but that would also cost quite a bit more.
We don't know if LaCie has that on the drawing board, but such a drive would likely attract a following from professionals.
The whole drive is noticeably larger and thicker than LaCie's ruggedised drives, mostly due to the built-in battery and multiple connection ports.
But it's still a compact all-in-one solution.
What makes the LaCie DJI Copilot a stand-alone unit that doesn't need to plug into a computer is the display screen that's built into the side of the drive.
The built-in screen handily displays:
drive capacity
battery life
mode (USB or SD).
A single-button control is the interface to the screen. It uses short-press or long-press to respond yes/no to onscreen questions and to start data transfers.
Press the button on the hard drive once to switch it on and it will show you the remaining capacity of the drive, as well as the remaining charge (it cycles through these).
Press it again to bring up the copy command, which will copy the contents of a plugged-in SD card (or microSD via an SD adapter).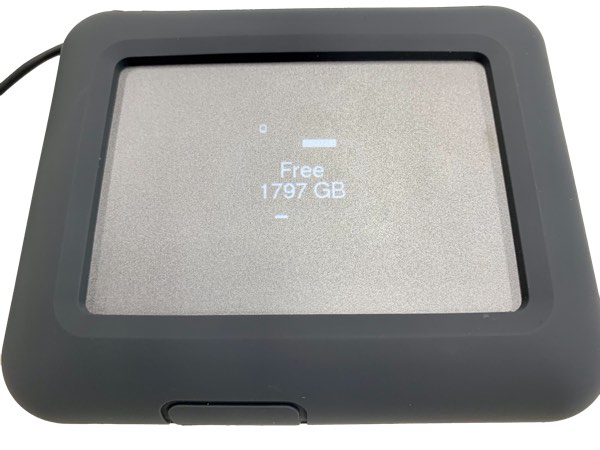 We didn't find smartphone transfers particularly fast. Copying files from a Nexus 5X to the hard drive was done at a rate between 650 and 800 kilobytes per second (KBps).
Copying files from an iPhone 7 Plus was more erratic, with transfer speed not always shown.
When it was, it reported speeds between 750KBps and 5 megabytes per second (MBps), with relatively long gaps of zero in between.
One of the delights of this drive is always having the right cable for the job, as it comes with cables for micro-USB, USB-C, and Lightning connections (which currently covers all phones).
The hard drive's interface with a computer is USB-C, and both USB-A and USB-C cables are provided.
It also comes with an adapter for the SD card slot that means you can use microSD cards.
It can offload files from most SD cards (UHS-I and UHS-II), digital cameras, action cameras and video cameras.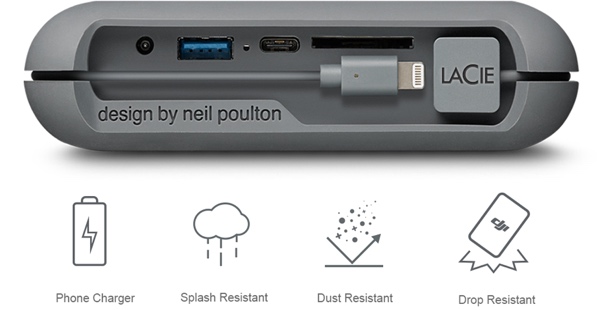 Set-up requires a smartphone and the Copilot BOSS app. You then initiate file transfers through that app, as well as review your pictures and video footage on your mobile phone or tablet. The app also lets you mange your files, including renaming and deleting.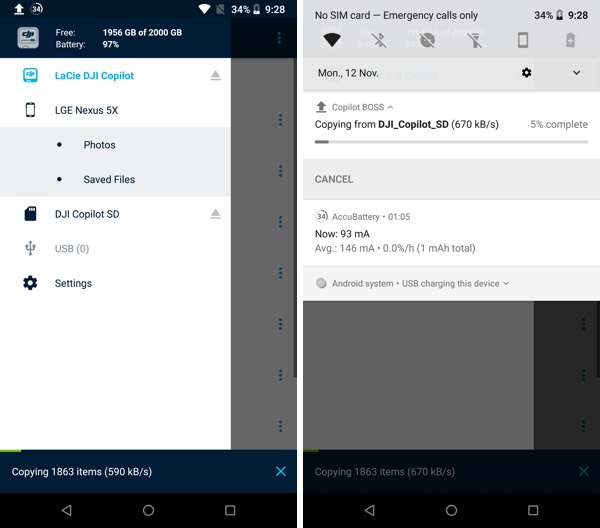 LaCie says the 2TB capacity can store up to 60 hours of 4K 30fps video footage and 20K+ RAW photos (that's photographer-speak for a lot of work), based on an hour of footage taking up 30GB of space.
The drive comes formatted with the exFAT file system for Windows/Mac compatibility, which means it can read and write on both Mac and Windows machines straight out of the box.
LaCie recommends it's best left that way for maximum compatibility, rather than reformatting it to another format such as NTFS or HFS+.
Unusually for a portable storage drive, but reassuringly, it comes with an offer for three years of free Rescue+ Data Recovery Services, plus a month of Adobe's Creative Cloud All Apps plan.
Shopping links on the CHOICE website
CHOICE is an independent, non-profit organisation dedicated to helping consumers. Clicking a link will take you to a retailer's website to shop. While we make money if you buy through some retailer links, this doesn't influence any of our rankings. 100% of the money we make goes straight back into our non profit mission. We're currently testing this service and will consider providing more shopping links in the future. Tell us what you think.
---
Join the conversation

To share your thoughts or ask a question, visit the CHOICE Community forum.