Hands-on with Epson's 'big ink' home printer
We try out a new home printer that comes with enough ink to keep you going for two years without refills.
Print without empty-tank anxiety
---
Imagine never having to replace those fiddly – and expensive – little ink cartridges on your home printer ever again. In fact, imagine never running out of ink. That's the promise of Epson's new EcoTank range of colour multi-function printers, which come with enough ink included to give you up to two years of printing. We spent some hands-on time with the new Epson WorkForce ET-4500 to see how it performs.
Epson launched four new EcoTank wireless all-in-one printers in Australia last month, making it the first major printer manufacturer to bring 'big ink' systems to the Australian home. The Epson EcoTank ET-2500, ET-2550 and WorkForce ET-4500 and ET-4550 can print, scan and copy. And instead of using relatively low-capacity replaceable cartridges, the EcoTank models come with built-in high-capacity ink tanks which Epson says shouldn't need refilling for around two years in normal usage.
Two years of refill-free printing
The two-year claim is based on a usage scenario of 150 pages per month for the ET-2500, ET-2550 and ET-4500 models, and 300 monthly pages for the ET-4550. Note that your mileage may vary depending on the type of printing you do. Epson's output claims are based on standard pages with a mixture of text and graphics, but if you print picture-heavy pages you'll go through your ink faster, of course.
The EcoTank models aren't classed as photo printers, which often use six or more special long-life inks to produce superb archival quality printed 'photos', but we found that when using Epson photo paper the results were surprisingly good. And that's a key point: to get the best out of an inkjet printer you need to use inkjet paper (either matte or gloss).
Furthermore, you should use the manufacturer's recommended paper for best results. While you can often get good results on generic inkjet paper or using another brand, such as paper from HP or Canon, you'll only get optimum results on the paper which is specifically matched to the ink formulation. That means fast-drying, no smudging, fade resistance and longest printed life. Using generic copier paper is fine for draft-quality results but as with all inkjets, the paper you use can vary your results dramatically.
Tanks replace tiny cartridges
Just as there's never a good time to run out of battery on your mobile phone, running out of printer ink seems to always happen at the worst possible time – when you're using it for something urgent. And, as Murphy's Law would have it, there's usually no replacement cartridge handy.
Epson's EcoTank models come with a set of four bottles of ink (cyan, magenta, yellow and black) formulated for long life without clogging the print nozzles.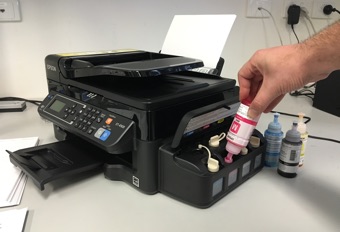 Fortunately, if you're a heavy user, the replacement bottles of ink are relatively cheap at just $16.99 each (except for the ET-4550's larger black ink bottle at $24.99). The bottles have a resealable cap for storage and hold enough ink to print 4000 pages in black and 6500 pages in colour for the ET-2500, ET-2550 and ET-4500. The ET-4550 inks should be good for 6000 black and 6500 colour pages.
At those prices there's no reason not to use Epson's specially formulated EcoTank inks, but if you're thinking of trying to save a few more cents by topping up the tanks with anything other than Epson's genuine ink, forget it. Using third-party inks will void your warranty and quite likely cause problems, including ink streaking and clogged heads.
The plentiful ink supply partially negates two common criticisms: that colour inks are consumed even when printing black text (so no 'black-only eco mode'), and that significant amounts of ink are consumed as part of normal self-maintenance (head cleaning, which uses ink to keep the nozzles free). Also that you need all colours to be able to print at all, so if you run out of one ink, all printing stops until you add some more.

These last two points can be quite a bugbear for printers that use tiny cartridges, but less of an issue under the new system, which has copious amounts of relatively inexpensive ink to play with. We found that you can top up your ink tanks at any time from a replacement ink bottle, as it doesn't stop printing if you open the ink tank lid. So if you keep a supply available and keep your eye on your ink levels, your printer will literally never run out of ink.
Initial set-up
Setting up the ET-4500 takes longer than usual for a home printer. First you have to fill the ink tanks before switching on. The tanks are on the side of the printer and filling them is relatively simple, though a little fiddly, and you need to pay careful attention. The ink colour label isn't near the hole for the tank, but on the underside of the lid. It would be easy to inadvertently pour the wrong colour into the wrong tank, which would be a disaster. Take your time – you don't have to do this very often.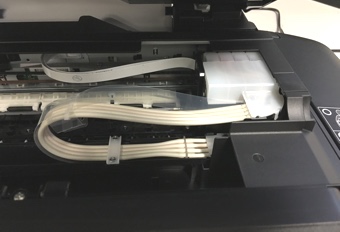 Filling each tank took less than a minute, on average (but we squeezed the bottles to speed things up). Ink is carried from the tanks to the print head by long, thin, flexible tubes. We found that priming the system with ink for first-time printing took almost 20 minutes.
Meanwhile, we downloaded drivers to PC and mobile devices and connected the printer to our network using Wi-Fi (ethernet is also an option, as is USB for a direct PC connection). It connected to our network easily, but using the keypad on the printer for the Wi-Fi password could be annoying if you use a complex 'strong' password, with a mixture of numbers and upper and lowercase letters (recommended), as you have to change the character-set for each character.
Placing paper into the rear tray was initially awkward. The paper goes in slightly crooked until the paper guide on the left is manipulated to straighten it up. You must make sure you don't put in too much paper; a tiny arrow on the paper guide informs you of the stack's maximum thickness.
Pumping out prints
Paper exits the printer in a straight path and the output tray handled a job of 84 continuous pages without overflow. This is good news for students or home office users wishing to print large jobs. The printer took just over 10 minutes to print those 84 pages, which featured mostly full pages of black text.

Duplexing is supported manually, meaning that once you start a print, it will print one side first, then you have to re-feed the job so that the other side is printed. This is easy to do once you get the hang of the orientation that's required to re-feed the paper. To get automatic two-sided printing you'll need the slightly more expensive EcoTank 4550, which also gives you a 30-page auto-document feeder.

While the ET-4500 is not a photo printer (and doesn't have a colour LCD or memory card reader to facilitate direct photo prints), it still did well when used with Epson Glossy Photo paper to print full-page photographs. It can certainly be used as a home photo printer. A typical full A4 page colour print was produced at an average of six minutes and three seconds.
Controls and quietness
There are scan and copy functions, and you can use either the height-adjustable flatbed or the automatic document feeder. Scans can be initiated from the printer's control panel and sent to your favoured system on the network. Multi-page documents fed through the ADF can be saved in a single PDF file.
We found the ET-4500 reasonably quiet while printing. The overall build quality is fine, but the hardware itself doesn't hint at it being a more expensive model than current 'cheapie' printers on the market. It's a little wider, due to the inclusion of the bulk ink tanks, which jut out on the right-hand side and include an ink-level viewing window for each tank. This will likely affect where you put the printer if want to keep an eye on the ink levels, though the software will keep you informed anyway.
Lower running cost
The EcoTank range is a radical departure from the 'razor blade' sales model (sell the razor cheap and make the money on the often-replaced blades) employed by manufacturers of home printers up to this point. This has attracted heavy criticism for high ongoing costs of genuine replacement ink, often sold in low-capacity cartridges that need frequent replacement.
While far more economical 'big ink' systems have been available for many years on large-format printers, cost-conscious home users have had little to choose from (outside the aftermarket bolt-on continuous ink systems from suppliers such as Rihac, which can be fitted to particular models from Epson, Canon, Brother and HP).
The razor model has also spawned a huge market for third-party cartridges and ink refill gadgets which can save the average printer user quite a bit of money over the life of a printer – though there are concerns about the quality of cartridges and output of non-genuine inks. See our article on buying compatible ink cartridges.
Higher upfront cost
While the EcoTank range brings cost-per-page to unheard-of low prices for home printing, the catch is that the initial buy price (including ink) is higher than home printer buyers have been used to paying up front. Here's what they cost:
The Expression ET-2550 $499, WorkForce ET-4550 $699 (available from Harvey Norman).
The ET-2500 $449 and WorkForce ET-4500 $599 (available from JB Hi-Fi, The Good Guys, Bing Lee).
It has taken a long time for a manufacturer to bring a big ink system to the home, and it throws down the gauntlet to the likes of HP, Canon and Brother. It will be interesting to see how long it takes for them to come out with big ink home printers of their own. This assumes that the Epson range will be popular with consumers, many of whom have become used to the low purchase cost of a basic multifunction printer, married to the relatively low ongoing costs of third-party replacement inks.
In the meantime, Epson has a head start in the 'official' home big ink market.
---
Latest Electronics and technology