The best gaming monitors
We identify the best monitors for gaming – comparing refresh rate, image quality, adaptive sync and more.
---
After researching over 100 gaming monitors and testing 13, the Asus ROG Swift PG279QZ came out on top as the best gaming monitor for people with a Nvidia graphics card and the Samsung CHG70 is the best for those with an AMD card. Both monitors have large, high-resolution screens, adaptive synchronisation, and high refresh rates for smooth, fluid gameplay.
About this guide
This guide was written by Thorin Klosowski of
Wirecutter
(New York Times group) and republished by CHOICE. The products are independently selected. This test was conducted in the United States and was originally published on the Wirecutter website. You can
read it here in its original version.
Photo: Rozette Rago
The Asus ROG Swift PG279QZ is a 27-inch IPS monitor with a maximum refresh rate of 144 Hz (which you can overclock to 165 Hz, but we don't recommend it) and support for G-Sync, the adaptive sync technology that works with Nvidia graphics cards.
Its 2560×1440 screen is perfect for gaming: it's big and high-resolution but doesn't require a top-of-the-line graphics card to run at high-quality settings and refresh rates.
You can pivot, swivel, tilt, and adjust the height of the monitor on its stand.
The PG279QZ has an HDMI 1.4 port, a DisplayPort 1.2 port, and two USB 3.0 Type-A ports.
Its colour accuracy isn't as good as some non-gaming monitors, but it's good enough if you're not using it for print or photography work.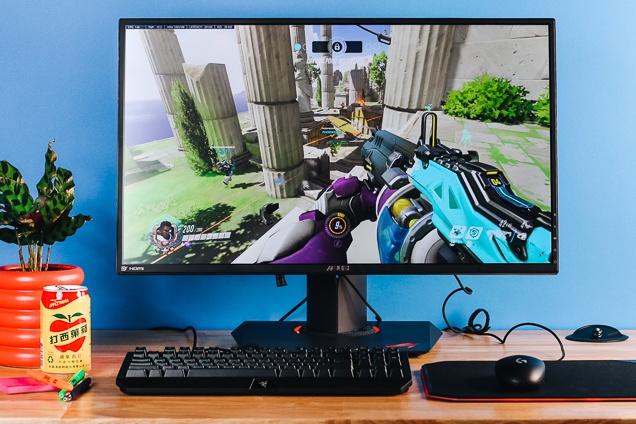 Photo: Rozette Rago
The Asus ROG Swift PG279QZ is the best G-Sync gaming monitor.
The 144 Hz 27-inch, 2560×1440 IPS display is responsive in fast-paced games and feels great to use. (The refresh rate is overclockable to 165 Hz, a feature Asus promotes heavily, although testers found that makes the monitor worse by adding ghosting.)
While G-Sync monitors are more expensive than their FreeSync counterparts, all the G-Sync features work seamlessly on the PG279QZ with no tweaking, a feature that's worth the extra $100 or so for anyone with an Nvidia card.
The PG279QZ has a widely adjustable stand and all the ports you'll need, and while its colour accuracy isn't good enough for professional photo or video work, it's good enough for playing games.
Its three-year warranty is plenty to cover any issues you might run into with the monitor, and Asus covers dead pixels for the first year.
G-Sync
G-Sync worked well in a wide variety of games across a full spectrum of frame rates and is enabled the second you connect the monitor to a Nvidia graphics card with a DisplayPort cable.
In Overwatch, testers never saw screen tearing when going up to and over 144 FPS. With Shadow of the Tomb Raider, which fluctuated between less than 30 FPS and 50 FPS, G-Sync matched the frame rate down to 20 FPS and screen tearing was unnoticeable.
To the testers' eyes, this felt smoother than the Samsung CHG70 at low FPS, which uses FreeSync's low framerate compensation (LFC) when a game runs at a framerate below the monitor's range. LFC doubles the frame rate by displaying each frame twice, then sets the refresh rate at that number. For example, if a game is running at 40 FPS, Freesync doubles each frame it sends to the monitor and sets the refresh rate to 80 Hz. In most cases, this produces the same effect as G-Sync, but side-by-side, the G-Sync solution looks smoother.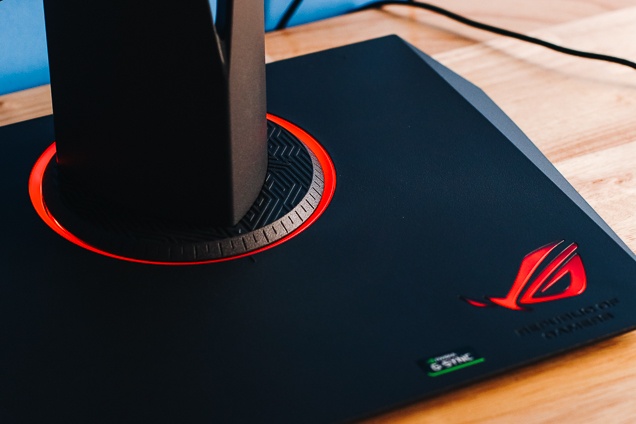 The base of the PG279QZ lights up in traditional gamer red, but you can disable that in the monitor's settings. Photo: Rozette Rago
Fast-paced games like Overwatch and Apex Legends look fluid on the PG279QZ, and although a gaming monitor can't actually improve your skills, it certainly makes for a pleasant gaming experience.
The PG279QZ can overclock to 165 Hz, but testers found overclocking negatively affected response times. Overwatch was the only game they were able to consistently hit more than 165 FPS in, so most people will be happy with the default 144 Hz refresh rate, which is the same as that of the Samsung CHG70. Where testers saw some motion blur on the CHG70, they didn't have issues with the PG279QZ at the default settings. You can also enable an overdrive setting for a faster response time that supposedly matches the ViewSonic XG2402's TN panel, but testers found it introduced inverted ghosting, which was distracting.
The PG279QZ uses a 27-inch 2560×1440 IPS panel. It has better viewing angles than the Samsung CHG70, which has a curved VA display that restricts the viewing angles significantly. The PG279QZ's IPS panel is brighter than the CHG70 and looks great in well-lit rooms, though the CHG70's deep contrast looks fantastic in darker rooms.
You can adjust the height, swivel, and tilt on the PG279QZ. The stand is much smaller and easier to use than the CHG70's, which is unwieldy in size, though it does have the same basic adjustments as the Asus.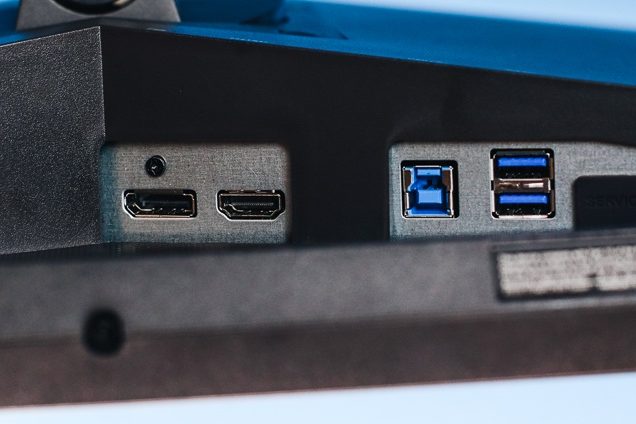 The USB hub makes it simple to add a couple easy-to-reach USB ports to your PC. Photo: Rozette Rago
The PG279QZ has one DisplayPort 1.2 port (which you need for G-Sync) and one HDMI 1.4 port. It has two USB 3.0 ports you can use after connecting a USB upstream cable as well as a 3.5mm audio out port.
Asus provides a three-year limited warranty for the PG279QZ's panel and casing. It offers a Zero Bright Dot warranty for the monitor's first year. In other words, if even one pixel on the display emits a constant, annoying stream of light, it's covered. If you find any dark (or "stuck") pixels on your monitor, you might be out of luck – Asus considers it acceptable to have five or fewer at any point over the first three years with the PG279QZ. Asus offers Advanced Rapid Replacement, where the company will ship you a replacement monitor before you have to send yours back.
The Asus PG279QZ has physical buttons on the back for navigating the on-screen display as well as a small joystick for navigating the menus. This is easy to use, and the icons on the front prevented you from pressing the wrong button. It has some game-centric features such as adding a crosshair, timer, and FPS counter, though testers didn't find any of them particularly useful.
Colour accuracy
Like most gaming monitors, the PG279QZ is not factory-calibrated and the colour accuracy isn't good.
The PG279QZ's contrast ratio was 851:1, below the testers' target of 1000:1 and much lower than the CHG70's 2435:1 contrast ratio. Poor contrast ratios are most noticeable when playing in dark scenes, and while the PG279QZ isn't nearly as good at this as the CHG70, it's not noticeably bad by any stretch.
Colour quality was tested by analysing DeltaE 2000 values, which indicate how far away a displayed colour is from what the colour should be. A value under 1.0 is nearly perfect, while under 2.0 is sufficient for print-production work; around 3.0, you begin to see a difference between the screen and a reference photo.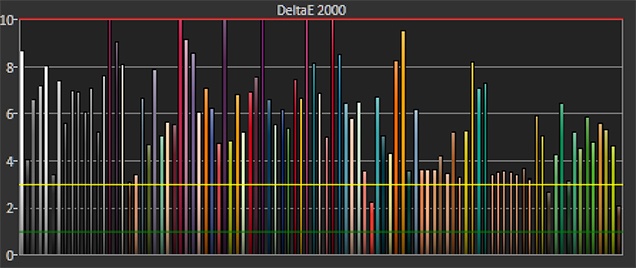 The default colour settings on the PG279QZ are very inaccurate, though most people probably won't notice when they're playing games.
The PG279QZ had a DeltaE gamma value of 2.225, an accurate result. Shadows should display properly, and the PG279QZ is more accurate than the CHG70's DeltaE value of 3.7105.
The PG279QZ was less accurate than the CHG70 in every other aspect, though. Its DeltaE grayscale accuracy was 6.0919, which means it doesn't produce a clear, accurate white. This affects other aspects of colour accuracy; more generally, the PG279QZ's colours are all off.
Even though the DeltaE values are inaccurate, most people still won't notice while playing games.

The PG279QZ struggles with greyscale accuracy, which tends to throw the rest of the colours off.
Flaws but not dealbreakers
The PG279QZ doesn't have accurate image quality, and its colour reproduction isn't as good as a general-purpose monitor – and because it's not factory-calibrated, the colours on your monitor may not match the colours on the one in this test. While it's not an important factor for gaming monitors, if you're looking for accuracy, the CHG70 is a better option.
The PG279QZ is old, and while the IPS panel here is fine, improvements over the last few years in accuracy and response times suggest we'll see newer models with better IPS panels soon – Asus says that the PG279QZ will be replaced later this year.
The PG279QZ's base has a light-up logo on it. If you love RGB, it's a fun extra bit of flair, but it can be distracting. Thankfully, you can disable it in the monitor's menu.
The built-in speakers work in a pinch, but they're quiet and tinny sounding, so consider headphones or external speakers.
Some quality-control issues have popped up in Amazon reviews, where people complain about issues with backlight bleed, inconsistent greyscale, or dead pixels. Be sure to inspect the monitor when you get it so you can replace it during the initial return window.
Also great: the best FreeSync display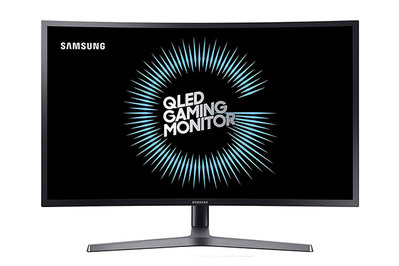 If you have an AMD card or want adaptive sync for your Nvidia card and don't mind some troubleshooting, the CHG70 is a great-looking monitor with versatile adjustability that costs less than the PG279QZ and supports both FreeSync and G-Sync.
The Samsung CHG70 is the best 27-inch gaming monitor that supports AMD's FreeSync adaptive-sync technology. It also works with Nvidia cards if you don't mind putting up with some mild quirks such as manually toggling some settings or losing options like response-time settings when FreeSync is enabled.
Cheaper than the PG279QZ, it's an excellent option for anyone who wants to buy a new graphics card from either Nvidia or AMD without throwing out their monitor. Nvidia card owners do lose some features, though, like a wider refresh rate range and on-by-default adaptive sync.
The CHG70 is a curved VA display panel with a 144 Hz refresh rate. Like the PG279QZ, it's highly adjustable, but the stand is oddly large and cumbersome to adjust.
It has one DisplayPort 1.4 port, two HDMI 2.0 ports, two USB 3.0 ports, and mic and headphone jacks.
Its colour accuracy is better than the PG279QZ's, though it struggles with ghosting and some people may notice motion blur in certain games.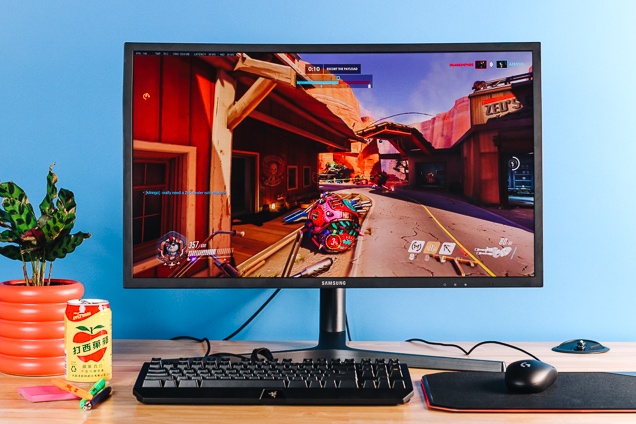 Photo: Rozette Rago
If you have an AMD graphics card or you have a Nvidia card and don't mind dealing with some quirks, get the Samsung CHG70.
The 144 Hz, 27-inch, 2560×1440 FreeSync monitor works well with cards from either vendor, and while the VA panel's slow response times can result in some ghosting, the bold colours and high contrast make up for it.
The CHG70 is cheaper than the PG279QZ, is as adjustable, and has a similar selection of ports. The stand is cumbersome and large, though, and not everyone will find the curved display comfortable to look at for hours.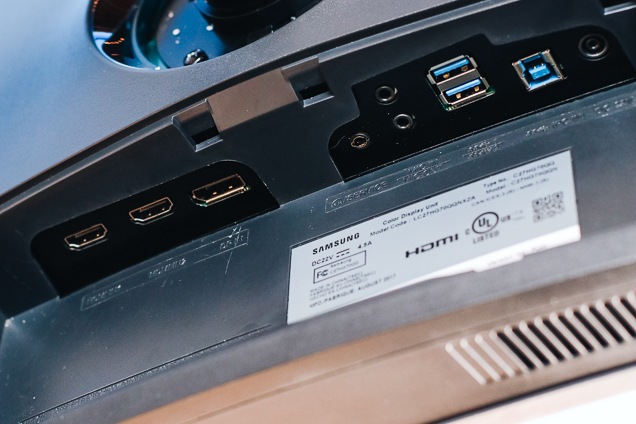 The CHG70 has an additional HDMI port over the PG279QZ, as well as headphone and mic ports. Photo: Rozette Rago
The CHG70's adaptive sync works well with AMD cards and testers never noticed any screen tearing, flickering, or other issues. If a game drops outside the 48 Hz to 144 Hz FreeSync range, the monitor uses low frame rate compensation to ensure you don't see any tearing. The same goes for using the monitor with an Nvidia card.
After updating some drivers and enabling G-Sync manually, adaptive sync worked fine. (Depending on when the monitor was made, you may need to also update the monitor's firmware.) Even low frame rate compensation worked on the Nvidia card. If you have an Nvidia card, the PG279QZ looks a bit better because G-Sync works at lower ranges than FreeSync does, but the CHG70 is good enough for most people.
There are some quirks, though. Most optional settings, like "Response Time", which is required to deliver the advertised 1ms rate, were disabled when FreeSync was turned on. This is fine for the most part because people will benefit more from FreeSync than from any of those other features, but if you like to tweak things and have an Nvidia card, you should stick with the PG279QZ because you can adjust its settings without disabling G-Sync.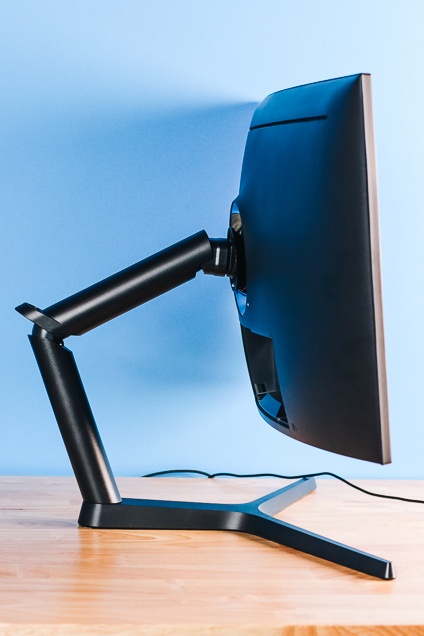 The CHG70's stand is weirdly huge; you'll need a deep desk to accommodate it. Photo: Rozette Rago
At 27 inches and a 2560×1440 resolution, the CHG70 is the same size and resolution as the PG279QZ, but the CHG70 uses a VA panel instead of IPS. It's slightly curved, which can help with a feeling of immersion but makes it look bad if you're sitting anywhere other than directly in front of it. Some people end up not liking a curved screen for other reasons, so be sure to test the monitor out during the return window.
The CHG70 is as adjustable as the PG279QZ, allowing you to tilt, swivel, and rotate the display a full 90 degrees. However, the stand is huge, and you'll need a deep desk to fit it. Instead of the standard platform and pole design found on the PG279QZ, the CHG70 has an awkward articulating arm, like you'd find on a desk lamp. If you go to make a minor height adjustment, the monitor also moves inward or outward. Combined with the wide base, this makes the whole unit large; the CHG70 is 33cm deep, compared to 24cm for the PG279QZ. The monitor's back side has a small glowing light, but since it's on the back of the monitor, it's hardly noticeable. You can disable it in the monitor settings if it bothers you.
The CHG70 has one DisplayPort 1.4 port, two HDMI 2.0 ports, two USB 3.0 ports (and an upstream port), as well as an analog audio out and microphone in.
Samsung offers a three-year warranty and covers dead or stuck pixels for one year.
The CHG70 doesn't have built-in speakers, not even bad ones, so you'll need to use headphones or computer speakers.
The on-screen display uses a joystick located on the monitor's back and includes three buttons on the bottom to swap between different colour and feature presets.
The CHG70 doesn't have any special gaming features like an FPS counter or on-screen crosshair.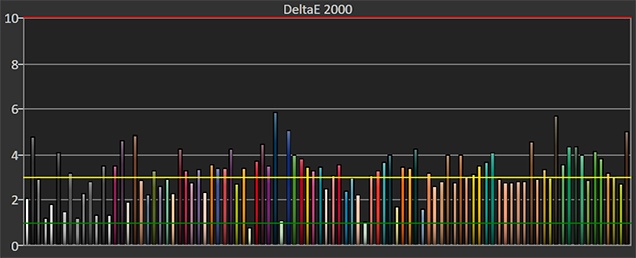 Compared to the PG279QZ, the CHG70 has more accurate colours, but it's still not good enough for print or design work.
VA panels have darker contrast and deeper colours than IPS panels. The CHG70 had a contrast ratio of 2,435:1, nearly triple the PG279QZ's. This results in good black uniformity and much darker blacks in general. At a DeltaE value of 3.7105, the gamma was higher on the CHG70 than on the PG279QZ's near perfect 2.225, which means some shadows may appear too dark.
Its greyscale colour error DeltaE value was 2.4371, significantly better than the PG279QZ's DeltaE value of 6.0919, meaning colours on the CHG70 are more accurate. The CHG70 supports HDR400, but in tests, the mode failed to make HDR-compatible content look any better and usually made everything look worse.

The CHG70 has good greyscale accuracy unless the brightness setting is low.
VA panels like the one in the CHG70 look accurate but have slow response times compared to IPS and TN panels. This can cause ghosting when transitioning between tones of grey or from black to white.
Ghosting is most noticeable in dark scenes like the opening scenes of Shadow of the Tomb Raider. In faster games with a lot of dark to bright transitions, like Doom, you may notice the ghosting as a "smearing" effect if you tend to flick your mouse around quickly. Generally, ghosting is most noticeable at lower frame rates and less noticeable above around 80 to 90 FPS. Testers didn't notice any issues with fast-paced games like Overwatch or Apex Legends, probably because they're both brightly lit. If you're sensitive to motion blur, check out the ViewSonic XG2402 or Asus PG279QZ instead.
Also great: inexpensive, high-quality, and universally compatible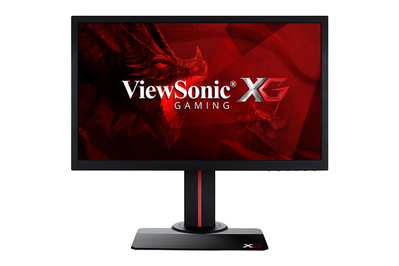 The XG2402's responsive TN panel feels great to use in competitive online multiplayer games, but the colours are dull and the resolution isn't great for productivity work.
ViewSonic's XG2402 is an excellent, affordable FreeSync monitor that works well with both AMD and Nvidia cards.
The 24-inch TN panel supports a refresh rate of 144 Hz and a FreeSync range between 48 and 144 Hz, and while the TN panel produces washed-out colours and has poor viewing angles, it's more responsive than the CHG70 or PG279QZ, making it an excellent choice for highly competitive online games.
It's as adjustable as the two monitors above and has the same selection of ports.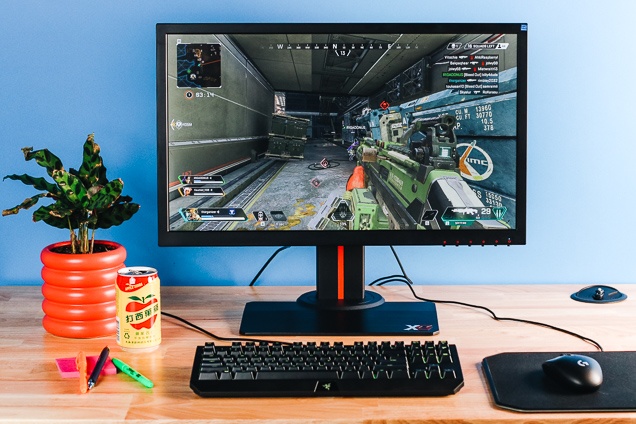 Photo: Rozette Rago
The ViewSonic XG2402 has FreeSync technology and a 144 Hz, 24-inch, 1920×1080 TN display.
It's as adjustable as the top pick, with a similar selection of ports.
The TN panel has terrible viewing angles and colours look washed out compared to the other picks.
The response times are so good, however, we'd recommend this monitor over the others for highly competitive games, even though the resolution and panel mean it's good for gaming on a budget and not much else.
The XG2402 supports the same maximum refresh rate as the top pick –144 Hz – and has the same 48 to 144 Hz FreeSync range as the CHG70. Like the CHG70, if frame rates dip below 48 FPS, it turns on low frame rate compensation. In testing, FreeSync worked without any issues on AMD cards. It also worked with a Nvidia card, though the screen would briefly flicker black when exiting a game, and would flicker if you toggled any elements with a Windows UI overlay, like the volume, while playing a game. This was never annoying enough to be a dealbreaker. There are reports from people online who haven't had these problems, so it may only happen with certain video cards or drivers.
The 144 Hz refresh rate on the XG2402 feels responsive to use. In fact, if you exclusively play competitive games like Overwatch, CS:GO, or Apex Legends and don't use that computer to edit images or work on big spreadsheets, we might even recommend this over the more expensive picks.
At 24 inches, the XG2402 is smaller than the PG279QZ and CHG70, but the smaller size means it's easier for your eyes to take in the entire screen. While the lower resolution 1080p screen isn't pleasant for reading text in Windows, it's much easier for a graphics card to drive, meaning more games will run closer to 144 FPS.
The TN panel, while inaccurate and terrible looking from any angle except straight on, feels much more responsive than the PG279QZ and CHG70 when you're playing games. You can move your mouse wildly across the screen and the monitor reacts instantly – no input lag, blurring, ghosting, or streaking.
The XG2402 has the same height, tilt, and swivel adjustments as the PG279QZ.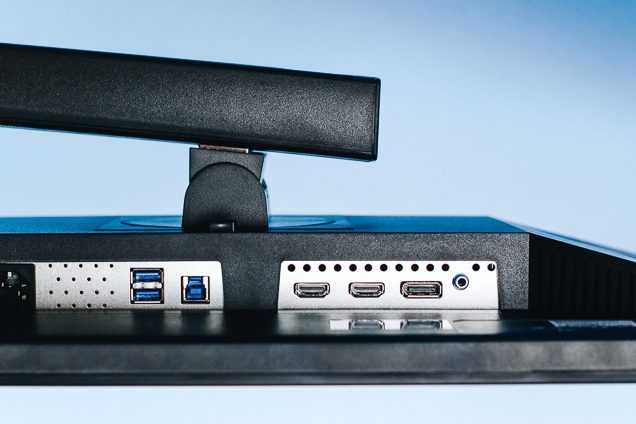 FreeSync only works over DisplayPort, but the Viewsonic's two HDMI ports are still useful for connecting other devices, like a laptop or gaming console. Photo: Rozette Rago
ViewSonic's XG2402 includes the same ports you get with the CHG70: two HDMI ports, one DisplayPort port, and two USB 3.0 connections. The monitor comes with two built-in speakers that don't sound good.
The monitor comes with the typical three-year limited hardware warranty. The company allows the monitor to have up to three "improperly operating" pixels and no more than two bright or two dark pixels – not as good as Asus's warranties, which covers any bright pixels whatsoever.
Colour accuracy
The gamma on the XG2402 was tested at a DeltaE value of 2.552, higher than the PG279QZ, but shadows should still display accurately.
Greyscale accuracy was slightly better than the PG279QZ but still inaccurate at 5.4423.
Even with the decent gamma value, colours appear washed out compared to the CHG70 and PG279QZ, especially at angles, but that's a limitation of TN panels in general. Certain primary colours like blue and red pop, but everything else has a dull tone. Like the CHG70 and PG279QZ, the XG2402 has a variety of colour and feature presets for specific genres. The XG2402 doesn't have many gaming options (like crosshair or a time display) but does have an fps counter.
Do I need a gaming monitor?
A gaming monitor has two features that set it apart from a standard monitor: adaptive sync and a high refresh rate.
A high refresh rate – how often the monitor redraws an image on a screen – makes games appear more lifelike and fluid. The higher the frame rate, the smoother images look, provided your graphics card can keep up.
Adaptive sync goes a step further and lets your monitor refresh at the same rate as your graphics card as your frame rate spikes and dips, eliminating screen tearing. If you frequently play competitive multiplayer games or action games at high frame rates like Overwatch, Apex Legends, or Rocket League, consider a gaming monitor. Once you use one, you might not want to go back.
Adaptive sync is a replacement for Vsync, which caps your game's frame rate at the refresh rate of your monitor – so if you have a 60 Hz monitor, Vsync caps your refresh rate at 60 frames per second (fps). Vsync is software-based and causes no discernable difference in some slow-paced games, but in fast-paced games, you may feel like inputs lag behind what's shown on screen. Adaptive-sync technologies like Nvidia's G-Sync and AMD's FreeSync are hardware-based, which reduces lag.
A high-refresh-rate gaming monitor is only useful if your graphics card can output over 60 frames per second. If you consistently hit more than around 90-100 frames per second, a gaming monitor can enhance the experience. Playing a game like Overwatch, Fortnite, or Call of Duty at 144 FPS on a 144 Hz monitor can give you a slight competitive edge because enemy animations are smoother and easier to see. Fast-paced single-player action games like Doom also feel smoother on a gaming monitor, though it's not the case for all single-player games.
If your computer struggles to reach 60 frames per second from the graphics card, adaptive sync will help with screen tearing but may not justify the higher price of these monitors. Consider upgrading your graphics card instead.
If you play mostly single-player games like Tomb Raider, Metro Exodus, or Assassin's Creed, which tend to run at lower frame rates because they're more visually detailed and graphically demanding, you won't get as much of a benefit from a gaming monitor. Some games, like Sekiro: Shadows Die Twice, don't even support frame rates higher than 60fps. Likewise, if you play turn-based strategy games, puzzle games, or RPGs, there's no benefit to gaming monitors at all. In those cases, most people will be happier enabling Vsync and using a more colour-accurate multipurpose monitor.
Can I use a gaming monitor for design work? Gaming monitors aren't usually colour-calibrated, so the colours aren't accurate enough for work where accuracy is important, like video or graphic design. A more versatile general-use 24-inch, 27-inch, or 4K monitor is a better solution.
Ultrawide monitors can be great for gaming, but not every game supports the 21:9 screen resolution, and some games like Overwatch limit the field of vision so they don't provide any competitive advantage to players with an ultrawide monitor. Most ultrawide monitors with a refresh rate higher than 100 Hz and a 1440p resolution are expensive and aren't worth the cost unless you know for sure the games you play support the wider resolution. The ultrawide Acer XR342CK has a 100Hz display and support for FreeSync, which make it a solid gaming monitor. It was tested with Nvidia cards, and the adaptive sync seems to work well across a variety of frame rates.
Be sure to verify your system has the right connections for gaming at high refresh rates. You'll usually need to use DisplayPort instead of HDMI for monitors with high refresh rates; check that this connection is present on your video card or laptop and review the manufacturer's specifications to confirm the video card or laptop support the monitor's maximum refresh rate at the monitor's default resolution.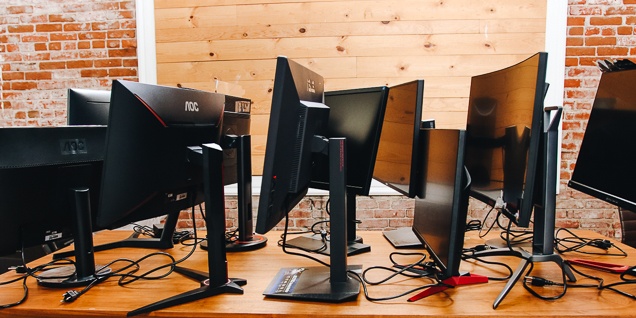 Photo: Rozette Rago
What to look for
Here are the features you should care about when shopping for a gaming monitor:
G-Sync or FreeSync: These adaptive-sync technologies match the monitor's refresh rate to a game's frame rate. Which one you use depends on the graphics card – Nvidia has G-Sync; AMD has FreeSync. The majority of FreeSync monitors in this test also work fine with Nvidia cards since Nvidia added FreeSync support to its drivers in early 2019, but you have to enable adaptive sync manually. FreeSync on an Nvidia card has some quirks in some games, like the screen flickering when you switch back to the desktop, adaptive sync not working well at low frame rates, or certain settings being inaccessible when FreeSync is enabled. G-Sync is still the best no-fuss solution for Nvidia card owners, but FreeSync is more affordable if you don't mind tweaking some settings, and it gives you more flexibility the next time you upgrade your graphics card.
Refresh rate: Most standard monitors have a 60 Hz refresh rate. Gaming monitors at least double that, ranging from 120 Hz up to 240 Hz. We looked for monitors with a refresh rate between 120 Hz to 144 Hz.
Size and resolution: We recommend a 27-inch monitor running a resolution of 2560×1440. That's physically large enough to see what you're doing without UI scaling but not so large it dominates your desk. 1920×1080 is fine for cheaper 24-inch monitors, especially if you don't plan on doing any type of productivity work on it. 4K isn't viable for most people yet, and high refresh rate 4K monitors typically cost a lot. According to Steam's hardware survey, the majority of people have a Nvidia GTX 1050, 1060, or 1070, which can handle 1080p or 1440p resolutions, but not 4K. Unless you have a brand new Nvidia RTX 2070 or 2080, you can't play most games smoothly at 4K.
Panel type: Gaming monitors come with an IPS, VA, or TN display panel. Each has its own advantages and drawbacks, and there's no perfect monitor for everyone. IPS panels typically have good colour reproduction and viewing angles but slow response times (how quickly each pixel on the display changes from white to black) and a minor backlight glow effect in a dim room. VA panels have excellent contrast and viewing angles but can struggle with response times. TN panels have the fastest response time of these three panel types and are typically the cheapest, but they suffer from poor colour accuracy and narrow viewing angles. For fast-paced competitive first-person shooters, a TN panel is best because of its response time. For everything else, a VA or IPS panel is usually the better choice. This test looked at all three types.
Price and value: A typical G-Sync display costs a little more than a FreeSync display because the manufacturer needs to pay Nvidia for hardware to make G-Sync work. FreeSync monitors can work with Nvidia cards, but the experience isn't as smooth as an official G-Sync monitor, so it depends on how much troubleshooting you're willing to put up with. Spend more and you can pick up an ultrawide or a 4K monitor (if either format appeals to you; both have their drawbacks). Spend less and you have to make some sacrifices in size, resolution, or adjustability.
Adjustability: You should be able to tilt, swivel, and pivot the panel of a gaming monitor. You'll also want to be able to adjust its height up and down.
Ports: Most top-end monitors come with a USB 3.0 hub, which is convenient for connecting devices or flash drives and charging smartphones. It's nice to have multiple inputs if you plan on hooking up more than one monitor at a time, though G-Sync monitors restrict this to just one HDMI port and one DisplayPort.
Image quality: An adaptive-sync monitor should be able to display vibrant, reasonably accurate colours, but finding gaming monitors that incorporate other recommended features and image accuracy is rare. We're more forgiving of inaccuracies in monitors built for gaming rather than photography or publishing work.
Warranty and customer service: Most great monitors come with a three-year limited warranty. The manufacturer should also have policies for bright and dead pixels.
The competition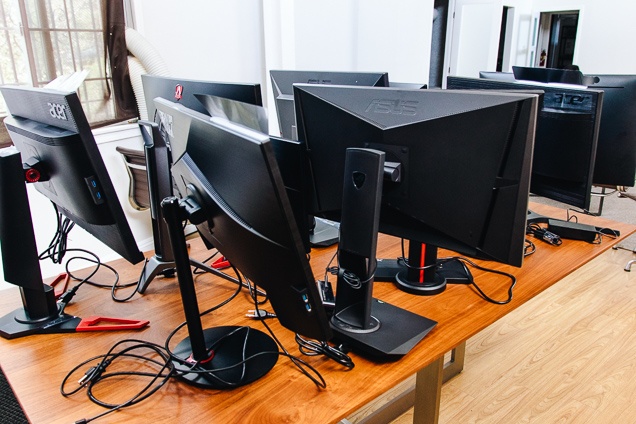 Photo: Rozette Rago
On paper, the Acer XV272U looks like the perfect monitor: it's a 27-inch, 144 Hz, 1440p IPS panel with FreeSync for a good price. Unfortunately, while the colours seem accurate and FreeSync worked fine with both AMD and Nvidia cards, testers noticed more ghosting on this monitor than with the CHG70.
The ViewSonic Elite XG240R is identical to the XG2402 but has RGB lighting on the back. As fun as that sounds, being on the back of the monitor doesn't usually do much beyond lighting up the wall, so we don't think it's worth the extra money.
The Acer Predator XB271HU is often more expensive than the PG279QZ. Testers experienced flickering when overclocked, and the black and red stand is garish even by gamer standards. Colour accuracy and features are similar to the PG279QZ though, so if the Acer is on sale for cheaper than the Asus model, it's a good option.
The AOC C24G1 is a budget 24-inch VA panel that may be a better option than the ViewSonic XG2402 if you tend to play more single-player games than competitive multiplayer games. The colours on the AOC are more vibrant than the ViewSonic, but the response time isn't as fast, and testers noticed ghosting in fast-paced games.
The Asus MG279Q was a previous Wirecutter pick and is still a solid monitor, but the CHG70 is cheaper, supports a wider refresh rate range, and has more consistent colours.
The AOC Agon AG273QCX had muted colours, poor viewing angles, and testers noticed flickering when using it with Nvidia cards. The on-screen display is also confusing to use.
ViewSonic's XG2760 is a fast, responsive panel, but while testers didn't mind TN panels at 24 inches, they're much worse to use at 27 inches, where viewing angles matter much more.
The AOC G2590FX is more expensive than the XG2402 and less adjustable. The on-screen display is tough to use.
The Acer XFA240 is on Nvidia's official "G-Sync compatible" support list, but the XG2402 has a sturdier stand, looks nicer overall, and worked just fine with G-Sync in testing.
The Acer VG240Y lacks a DisplayPort port, which means the adaptive sync can't work with Nvidia cards. Its stand doesn't have height adjustments, either.
What to look forward to
The Acer XV272 and Gigabyte Aorus AD27QD, both FreeSync monitors, use newer IPS panels than most of the gaming monitors in this round of testing.
There were some responsiveness issues with the Acer monitor in this test, but the new panel should show up in more FreeSync monitors later this year.
Now that Nvidia cards can use FreeSync without the expensive extra hardware required for G-Sync, most upcoming monitors are likely to use FreeSync instead, which should mean more FreeSync options with lower prices.
If you plan on buying an AMD GPU in the future, it's best to either hold off until later this year or pick up the Samsung CHG70 instead of the top pick.
The research
This guide was written by the editorial staff of Wirecutter (New York Times group) and republished by CHOICE. The products are independently selected. This test was conducted in the United States and was originally published on the Wirecutter website. You can read it here in its original version.
Thorin Klosowski has written about technology for nearly a decade and handles the bulk of Wirecutter's gaming-related guides, including those covering laptops, mice, and keyboards.
Monitor guides benefit from the expert advice of Wirecutter senior staff writer Chris Heinonen – AnandTech's former monitor guru and the guy a number of other reviewers go to for display testing advice. He helped Wirecutter figure out the best hardware and software to use for testing, and he designed the evaluation process.
Testers began by plugging in every monitor and using it for a few rounds of Overwatch. This gave a general idea of colour accuracy, how the adaptive sync worked at high refresh rates, and whether FreeSync monitors worked with Nvidia cards. During this time, testers took a look at the on-screen display, tested the adjustability, and played with any monitor-specific "gaming" settings. This helped narrow down the initial list of 13 monitors to five contenders.
Testers then spent more time with each monitor in a variety of games to test for common issues with gaming monitors, like ghosting (where it looks like an image on the screen is smeared) and motion blur. Each monitor was tested with a variety of types of games, including faster games like Apex Legends and moody single-player games like Shadow of the Tomb Raider.
Finally, testers worked with Chris Heinonen, senior staff writer for Wirecutter, to test the colour accuracy of each monitor's display using two measuring devices, the i1Publish Pro 2 spectrophotometer and the i1Display Pro (which is better at measuring black levels than the i1Publish Pro 2). Customised tests were used in the CalMAN 2017 software calibration suite.
The CalMAN tests produce DeltaE 2000 numbers for each screen that show how close the displayed colour is to what it's supposed to be; the lower the number, the better. A DeltaE value under 1.0 is perfect. Under 2.0 is good enough for print-production work. Ratings above 3.0 mean you'd probably see a difference between an image on-screen and a real-life object or reference image with your naked eye.
© 2019 Wirecutter
thewirecutter.com
Distributed by The New York Times Licensing Group
---