Children's breakfast cereal review
We compare 34 kids' cereals, including offerings from Kellogg's, Sanitarium, Nestlé and more.
Are your kids getting the best start to their day?
---
It's said that breakfast is the most important meal of the day, yet choosing a kids' cereal can be a nutritional nightmare, with claims of vitamins and minerals often masking sugar-laden and even salt-loaded traps – not what they need first thing in the morning.
So are there any healthy options? We pull apart kids' breakfast cereals - those obviously aimed at children via ads or packaging, and their supermarket private label equivalents - to find out if your family can get anything positive out of them.
In this review:
Top rating kids' cereals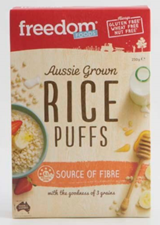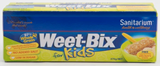 Sanitarium Weet-Bix for Kids (5 stars) and Freedom Foods Rice Puffs (4.5 stars) have the highest Health Star Ratings of all kids' cereals reviewed.
They both have a reasonable amount of fibre, and they contain minimal sugars and sodium.
The importance of breakfast
Breakfast really is an essential meal for kids. If they don't eat breakfast they're likely to be hungry by mid-morning. Several studies have suggested that children who skip breakfast tend to be fatter than those who don't, and there's some evidence to suggest that eating breakfast improves kids' learning ability and concentration.
For the most part, if you're looking for a good cereal choice for your kids, ignore the colourful packaging and lofty claims that are part and parcel of kids' cereals, and go for one of the higher fibre and less sugary and salty cereals listed in our table or choose a good adult one – or follow our suggestions for choosing a cereal, below.
Tips for choosing the right cereal
Compare Health Star Ratings
In the first instance you can look at a product's Health Star Rating (HSR). The HSR is an assessment of the overall healthiness of a product, taking into consideration the 'bad' nutrients in food, such as sodium, sugars and saturated fat, as well as beneficial nutrients, including fibre and protein.
HSRs have been designed to help you choose healthier options at a glance – essentially the higher the star rating (ratings go from 0.5 stars up to 5 stars), the healthier the option.
In the absence of a star rating, these are our top tips when choosing:
Look for
Fibre – Dietary fibre helps maintain a healthy digestive system and decreases the risk of bowel cancer. Kids need less fibre than adults because it can make a small tummy full before it's had a chance to get enough energy and other nutrients, and too much can cause children to get stomach upsets and diarrhoea. But a cereal with a moderate amount of fibre is still better for them than little or none. As a guide, kids need 5–10 grams of fibre per day, plus their age – for example, a five-year-old should eat 10–15g a day.
Wholegrains – The words 'whole' or 'wholegrain' in the first ingredient or two usually means the cereal is less processed and will contain more vitamins, minerals and phytochemicals. A diet high in wholegrains and cereal fibre can reduce the risk of premature death from chronic diseases including cancer, cardiovascular disease and diabetes.
Avoid
High sodium (salt) – Sodium is linked to high blood pressure and an increased risk of heart disease. The recommended upper level of intake for a 4–8-year-old is 1400mg per day, and they only need 300–600mg per day to meet their body's requirements. About 75% of the salt in our diets comes from processed foods, and breakfast cereal is one of the major contributors. Ideally the product you choose should have 400mg sodium per 100g or less. But for a low sodium product choose one with 120mg per 100g or less.

High sugar

– Kids' cereals in particular are major offenders. In some instances, dried fruit – which can provide fibre, vitamins and minerals – contributes to the total sugars. But frequently the culprit is added sugars, which we should only be consuming in moderation. A good rule of thumb is to look for less than 15g sugar per 100g, allowing a little leeway if the cereal contains dried fruits.
High saturated fat – Breakfast cereals generally aren't high in saturated fat, but watch out for ingredients such as coconut oil or palm oil – often in cluster-type cereals – which can increase saturated fat levels. Products that contain 1.5g or less saturated fat per 100g can be classified 'low in saturated fat' according to food standards.
Added vitamins and minerals
Many breakfast cereals contain added vitamins and minerals which can make a useful contribution to your child's diet. However, it's more important when choosing a cereal to base your shortlist on the health star rating (or alternatively high fibre and lower salt and sugars) before considering added vitamins and minerals.
The bottom line is that most kids' cereals are better than no breakfast at all, and the vitamins and minerals as well as the protein and good-for-your-bones calcium from the milk are a bonus.
Sugar and salt do play a vital role in the tastiness of a product, but many cereals targeted specifically at kids have more in common with treat foods than a nutritious breakfast.
What about porridge and muesli?
It's hard to go past porridge for a good family breakfast – a cup of cooked rolled oats gives you about 4g of fibre, and the only sugar and salt is what you add. Flavoured quick oat products, on the other hand, often already have sugar added, and the quantity varies. To find out how these products compare, see our porridge oats review.
For the run-down on muesli, check out our muesli buying guide.
Daily intake for an eight-year-old
This is a general guide to the recommended daily intake of kilojoules, sodium (salt), sugars and more for an average 8-year-old boy or girl. When next you go shopping, keep these guidelines in mind and take the time to check nutritional panels before you commit to putting anything into your trolley. Look for amounts per 100g to compare different foods effectively – serving sizes are often misleading.
| | | | |
| --- | --- | --- | --- |
| | Male | Female | |
| Energy | 7900kJ | 7400kJ | (A) |
| Protein | 20g | 20g | (B) |
| Fat | 63g | 59g | (C) |
| Saturated fat | 21g | 20g | (C) |
| Sugars | 95g | 89g | (D) |
| Fibre | 18g | 18g | (E) |
| Sodium | 1400mg | 1400mg | (F) |
| Calcium | 700mg | 700mg | (B) |
| Iron | 10mg | 10mg | (B) |
(A) This is the estimated requirement, based on light to moderate activity levels.
(B) This is the recommended dietary intake.
(C) This amount of fat and saturated fat provides 30% and 10% respectively of the estimated energy requirement, which is acceptable according to government dietary guidelines.
(D) This amount of sugar provides 20% of the estimated energy requirement, which is acceptable according to government dietary guidelines.
(E) Regularly eating at least this amount of fibre is recommended.
(F) Regularly eating more than this amount can have adverse effects.
Kids' breakfast cereals compared
We compared 34 kids' breakfast cereals. We've listed them below in order of health star rating (highest to lowest). To order by another criteria, simply click on the column headings.
Product name
Health Star
Rating
Serving size
(g)
Energy
(kJ/100g)
Total dietary fibre
(g/100g)
Sugars
(g/100g)
Sodium
(mg/100g)
Saturated fat
(g/100g)
Protein
(g/100g)
Gluten free
claim?
Country of origin
statement
Black&Gold Coco Orbits
2.5
35
1680
ns
27.6
322
1.3
5.6
yes
Made in Australia from local and imported ingredients
Black&Gold Fruity Rings
3
30
1600
ns
26.4
255
0.3
6.3
no
Made in Australia from local and imported ingredients
Coles Cocoa Puffs
2
30
1590
2
34.8
310
0.8
6.4
no
Made in New Zealand from imported and New Zealand ingredients. Rice from Australia
Coles Frooty Rings
3.5
30
1610
4.1
23.8
261
0.3
8.6
no
Made in Australia from local and imported ingredients
Coles Rice Puffs
2.5
30
1580
1
10
550
0.4
6.1
no
Made in New Zealand from imported and New Zealand ingredients. Rice from Australia
Freedom Foods Rainbow Crunch
4
35
1570
7.4
18.5
90
0.7
7.2
yes
Made in Australia from local and imported ingredients
Freedom Foods Rice Puffs
4.5
35
1600
10
7.9
170
0.5
7.5
yes
Made in Australia from local and imported ingredients
Freedom Foods XO Crunch
4
35
1510
8.5
22.2
70
1
7.1
yes
Made in Australia from local and imported ingredients
Goldenvale (Aldi) Breakfast Bubbles
3
30
1620
1.5
10
495
0.3
6
no
Made in France from imported and local ingredients
Goldenvale (Aldi) Choco Balls
3
30
1660
4.5
25
200
1.8
7.6
no
Made in Germany
Goldenvale (Aldi) Choco Pillows
2
30
1900
2.6
34
160
4.9
7
no
Made in Germany
Goldenvale (Aldi) Choco Rice
2
30
1650
1.3
33
350
0.8
5.9
no
Made in France from local and imported ingredients
Goldenvale (Aldi) Honey Wheats
3.5
30
1600
4.3
39
< 5
0.5
10
no
Made in Germany
Kellogg's Coco Pops
2
30
1600
1.7
36.5
425
0.2
4.6
no
Made in Australia (NSW)
Kellogg's Coco Pops Chex
2
30
1570
3.3
37.4
530
0.3
7
no
Made in South Korea
Kellogg's Crispix
1.5
30
1630
1
24
725
0.1
6.6
no
Made in South Korea
Kellogg's Froot Loops
2
30
1640
2.4
38
340
0.5
6.4
no
Made in Thailand
Kellogg's Frosties
2
30
1590
2.4
41.3
320
0.1
4.6
no
Made in Australia (NSW)
Kellogg's Rice Bubbles
3
30
1570
2.5
10.6
530
0.1
7.6
no
Made in Australia from local and imported ingredients
Kellogg's Rice Bubbles Multigrain
4
30
1510
11
22.2
145
0.1
7.2
no
Made in Germany
Kellogg's Sultana Bran Buds
4
45
1420
15.1
23.8
150
0.2
8.2
no
Made in Belgium from local and imported ingredients
Lowan Cocoa Bombs
3
35
1630
3
29.8
130
1.3
6
yes
Made in Australia from local and imported ingredients
Lowan Honey O's
4
40
1560
9.3
20.8
76
1
5.6
yes
Made in Australia
Nestle Milo
3.5
30
1620
7.7
27.3
115
1.4
9
no
Made in Australia from local and imported ingredients
Nestle Milo Crunchy Bites
3.5
30
1610
6.8
24.2
120
1.2
7.5
no
Made in Australia
Nestle Milo Duo
3.5
30
1610
7.1
28.3
105
1.2
7.5
no
Made in Australia from local and imported ingredients
Nestle Nesquik
3.5
30
1610
8.2
29.6
250
0.9
7.6
no
Made in Australia from local and imported ingredients
Sanitarium Honey Weets
3.5
30
1580
3.9
27
30
0.2
8
no
Made in Australia from local and imported ingredients
Sanitarium Weet-Bix for Kids
5
30 (2 biscuits)
1480
11
2.9
45
0.3
12.4
no
Made and packaged in Australia
Woolworths Homebrand Choco Balls
3.5
30
1580
6.7
36.1
50
0.7
7
no
Made in New Zealand from local and imported ingredients
Woolworths Homebrand Cocoa Puffs
2
30
1620
2
37.6
380
0.5
5
no
Made in New Zealand from local and imported ingredients
Woolworths Homebrand Fruity Rings
2
30
1660
ns
32.8
235
0.4
5.5
no
Made in Australia
Woolworths Homebrand Honey Poppas
3.5
30
1630
ns
39.1
<5
0.4
8.7
no
Made in New Zealand from local and imported ingredients
Woolworths Homebrand Rice Pops
3.5
30
1650
ns
5.8
630
0.7
7
no
Made in New Zealand from local and imported ingredients
---