Car fuel economy ratings don't pass the test
Why your car may be guzzling more fuel than you were told it would.
Fuel for thought
---
Update 21/4/2016: Japanese manufacturer Mitsubishi Motors has admitted that it has falsified test data. About 625,000 vehicles are affected, including 467,000 cars the company produced for Nissan. The issue came to light after Nissan tested the cars and discovered the discrepancy between their results and the fuel consumption figures published by Mitsubishi. So far the scandal only extended to three models of 'micro-car', sold only in Japan.
The revelations that car manufacturer Volkswagen – and now Audi and Porsche – had attempted to rig the results of air pollutant emission tests on some of their diesel vehicles has sent shockwaves through the auto industry. The companies' brazen cheating has shone a light on the outdated methods used to test new cars.
A new investigation by our UK counterpart has shown the extent to which lenient test procedures are producing fuel economy figures that are almost impossible to replicate outside of a lab. Relying on these figures for estimating your own fuel costs will most likely leave you short-changed at the bowser.
In our investigation on fuel economy testing, we cover:
Fuel efficiency figures can't be trusted
Independent testing by UK consumer champions Which? has found that fuel consumption tests are woefully unsuited to modern driving conditions. Which? put 200 cars through their paces using an updated test they say more accurately simulates real-world driving conditions than the tests currently carried out by the auto industry.
About a quarter of the cars tested by Which? are on the Australian market. Of those, non-electric cars had their kilometres-per-litre specs oversold by 14.3% on average.
The cars showing the greatest discrepancy in fuel efficiency between the two testing regimes were hybrids. In the full petrol and diesel cars, four of the bottom five contenders were automatics. The 3.0L diesel Jeep Grand Cherokee takes home the wooden spoon, with a 54.7% difference between what the manufacturer claimed the car could get, and what the Which? test was able to achieve.
The car that came closest to its claimed fuel efficiency? The 2.2L manual diesel Honda CRV, with Which? testers getting within 0.1L/100km of the car's stated fuel efficiency. Check out our comparison tables for the full list.
How car fuel efficiency is measured
The test for fuel efficiency in Australia is mandated by the Australian Design Regulation (ADR) 81/02, and is based on the European test, called the New European Driving Cycle (NEDC). Despite the name, the NEDC hasn't been updated since 1997.
The test process itself is described in UN regulations to keep consistency across the global industry. Each manufacturer has a choice of accredited lab to do their testing.
It's not exactly a tough test. Vehicles are hooked up to a chassis dynamometer, a stationary machine which is also called a rolling road. In the urban cycle, the car gears up to a 'hair-raising' 19km/h average speed. The car cruises at a max speed for 50km/h for no more than 12 seconds. Nearly a third of the time is spent idling the engine, and over a single cycle the vehicle drives a mere 1013 metres.
The next part of the test is the extra-urban cycle, designed to replicate the experience of driving on highways and country roads. In a test that runs a bit under seven minutes, the car is accelerated, decelerated, and kept steady at speeds of 50, 70, 100 and 120km/h. Just over half the test is spent at speeds of 70km/h or more.
With four repeats of the urban cycle and the single extra-urban cycle, the whole drive takes less than 20 minutes, and covers just 11 simulated kilometres. From this, car manufacturers estimate the number of litres of fuel the car will guzzle for every 100km it drives in an urban and an extra-urban scenario, and also an average figure across both scenarios, expressed as the 'combined' amount. See the fuel consumption sticker.
Is lab testing the problem?
James Tol, head of product planning at Mitsubishi Motors Australia, says that even though the tests might seem contrived and artificial, being able to replicate them in a lab condition is key to their success.
"They don't do this in the dark; there are very clever people setting these up," says Tol. "They're constructed in a way that's inherently repeatable. It takes away variations in driving style. And everyone's style of driving is very different."
Lab testing has its benefits. It allows results to be compared between different testing locations, and between different vehicles. Which?'s tests were also run on a dynamometer, just like those in the NEDC standard, but they were designed to include simulations of sustained motorway driving, which the NEDC tests do not simulate. The Which? test also avoids some of the loopholes allowed in the NEDC, such as driving with the lights and air-con off, and removing side mirrors and extra lights.
How misrepresentative testing costs the consumer
The issue starts to impact the consumer when they use car fuel efficiency figures to calculate how much a vehicle may cost them to run each year, and base their car buying decision on those figures. Even the government's own greenvehicleguide.gov.au website uses NECD figures in its annual fuel cost calculator – which means unfortunately their results can't be relied upon because the car's fuel consumption figures may not be reflective of real-world driving scenarios.
Consumers are being dudded by these low-ball cost estimates, according to Senator Nick Xenophon. "Testing for fuel economy can be difficult, but the gaps between what is advertised and what is actually achieved on the road really does stretch the credibility gap," he says. "Motorists have been treated like mugs for too long. A family could typically be many hundreds of dollars a year worse off from what they budgeted for because they've been misled into buying a particular car."
Improving car fuel efficiency testing
Consumer confidence in the auto industry has been sorely tested in recent months. Something is clearly amiss when consumers are being led to believe they can budget one figure to keep the car running, and end up paying hundreds of dollars more a year.
One solution is to overhaul the testing process to better reflect the way people drive in the real world. The push is already underway. CHOICE is calling for the fast-tracking of a new testing process to replace the NECD. Named the Worldwide Harmonized Light Vehicles Test Procedure (WLTP), this change has been in the pipeline since 2007. Still a dynamometer test, the WLTP better accounts for new technologies now found in cars. It covers greater distances than what's tested under the NECD, and features higher speeds and stronger acceleration forces.
The WLTP is expected to be adopted into UN regulations in 2016, and once agreed to by the EU member states will be passed into legislation there. Australia and other countries whose regulations are harmonised to the EU may pass their own legislation to follow suit, but this is far from guaranteed, and Australia has typically lagged Europe by some years in introducing new emission standards. In addition, European industry groups have previously argued to delay the WLTP from 2017 to 2020. The federal government has announced a cross-ministerial forum to look at vehicle emissions and fuel efficiency and is due to report back on 31 March 2017.
In 2016 a Real Driving Emissions test for diesel vehicles will also be introduced in Europe, which takes a car onto the road to measure its air pollutant emissions. However, no on-road testing is yet on the cards for fuel consumption.
Senator Ricky Muir, from the Australian Motoring Enthusiast Party, wants to see improved signage on new cars to better inform customers. "Stickers, signs – any information published for new vehicles on the market – need to make it clear the figures are obtained under controlled conditions," he says. "However, using this data to estimate or project annual running costs isn't going to give you an accurate figure."
"The idea of having 'real-world' test conditions has a lot of merit. People should be able to get realistic information about how a car will perform under everyday conditions."
Another solution is giving Australian consumers access to cars that are more fuel-efficient. Australia is the only advanced economy to have no compulsory standards for vehicle fuel efficiency or greenhouse gas emissions. The result is undoubtedly higher fuel costs for households and a risk that our market becomes a dumping ground for more inefficient, costly-to-run cars. In 2012, our average greenhouse gas emissions from new passenger vehicles were 44% higher than the European Union's.
CHOICE is calling for stronger standards, the fast-tracking of 'real world' test processes, and more rigour in the testing processes as part of our Come Clean campaign.
Why do hybrid cars perform so badly?
The Which? test reveals hybrid cars to have the biggest discrepancies between claimed and real-world fuel efficiency (see the comparison table). On average, the fuel efficiency obtained using the current test procedure was a fifth better than what could be achieved by Which? in its alternative testing protocol.
The Mitsubishi Outlander PHEV Aspire is sold with a stated fuel efficiency of 1.9L/100km fuel economy. However, Which? was only able to get 4.2L/100km out of the hybrid SUV. This is still an excellent result for a vehicle of its class, but it's also a 121.1% difference from what the manufacturer claims. In dollar terms, customers might expect to dish out an extra $1012 per year on petrol.
The issue is that regulation has not kept up with technology. Plug-in hybrids are tested with the same drive cycle as cars with internal combustion engines. The cars are tested at different battery charge levels, and an average figure arrived at after several test cycles. Hybrid fuel efficiency works on a curve: great for short trips on electric mode, becoming less so as the journey gets longer and the car begins to rely on the fuel tank.
Mitsubishi's James Tol is frustrated by rules that say labelling can only tell consumers the average figure, instead of the fuel consumption rates drivers might get at different levels of battery charge. Without access to the full range of figures, hybrid drivers might feel ripped off if their driving style means they aren't able to achieve the advertised average. "We're not allowed to quote the number of each individual cycle," he says.
On a long trip in his Outlander PHEV he might expect to see fuel consumption approaching that of a regular SUV. This isn't unusual, but Tol wants to see greater information available for consumers about how their vehicles consume fuel.
"An improvement in the future may be that we're allowed to show numbers for all cycles – 5.5, 6.5[L/100km], whatever it might be," he says. "Educating consumers about what some of these numbers mean and why you might not see some of them in different variables is important."
Breaking news: Australians care about cost of fuel
Along with vehicles delivering better fuel economy than in the past, Australians are getting smarter about how they use their cars. Total fuel consumption for passenger vehicles grew by only six percent between 2006 and 2014, even though there were 19.1% more cars on our roads. As well as seeking out cars with better fuel efficiency, we are also driving less: in the same period the annual distance driven fell, on average, by 700km.
Part of the reason may be that consumers are sick of feeling the pain at the pump. The cost of fuel has been consistently the second or third biggest household cost-of-living concern over the past six quarters, according to our Consumer Pulse reports, behind electricity and groceries. In 2012 the Australian Bureau of Statistics revealed that 45% of people considered fuel economy and other running costs when deciding to buy a car. Money mattered more to people than the vehicle's size, seating capacity, performance, extra features, and even safety.
Car manufacturers have long known fuel efficiency is a selling point for their vehicles. In recent years, CO2 emission levels have also become an important issue to consumers. The amount of petrol or diesel a car burns through can have a serious impact on the environment and the wallet. That's why it's important for consumers to have access to clear, accurate information about a vehicle's fuel consumption and emissions.
In 2008 the Australian government began requiring new cars to come with a fuel consumption sticker (see below) attached to the windshield. It also has the website greenvehicleguide.gov.au, which lets consumers compare vehicles to see which are greener and cheaper to run.
These moves further encourage car manufacturers to stay ahead of the competition on the issues of fuel economy and emissions.
Reading the fuel consumption sticker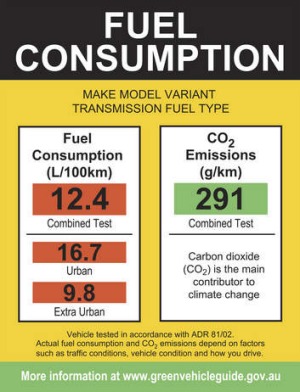 These black and yellow labels, now compulsory on new cars, contain information about the vehicle's fuel efficiency and CO2 emissions to help customers easily compare cars on these credentials.
The label's best feature is its simplicity. On the right it shows the CO2 the car gives off per kilometre travelled. A few hundred grams per kilometre might not seem like much, but when you consider that Australian light vehicles put 44 million tonnes of greenhouse gases into the atmosphere every year, it's understandable that environmentally conscious drivers might want to do their bit to reduce that figure by buying a lower-emitting car.
On the left of the sticker are the all-important fuel economy figures. That big 'combined test' figure at the top is a bit of a red herring if you live in the city and don't zip down a motorway every day.
If you're a city dweller spending lots of time commuting in traffic, the 'urban' figure is your best guide to how much fuel you'll chew through. Likewise, if most of your time is spent on the open road with little stop-start, then the 'extra urban' figure might be a better guide than the combined figure.
Fuel efficiency comparison testing
Stated fuel efficiency vs Which? tested fuel efficiency

| Hybrid vehicles | Class | Year | Stated fuel efficiency L/100km | Which? test L/100km | Fuel economy difference |
| --- | --- | --- | --- | --- | --- |
| Infiniti Q50 (3.5L) | Luxury | 2014 | 6.2 | 7.2 | 16.1% |
| Lexus CT200h (1.8L) | Small | 2014 | 4.1 | 5.0 | 22.0% |
| Lexus GS (2.5L) | Luxury | 2014 | 4.7 | 5.9 | 25.5% |
| Lexus GS (3.5L) | Luxury | 2013 | 6.1 | 7.2 | 18.0% |
| Lexus IS (2.5L) | Medium | 2013 | 4.7 | 5.8 | 23.4% |
| Lexus LS (5.0L) | Luxury | 2013 | 8.6 | 10.0 | 16.3% |
| Lexus RX (3.5L) | SUV | 2013 | 6.3 | 7.9 | 25.4% |
| Mitsubishi Outlander PHEV (2.0L) | SUV | 2014 | 1.9 | 4.2 | 121.1% |
Petrol and diesel vehicles
Class
Manufacturer
Model
Year*
Fuel
Engine
Transmission
2WD/4WD
NECD test (L/100km)
Which? test (L/100km)
Difference
Discrepancy
Small

53

Alfa Romeo
Giulietta
2014
petrol
1.4L
auto
2WD
5.1
6.6
1.5
29.4%
Small

52

Audi
A3 hatch
2013
diesel
1.6L
manual
2WD
3.8
4.4
0.6
15.8%
Luxury

51

Audi
A8
2014
diesel
3.0L
auto
4WD
5.9
6.1
0.2
3.4%
SUV

50

Audi
Q5
2014
diesel
3.0L
auto
4WD
6.4
7.1
0.7
10.9%
MPV

49

BMW
2 Series Active Tourer
2014
diesel
2.0L
auto
2WD
4.1
5.1
1.0
24.4%
Sports

48

BMW
2 Series Coupe
2014
petrol
2.0L
auto
2WD
6.0
6.9
0.9
15.0%
Sports

47

BMW
2 Series Coupe
2014
diesel
2.0L
auto
2WD
4.4
5.1
0.7
15.9%
Sports

46

BMW
4 Series Convertible
2014
petrol
2.0L
auto
2WD
6.6
7.6
1.0
15.2%
Sports

45

BMW
4 Series Coupe
2014
diesel
2.0L
auto
2WD
4.6
5.2
0.6
13.0%
Medium

44

BMW
4 Series Gran Coupe
2014
petrol
2.0L
auto
2WD
6.3
8.4
2.1
33.3%
Luxury

43

BMW
5 Series
2014
diesel
2.0L
auto
2WD
4.5
5.3
0.8
17.8%
Luxury

42

BMW
6 Series Gran Coupe
2013
diesel
3.0L
auto
2WD
5.6
6.6
1.0
17.9%
Luxury

41

BMW
7 Series
2013
diesel
3.0L
auto
2WD
5.6
6.3
0.7
12.5%
Luxury

40

BMW
7 Series
2013
petrol
4.0L
auto
2WD
7.9
8.3
0.4
5.1%
Sports

39

BMW
M4 Coupe
2014
petrol
3.0L
auto
2WD
8.3
8.9
0.6
7.2%
Sports

38

BMW
Z4
2014
petrol
2.0L
auto
2WD
6.8
7.5
0.7
10.3%
MPV

37

Citroen
C4 Grand Picasso
2014
diesel
2.0L
manual
2WD
4.2
4.9
0.7
16.7%
SUV

36

Ford
EcoSport
2014
petrol
1.0L
manual
2WD
5.4
6.6
1.2
22.2%
Light

35

Ford
Fiesta
2013
petrol
1.0L
manual
2WD
4.3
5.0
0.7
16.3%
Small

34

Honda
Civic hatch
2014
petrol
1.8L
manual
2WD
6.1
6.5
0.4
6.6%
SUV

33

Honda
CRV
2013
diesel
2.2L
manual
4WD
6.3
6.4
0.1
1.6%
Luxury

32

Infiniti
Q50
2014
hybrid
3.5L
auto
2WD
6.2
7.2
1.0
16.1%
Sports

31

Jaguar
F Type
2014
petrol
3.0L
auto
2WD
8.4
9.5
1.1
13.1%
SUV

30

Jeep
Grand Cherokee
2014
diesel
3.0L
auto
4WD
7.5
11.6
4.1
54.7%
SUV

29

Kia
Sorento
2013
diesel
2.2L
manual
4WD
5.9
7.2
1.3
22.0%
SUV

28

Land Rover
Range Rover
2013
diesel
4.4L
auto
4WD
8.7
9.5
0.8
9.2%
Small

27

Lexus
CT200h
2014
hybrid
1.8L
auto
2WD
4.1
5.0
0.9
22.0%
Luxury

26

Lexus
GS
2014
hybrid
2.5L
auto
2WD
4.7
5.9
1.2
25.5%
Luxury

25

Lexus
GS
2013
hybrid
3.5L
auto
2WD
6.1
7.2
1.1
18.0%
Medium

24

Lexus
IS
2013
hybrid
2.5L
auto
2WD
4.7
5.8
1.1
23.4%
Luxury

23

Lexus
LS
2013
hybrid
5.0L
auto
4WD
8.6
10.0
1.4
16.3%
SUV

22

Lexus
RX
2013
hybrid
3.5L
auto
4WD
6.3
7.9
1.6
25.4%
Luxury

21

Mercedes-Benz
CLS Shooting Brake
2013
diesel
2.1L
auto
2WD
5.3
5.8
0.5
9.4%
Sports

20

Mercedes-Benz
E-class Cabriolet (E 400)
2014
petrol
3.0L
auto
2WD
7.2
8.2
1.0
13.9%
SUV

19

Mercedes-Benz
GL
2013
diesel
3.0L
auto
4WD
8.0
9.0
1.0
12.5%
Luxury

18

Mercedes-Benz
S-class
2014
diesel
3.0L
auto
2WD
5.5
6.2
0.7
12.7%
Light

17

Mini
Hatchback
2014
petrol
1.5L
manual
2WD
4.5
5.2
0.7
15.6%
Small

16

Mini
Paceman
2013
petrol
1.6L
manual
2WD
6.1
6.6
0.5
8.2%
SUV

15

Mitsubishi
ASX
2014
diesel
2.2L
auto
4WD
5.8
6.4
0.6
10.3%
SUV

14

Mitsubishi
Outlander
2013
diesel
2.2L
manual
4WD
5.4
5.9
0.5
9.3%
SUV

13

Mitsubishi
Outlander
2014
diesel
2.2L
manual
4WD
5.4
5.9
0.5
9.3%
SUV

12

Mitsubishi
Outlander PHEV
2014
hybrid
2.0L
auto
4WD
1.9
4.2
2.3
121.1%
SUV

11

Nissan
X-Trail
2014
diesel
1.6L
manual
4WD
5.3
5.8
0.5
9.4%
Light

10

Peugeot
2008
2014
diesel
1.6L
manual
2WD
4.0
4.4
0.4
10.0%
Sports

9

Peugeot
RCZ
2014
petrol
1.6L
manual
2WD
6.3
6.8
0.5
7.9%
Sports

8

Porsche
911 Carerra Cabrio
2014
petrol
3.4L
auto
2WD
8.4
9.6
1.2
14.3%
Light

7

Renault
Captur
2013
petrol
1.2L
auto
2WD
5.4
6.4
1.0
18.5%
Light

6

Renault
Clio
2013
petrol
0.9L
manual
2WD
4.5
5.2
0.7
15.6%
Medium

5

Skoda
Octavia Wagon
2013
petrol
1.4L
manual
2WD
5.3
5.7
0.4
7.5%
Small

4

Skoda
Rapid Spaceback
2014
petrol
1.2L
manual
2WD
5.4
5.8
0.4
7.4%
SUV

3

Subaru
Forester
2014
diesel
2.0L
manual
4WD
5.9
6.8
0.9
15.3%
SUV

2

Suzuki
SX4 S Cross
2014
diesel
1.6L
manual
4WD
4.4
4.9
0.5
11.4%
Small

1

Volvo
S60
2014
diesel
2.0L
auto
2WD
4.2
4.9
0.7
16.7%
*UK models tested; stated fuel efficiency and model year may differ for the Australian market
---
Join the conversation

To share your thoughts or ask a question, visit the CHOICE Community forum.