Energy-efficient homes that save money
Whether you rent or buy, here are the easy ways to spot a property that guzzles electricity – or cuts your bills.
Spot the home that will save you money
---
Energy-efficient features in a home can cut energy bills by up to $1000 a year, but it's almost impossible to spot them when you're frantically navigating an open home with crowds of people.
Unlike buying a car where you can compare specs on fuel efficiency, or a washing machine with star ratings for water and energy efficiency, it's hard to know how much a property costs to keep the lights on and be comfortable to live in.
But when you're renting or buying a new home, it's worth finding out which property features will help you save on energy bills.
How much can an energy-efficient home save you?
Whether you're renting or buying, housing is the biggest expenditure you're likely to make. Household weekly expenditure on rent, rates and mortgage payments have risen from 12.8% in 1984 to 19.6% in 2015–2016, according to the ABS.
Energy costs have gone up too, with a 2017 ACCC report showing household electricity costs have increased 63% in real terms during the last decade.
With these twin pressures, any savings we can make when putting a roof over our heads are very welcome.
Taking a household in Victoria as an example, it seems we could be saving hundreds of dollars a year by living in an energy-efficient home.
According to Sustainability Victoria, the average Victorian household spends around $2800 on electricity and gas bills each year, with 32% of this on heating alone.
Environment Victoria has reported that an energy-efficient home can cut these costs by up to 40%, which would offer annual savings of up to $1000 for the average household.
Electricity savings also depend on the features of the home, and how the people operate within it.
What features can make a house more energy-efficient?
You can't rely on a real estate agent to tell you how energy-efficient a property is, and ACT is the only state where sellers and landlords have to supply an Energy Efficiency Rating.
So how do you know if the unit or house you're looking to buy or rent is going to cost you more in power bills than you'd like? Here's a DIY checklist of what to look for.
The building
Ceiling insulation
Wall insulation
Sealed wall cavities
Underfloor insulation
Draught sealing of windows and doors
Double glazing
External shading
Passive design features
Cross-ventilation to capture cool breezes, which can help you cool down your home.
Dense building materials like concrete floors or brick walls to help regulate internal temperatures.
In southern states, north-facing windows and living areas to catch daytime sun can help keep your house warm.
Eaves to protect windows from hot summer sun.
Smaller rooms and spaces, or the ability to close off areas and floors so they can be heated and cooled in isolation.
Heating and cooling
Split system, reverse cycle air conditioning and heating systems that have high energy-efficiency ratings.
Solar or heat pump hot water systems, or high efficiency rated gas hot water systems.
For more on heating and cooling, see our:
In the fittings
LED downlights, not halogen downlights
Compact fluorescent bulbs, not incandescent bulbs
Low-flow shower hose
Curtains with pelmets
Features to avoid
Large west-facing windows exposed to hot late afternoon summer sun.
Large living spaces that can't be closed off to heat and cool.
Ducted and old air conditioning systems are much more costly to run.
Electric hot water tanks as they're expensive to run.
How do I find out the energy rating of a house?
Unfortunately, unless you're in the ACT, there's no requirement for homes to be rated on their energy efficiency when it's up for sale or lease.
The ACT has the longest-running (since 1999) mandatory disclosure home energy efficiency rating system in the world. If you're about to sell a home in the ACT, you must have an accredited assessor do an Energy Efficiency Rating (EER) assessment, which is then made available to prospective buyers or renters.
A star rating between 0 and 10 stars is given as part of the EER assessment.
These assessments rate the thermal efficiency of the building envelope and are based on the National House Energy Rating Scheme.
Can my real estate agent tell me about energy-efficiency?
"There are very few real estate agents who are trained to market the energy efficiency and renewable energy features of a home, and discuss the benefits these features will bring to the home owner," says Dr Stephen White, CSIRO's Program Leader for the Cooperative Research Centre for Low Carbon Living.
On top of this, it can be difficult for a prospective renter or buyer to see – let alone verify – these features without paying for an assessment. Roof and wall insulation are hidden from view, and if there's no documentation you can't know how efficient the hot water heater or air conditioner may be, or if that really is double glazing on the windows.
When James Martin was looking at purchasing his current home, he couldn't get any valuable information on the existing solar PV system on the roof.
"When we bought our home in inner Newcastle, the fact that it had solar PV was a definite bonus to us. But the agent didn't seem to know anything about it, and I didn't even see any paperwork detailing its specifications until I was rifling through some drawers after we had moved in," he says.
"The agent didn't seem to recognise that solar was a desirable feature and therefore couldn't speak with any knowledge about it."
Finding an agent who can help
Steve Lambley is the sales director with Cunninghams real estate agency in Sydney's north. He's one of approximately 100 agents across Australia who have undertaken specialist training to be able to assess and market homes on their energy efficiency and 'Liveability' features through the Liveability Real Estate Framework.
The CSIRO program draws on research from the EnergyFit Home Project and teaches real estate agents to assess a home through 17 benchmarked property features – known as the Liveability Features – and explain them to prospective renters or buyers.
"As agents we want to be adding value for the prospective tenants and buyers by understanding the features of a home that offer lower running costs and more comfort," Lambey says.
"For example, cross ventilation is a free way of cooling your home if the orientation and openings of the home are right. North-facing windows in living areas will keep those spaces warm in winter," says Lambley.
The trained agents assess the property, at no cost to the buyer or renter, and use icons on the marketing material to clearly identify the 'Liveability' features.
Lambley says it's a reliable assessment. "We have to find proof – say of roof or wall insulation, or double glazing in a home. We need to have that validated by a specialist or a builder."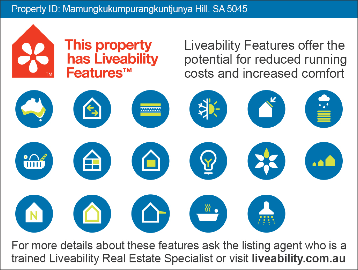 Look for Liveability Features in real estate marketing material to see energy efficiency and comfort features.
Rachel Lawrie is principal sales agent with Ray White in North Adelaide and has undertaken the training to deliver a better service to her clients.
"In South Australia we have extremely high power costs, so this is very important to tenants and buyers when they walk through the home," she says.
"I'm educating the buyer about the home – and they are willing to pay a bit more in rent or purchase price for a home if it has the potential to reduce their running costs."
"A renter may pay an extra $5 or $10 a week but they are fully aware of the Liveability features that are present in the house to support them to reduce their running costs."
Being able to market the Liveability features also works for vendors.
"I can't remember a home that was marketed with the Liveability Features that hasn't done slightly above the average for that home, for rental or sales," Lawrie says.
"It varies from suburb to suburb but anything from 3–15% higher."
The Liveability Real Estate training is compliant with guidelines from the ACCC about environmental claims and Australian Consumer Law, and has been endorsed by key organisations and industry bodies within the sustainable design, construction and assessment industries.
Buying or renting? What to ask your real estate agent
Ask for proof of insulation in the ceilings, floors and walls, solar PV, double glazing and other features
Ask your agent if they're trained under the Liveability Real Estate Framework
Ask to see 12 months worth of energy bills from the previous tenants (keeping in mind that different households will have different energy use profiles)
If you're prepared to spend money and have detailed house plans available, order an independent NatHERs energy efficiency rating.
The demand for energy-efficient homes
"No matter which way you survey people, they have a broad interest in this," says White, who oversees the EnergyFit Homes Project, which aims to unlock the value of energy-efficient homes for home buyers and renters by surveying them about what's important when making decisions to rent or buy.
"People are generally keen to play their part in saving the planet and saving money on their energy bills – and they especially want a comfortable home to live in," White says.
Comfort means a home that's naturally warm in winter and cool in summer – which is what an energy efficient home should be.
"But getting those combinations is not something the buyer can easily quantify at an open home, or the average real estate agent can tell you about," says White.
The ACT's EER system has been found to have an impact on the price of the home, showing that people do place a value on energy-saving features.
Georgia Warren-Myers is a lecturer in property and construction as well as a property valuer. She studied the effect of the EER system in the ACT on housing prices. The University of Melbourne study looked at 31,000 sales and 67,600 rental transactions from 2011–2016.
"We found that people paid a premium for homes that had higher EER ratings," she says.
"We also found that premium prices were paid for properties with features like solar PV systems, double glazing, insulation and solar hot water, which are not included in the EER assessments."
---
Join the conversation

To share your thoughts or ask a question, visit the CHOICE Community forum.