Energy Rating app review
The government's new smartphone app will help you put a cost to the kilowatt hours of your appliances.
App adds star power
---
The government's Energy Rating scheme, with its star labelling on regulated electrical appliances, is a good start to helping consumers choose energy-efficient appliances. And now the Department of Industry and Science has released an app that will tell you the power costs of a product over five years.
The Energy Rating app for iOS and Android smartphones covers all the currently energy labeled products, including:
How to use the app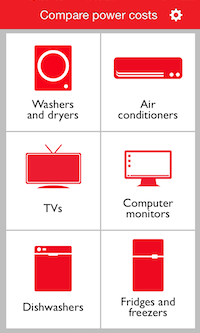 Energy Rating app home screen
Searching for a product
The Energy Rating app gives you a couple of ways to find a product and its associated energy costs.
The first step is to choose a category (for example, washers and dryers, or computer monitors). After that, you can search either by specific model, or choose one or two parameters to narrow down the selection in the category – the app will then return all the products within those parameters, listing them in order of lowest to highest running costs. It would be better, though, if the app combined those search functions, allowing you to search for a specific model within sub-categories.
Adjusting the cost of power
To calculate the energy costs of a product, the app uses a calculator that defaults to 27.23c/kWh over five years, but you can change the default in the settings to your local cost if you know it, or the state cost. You can also choose a cost if you go to the full website at energyrating.gov.au.
It's a little confusing that the energy app shows a cost per year when you click on "I know my model", whereas the label or web version shows a chosen default running cost. Some consistency here would be nice.
CHOICE verdict
Aside from these quirks, we're happy to see this being developed by the government so consumers can take advantage of quick access to data without having to invest a lot of time in ploughing through the large amount of registration data that manufacturers are required to enter.
We'd like to see this app developed so that consumers can just scan a product and have the cost shown on the screen if the label isn't displayed on the product in retailers. However, that would require all retailers to have the same product scan codes – a doubtful event. Until then, you'll need to tap in the model number or scroll through the long list to get the data on your desired product.
At CHOICE we're always interested in seeing more information made available for the consumer, but in an easy and digestible format. The release of the Energy Rating App is a great start.
---