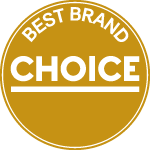 Which brand of vacuum should you buy? We've identified the best upright and barrel vacuum cleaner brand based on our test results and feedback from our members on satisfaction and reliability.
CHOICE Best Brand helps guide you when choosing a product – with the knowledge that not only has the brand performed well overall in our lab testing throughout the years, but it's also well regarded by CHOICE members for customer satisfaction and reliability.
Best Brand results are for CHOICE members only.
Our guide to buying the best vacuum is free and contains lots of great advice and tips.