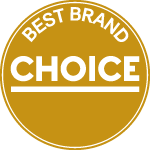 Which brand of dishwasher should you buy? We've identified the best of the bunch based on our test results and feedback from our members on satisfaction and reliability.
Best Brand results are for CHOICE members only. Our guide to buying the best dishwasher is free, and has lots of great information and advice.
CHOICE has tested around 300 dishwasher models over the past five years in our labs, and we've found which ones give consistently good results – and which ones are a bit hit and miss.
So which dishwasher brand is currently making great products, but also doing the right thing by their customers if something goes wrong?