The top five best and worst paper towels
Which paper towels performed the best – and worst – in our tests?
Throwing in the towel
---
Is there anything you can't do with paper towels?
Aside from wiping up spills, they're good for cleaning the BBQ, keeping herbs fresh, germinating seeds, seasoning cast iron pans and cooking bacon in the microwave, according to our CHOICE Community.
To do all this, they need to be absorbent, strong and puncture-resistant. We put 32 products to the test in our
paper towel reviews
.
Top performers
Quilton took out the top two spots in our paper towel reviews, but Viva was also a winner – we recommend all seven Viva products we tested.
The Viva products demonstrate that ply (the number of layers of paper) doesn't necessarily mean more absorbency. The Viva products are all one-ply, but they perform just as well as (if not better than) two-, three- and four-ply products.
While the two Quilton products are both sold under the 'Tuffy' name, they received quite different scores in our absorption and puncture test scores, suggesting that they may be manufactured differently.
There's a price difference between the two as well, so you'll need to weigh up whether unit price or performance is more important to you.
The five best paper towels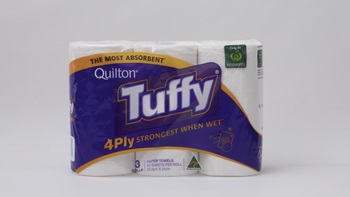 Quilton Tuffy (4 ply)
CHOICE score: 80%
Price: $2.39/100 sheets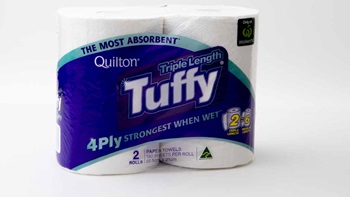 Quilton Tuffy triple length (4 ply)
CHOICE score: 77%
Price: $1.89/100 sheets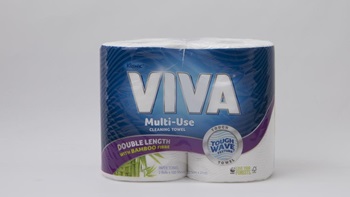 Viva Multi-Use Cleaning Towel double length with bamboo fibre (1 ply)
CHOICE score: 76%
Price: $2.48/100 sheets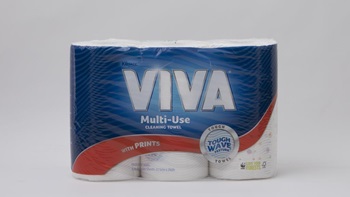 Viva Multi-Use Cleaning Towel with prints (1 ply)
CHOICE score: 76%
Price: $2.72/100 sheets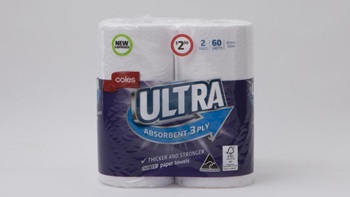 Coles Ultra Absorbent Paper Towels (3 ply)
CHOICE score: 75%
Price: $1.67/100 sheets
Worst performers
The worst-scoring paper towel was also the cheapest – Woolworths Homebrand Paper Towels (44%, $0.85 per 100 sheets).
But don't assume that paying more will get you a better product: the Handee Ultra paper towel costs $2.92 per 100 sheets, a whopping three-and-a-half times more than the Homebrand paper towel, and also scores poorly.
By comparison, some of the top performers were reasonably priced, like the Coles Ultra Absorbent product at just $1.67 per 100 sheets.
The five worst paper towels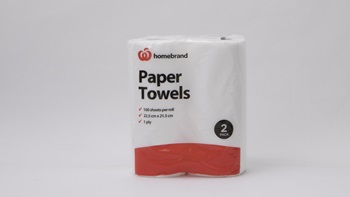 Woolworths Homebrand Paper Towels (1 ply)
CHOICE score: 44%
Price: $0.85/100 sheets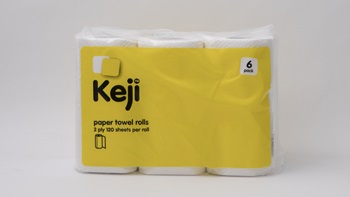 Keji Paper Towel Rolls (2 ply)
CHOICE score: 49%
Price: $1.24/100 sheets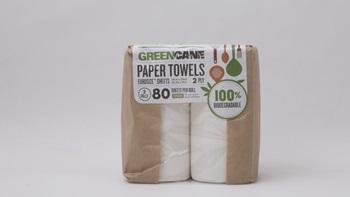 Greencane Paper Towels (2 ply)
CHOICE score: 50%
Price: $2.49/100 sheets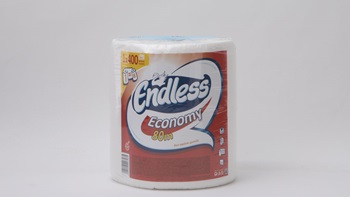 Endless Economy (2 ply)
CHOICE score: 53%
Price: $1.25/100 sheets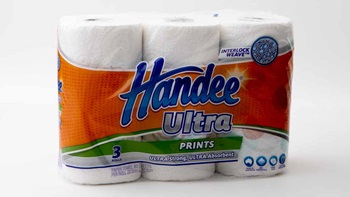 Handee Ultra (2 ply)
CHOICE score: 54%
Price: $2.92/100 sheets
Green but not clean
Paper towels made from recycled paper didn't fare particularly well in our tests (as with recycled toilet paper), but you might choose to sacrifice some performance for the environmental benefits.
And if you're thinking you can put paper towel in the recycling bin, unfortunately you can't.
You can, however, pop them in the compost if you've used them with dirt, water or plant-based food.
Paper towels used to mop up greasy spills or with harsh cleaning products need to go in the bin.
If the environmental impact is weighing on your mind, you could opt for better performing products that are packaged in recycled paper, or choose long-roll products.
"Long-roll products have only a little extra packaging compared to regular length products – so you'll get more paper towel relative to packaging," says Ashley Iredale, CHOICE's paper towel expert.
The overall score is made up of:
Absorption We test how much fluid the paper towel can absorb (60% of overall score).
Puncture We measure the strength of the paper towel by testing its resistance to puncturing (20% of overall score).
Separation We measure the ease of separating the paper towel at the perforation (10% of overall score).
Wet tear strength We test how much force is required to tear the paper towel when it's wet (10% of overall score).
For more information, see how we test paper towels.
---
Join the conversation

To share your thoughts or ask a question, visit the CHOICE Community forum.