Mattress retailers are gouging Australians, review finds
Savings of $1000 or more on ten of the mattresses reviewed.
---
Australians are paying up to $2600 more than they need to for a mattress, a CHOICE review of 22 innerspring models has found, highlighting how retailers are gouging shoppers with inflated prices.
CHOICE bought the 22 queen-sized mattresses for its first inner-spring mattress review in more than two decades. The mattresses were purchased by a professional buyer – who posed as an ordinary customer renovating their home – from a mix of seven big-brand retailers.
The buyer, who was aware of the sales practices used in the industry from a CHOICE investigation a year earlier, managed to negotiate discounts of 43% on average, illustrating just how heavily manufacturers and retailers pad their profit margins.
Eleven of the mattresses we tested were bought for at least half price.
A Sealy Metro Series Loft advertised for $1399 was bought for $450 – that's 68% less than the recommended retail price.
A SleepMaker Miracoil Armadale priced at $2099 was negotiated down to $850, while a Sealy Posturepedic Aspire Revive priced at $2799 was bought for $1149.
And a $6000 Tempur Lucerne Hybrid was discounted to $3399 – that's 43% less than advertised.
But most shoppers struggle to navigate the deliberately confusing industry and will end up paying sticker price.
The undercover buyer had worked on the earlier investigation that uncovered how retailers and manufacturers prop up mattress prices.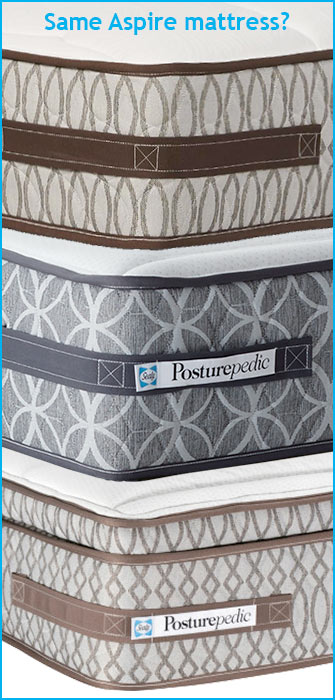 Sealy's Aspire mattress as sold by Snooze, Harvey Norman and David Jones
The CHOICE investigation found manufacturers sell the same mattress branded as an exclusive to each retailer, in a move that undermines competition by making it difficult to price compare between stores. Manufacturers and retailers do this by selling the same mattress to each retailer under a different name and wrapped in materials adorning exclusive patterns and designs.
The same Sealy Aspire mattress, for instance, is sold by Snooze as the 'Sealy Posturepedic Swan', by Harvey Norman as the 'Sealy Posturepedic Aspire Vogue Deluxe Queen Mattress' and by David Jones as the 'Sealy Aberdeen Firm Plush Mattress'. Unsuspecting customers wouldn't be able to tell these mattresses are effectively the same, and this robs them of their power to pit each store's deal against one another.
The buyer managed to bargain with bedding retailers by following a few steps: none of the mattresses were bought online because greater discounts are available in retail stores, and they learned the model of each mattress from manufacturer websites to help circumvent the jargon names each retailer uses exclusively.
The mattresses featured in the review were bought between May and June 2017 from a variety of stores in NSW, including Domayne, Fantastic Furniture, Forty Winks, Freedom, Harvey Norman, Ikea and Snooze. The full list of mattresses tested follows, detailing the advertised price and the price paid by CHOICE's undercover buyer.
Mattress recommended price vs price paid:
read an accessible text-only version of this infographic
.
Read more
---