How we test fitness trackers
Comfort, accuracy and ease of use – these are things we look for when testing fitness trackers.
Counting your steps has never been easier
---
Our test staff have over a couple of decades' testing experience. But whatever our experience is, it's you, our members, who guide how we test. So for example, when people start feeling that having a heart rate monitor is part of a fitness tracker, we test that too.
Our expert testers
With decades of experience in our laboratories, we're proud of our expert testers. They've seen all kinds of features and builds of products come through the labs. So they know that while fitness trackers are relatively new on the market, these devices still need to be accurate and easy to use. We focus on the basics so that when it's time to buy, you can be sure they work well.
How we choose what we test
Why do we choose one fitness tracker over another? There are a number of reasons, but our priority is to test what you'll see in the shops. That means sometimes we might not cover the one brand that has one model that's only sold 100 samples in Australia, and instead focus on the big brand models that you'll most likely see in the shops.
How do we know what's in shops? We ask manufacturers and check current market figures to see what's selling well. We'll also include models that you've requested; if a lot of members want it, we're going to test it.
When we know what you want, our buyers go out and buy the fitness trackers from a variety of retailers, then bring them in as-is – this means we get what you'd get, so we can be sure the results are what you'll find, and not 'tweaked' any way.
How often we test
We test fitness trackers in batches of up to 12, usually once or twice a year. New models are released frequently as manufacturers keep trying to outdo one another. Usually we see a few market leaders keep their products in the market for a year or so, some a couple of years. We expect to see this quick turnover happen over the next few years until most manufacturers hit on the perfect combination of features.
How we test
Ease of use: We test each fitness tracker on Android and iOS. While we look at Windows mobile where available this option is becoming less relevant. We than score how easy it is to set up and wear, and to track on-the-go information via the band and its interfaces.
Performance: We measure paces and distance with a calibrated tracking tool, and then measure this against what the fitness tracker displays.
Comfort: A panel of 10, split between five men and five women, try on each fitness tracker and assign them scores based on how easy they are to put on, adjust and wear. The trackers in the test are medium-sized, where applicable.
Kids bands: These are tested under the same conditions as adult bands, using pre-teen and teenage triallists.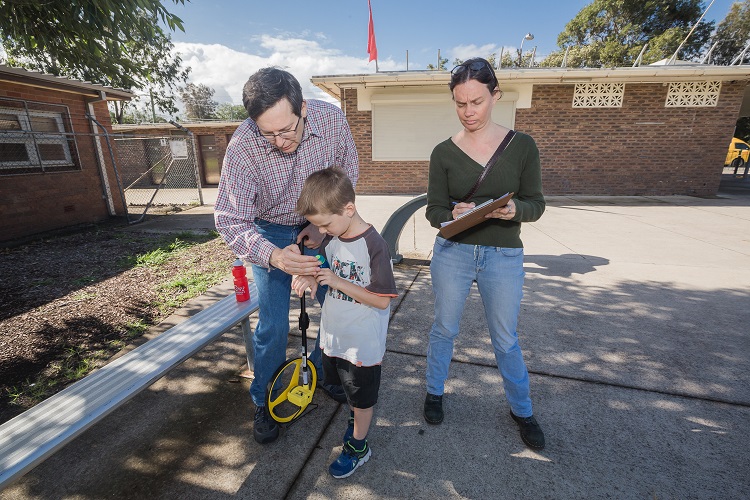 Putting kids fitness trackers through their paces.
Heart rate monitors: Two tests are performed on the heart monitor:
Resting heart rate: We measure the resting heart rate of six people using each of the fitness trackers and a medical grade heart monitor, the GE Healthcare Carescape V100, Dinamap V100 or Dinamap V150 (these record data using the same hardware and software. Newer models have a touch screen and data export). A score is then calculated based on the fitness tracker's accuracy.
Active heart rate: Athletes at the Sports Chamber at the University of Sydney exercise on a treadmill wearing one of the fitness trackers. A 12-lead ECG provides a real time reading of their heart rate, which is then compared to the readings of the fitness tracker. Readings of both are taken at 10-second intervals in the first minute, one-minute intervals for five minutes, and then at 10-second intervals during the last minute of cooling down.
For a detailed breakdown on heart rate monitor results, check out our article on what we found during the test.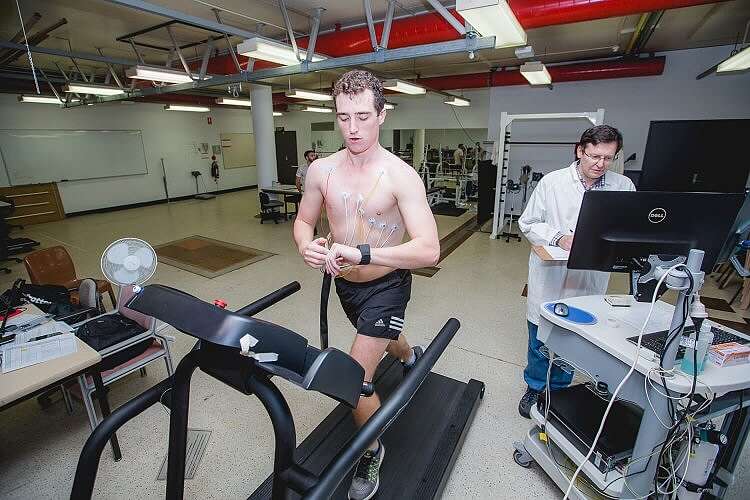 Testing heart rate monitor accuracy at the University of Sydney.
Pedometer and distance accuracy
We assess these features for their effectiveness and accuracy:
Step count accuracy: The pedometer will measure your steps, though accuracy will vary depending on what you put in as your height, weight and, in some cases, pace length, and the technology used in the development of the device.
Distance accuracy: The pedometer and GPS/GLONASS (if available) will measure your distance travelled though accuracy will vary depending on what you put in as your height, weight and, in some cases, pace length, and the technology used in the development of the device. Devices that support GPS and GLONASS should deliver the fastest position identification.
Test criteria explained
Overall score
The overall score (see our fitness tracker review) is a combination of the comfort, ease of use and accuracy scores:
Comfort score (35%)
Ease of use score (30%)
Pedometer accuracy score (17.5%)
Distance accuracy score (17.5%)
Resting and active heart rate accuracy do not contribute to the overall score, as these features are only available in a handful of tested models.
Our test lab
We maintain a lab that is up to date with the latest reference machines and calibrated measurement tools for our testers to bring you the right results.
Ready to buy?
See our latest fitness tracker reviews.
---
Join the conversation

To share your thoughts or ask a question, visit the CHOICE Community forum.