Which coffee pods taste tested best?
We compare Nespresso-compatible coffee pods.
Which coffee capsule is king?
---
We put 12 different Nespresso-compatible coffee pod brands to the test to see which tastes best and which offers the best value for money.
In this article:
The results
Some capsules were considered to be better than others, but overall the scores they received in our blind taste test were merely OK, at best.
Nespresso Arpeggio (69c per capsule) achieved the top score (65%), with comments from our tasters such as "Pretty good", "Nice well-rounded mouthfeel. Pleasant, lingering aftertaste" and "Not the best looking espresso, but aroma and flavour elevated this to being somewhat of a standout in this line-up."
Capsules from the supermarket are more readily available, but for the most part our tasters found them weak, watery or lacking in flavour.
The cheapest product in our test, POD a-licious Intense (33c per capsule), scored 50%. But paying top dollar didn't guarantee a better coffee, with Lavazza Espresso Deciso and Vittoria Espresso – both 70c per capsule – scoring 50% and 40% respectively.
For full results see the table below.
How strong is capsule coffee?
For fans of a strong espresso, capsule coffee can be insipid – even if you choose one with an intensity rating at the higher end. This could be due to the amount of coffee they contain: the stated weight of coffee in the capsules we looked at ranges from 5g to 5.6g, while the traditional amount in an espresso is 7g. Baristas commonly serve up an 11g regular espresso or a 22g double shot.
How we test
We invited three coffee experts to taste test capsule coffee made in a DeLonghi Nespresso Citiz & Milk machine. The tasters blind-sampled a shot made from a Nespresso capsule and 11 different Nespresso-compatible capsules bought in supermarkets. For comparison, we also included a shot made on a manual espresso machine from freshly ground coffee beans.
Each shot was assessed for crema thickness and colour, aroma, flavour, mouth feel and aftertaste and given an overall score, which was converted to a percentage and rounded to the nearest 5%.
Meet the tasters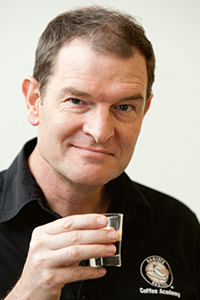 David Gee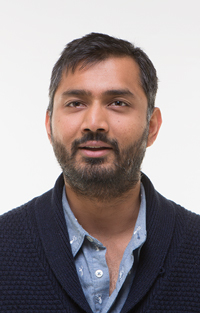 Anee Sampath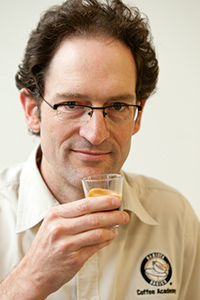 Matthew Gee
Assessing each shot of coffee in this taste test were brothers David and Matthew Gee, principals of Barista Basics Coffee Academy, as well as Anee Sampath, founder of BeanCraft coffee roasters. We regularly rely on the expert palates of this experienced tasting panel to put coffee machines through their paces in our tests.
Machine and capsule compatibility
As the vigorous discussions on online forums demonstrate, working out which capsules fit which machines can be very confusing. For instance, the Aldi Expressi accepts Map and Woolworths Select capsules, but Aldi capsules don't work with the Map or the Woolworths Caffitaly machines.
Not just Nespresso
Nestlé registered a formidable 1700 patents to cover its Nespresso capsules and machinery early on, and claimed that if a non-Nespresso-branded capsule damaged the machine or caused a malfunction the machine's warranty wouldn't be valid. But in 2014 Nespresso was called out on this by France's antitrust authorities with the result that it extended the guarantee on its single-serving coffee machines to customers who use non-Nespresso pods and removed the warning on its capsules and machines.
Now you'll see a proliferation of brands emblazoned with 'Compatible with Nespresso coffee machines', offering serious competition through convenience and price.
Where to buy
To buy Nespresso capsules online a customer must join the Nespresso Club; otherwise, non-members can purchase capsules at one of the 19 boutiques around Australia. The price per capsule may work out to be 69c, but the minimum online order is 50 capsules, and unless you order more than 200 capsules, you'll pay a delivery fee, starting at $6 for 50 capsules.
In comparison, we readily found 11 Nespresso-compatible capsule brands in Sydney supermarkets for as little as 33c each. And many more Nespresso-compatible capsules can also be purchased online.
If you don't like your barista's coffee you can go to a different cafe, but once you've bought a coffee capsule machine you're stuck with the flavours and brands compatible with it. There are multiple machine and capsule brands jostling for a foothold in the lucrative coffee market, but the Nespresso system (which includes machines from brands DeLonghi and Breville) still has a lion's share of the market, which is why we focused on Nespresso-compatible capsules for this test.
The cost of capsule convenience
Cost to the hip pocket
The attraction of coffee capsules is convenience, consistency of taste, and cost. Compared to the high cost of a café-made espresso a capsule is cheap – the ones in our test range from just 33c for POD a-licious to 70c each for Lavazza and Vittoria.
You'll pay a lot less per kilogram for your coffee if you make it at home on a manual coffee machine. For example, Lavazza Qualita Oro coffee beans and ground coffee cost around $30/kg but its coffee capsules work out at about $140/kg.
Cost to the environment
The cardboard boxes that the capsules are packaged in are recyclable – no surprises there – but the capsules themselves leave a much bigger environmental footprint. For a start, aluminium (which Nespresso and some other brands of capsules are made from) is an energy-hungry product, requiring nine times more energy to manufacture than steel.
In Australia, customers are advised they can recycle Nespresso capsules by returning them to a Nespresso boutique, dropping them off at a participating collection point or posting them back to Nespresso using a special Australia Post satchel, but it's not clear what proportion are actually being recycled.
Coffee capsules, many of which are mostly plastic rather than aluminium, generally can't be thrown into domestic recycling bins. They're too small for the machines at recycling plants to separate from other rubbish and simply drop through sieves into general waste.
And while there are some brands that claim their pods are biodegradable, this is only in industrial (not household) compost conditions.
Results table
We tested 12 Nespresso-compatible coffee capsule products, ranging in price from 33c to 70c per capsule. We've listed them below in alphabetical order. To order by another criteria, simply click on the column headings. We've looked for some retailers and linked them to the name of each cup.
| Brand/product name | Pack image | Taste test score (%) | Price ($)* | Capsules/packet | Price/capsule ($) |
| --- | --- | --- | --- | --- | --- |
| Nespresso Arpeggio (Intensity 9) | | 65 | 6.90 | 10 | 0.69 |
| Woolworths Intense (Intensity 12) | | 60 | 3.70 | 10 | 0.37 |
| Chicco D'oro Espresso | | 55 | 4.49 | 10 | 0.45 |
| Coles Strong (Intensity 10) | | 50 | 3.70 | 10 | 0.37 |
| Lavazza Espresso Deciso (Intensita 10) | | 50 | 7.00 | 10 | 0.70 |
| L'OR Espresso Espresso Supremo (Intensity 10) | | 50 | 6.00 | 10 | 0.60 |
| Caffe Aurora Prima Qualita | | 45 | 5.99 | 10 | 0.60 |
| Republica New York Dark & Rich (Intensity 11) | | 45 | 5.00 | 10 | 0.50 |
| Café Royal Espresso Forte (Intensity 8) | | 40 | 6.50 | 10 | 0.65 |
| POD a-licious Intense (Intensity 12) | | 40 | 5.99 | 18 | 0.33 |
| Vittoria Espresso | | 40 | 7.00 | 10 | 0.70 |
| Grinders Arabica (Intensity 10) | | 35 | 6.50 | 10 | 0.65 |
*Prices are from October 2017.
More coffee reviews
Shopping links on the CHOICE website
CHOICE is an independent, non-profit organisation dedicated to helping consumers. Clicking a link will take you to a retailer's website to shop. While we make money if you buy through some retailer links, this doesn't influence any of our rankings. 100% of the money we make goes straight back into our non profit mission. We're currently testing this service and will consider providing more shopping links in the future. Tell us what you think.
---