The big cheese taste test
Which supermarket aged cheddar tastes best?
A good vintage
---
We taste tested 18 aged cheddars nationally available through supermarkets, from brands including Bega, Warrnambool and Mainland, to see which cheese is top for taste.
In this article:
Cheddar in Australia
Australians love their cheese. Last year 260,000 tonnes of it was sold within Australia – the majority through supermarkets – which works out at almost 14kg per person, according to Dairy Australia. And despite a gradual decline in sales over recent years, almost 55% of the cheese we eat is cheddar.
Some might consider cheddar to be a tad pedestrian, conjuring up images of sliced white cheese sandwiches in a school lunchbox, or cheese cubes on a platter at a work conference buffet lunch. But not only is it versatile – think cheese scones, macaroni cheese, melted cheese on toast or grated for a gratin – a good vintage cheddar holds its own on a specialty cheese platter.
You often pay a premium for the 'vintage' or 'mature' label, which seems reasonable given that – in theory – you're getting a premium cheese that has been allowed time for complex, lasting flavours to develop. So to find the cheddars worth paying the premium for, our panel of expert judges sniffed, prodded and chewed their way through 18 mature and vintage supermarket cheddars. They judged each cheese on its flavour, aroma, texture and appearance, looking for cheese with a sweet, milky flavour, a good balance of salt and acid, a texture that's firm, close and slightly crumbly, and a lingering aftertaste. See How we test for details.
Recommended cheddars
While there were many delicious cheeses on test, the following four products topped the rest, achieving overall scores of more than 80%.
Mainland Vintage Aged up to 24 Months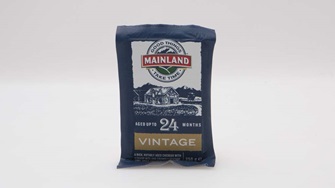 Score: 88% ($18.00 per kg)

Tasting notes: An excellent vintage cheese. Clean acid profile with balanced cheesy notes and salt. Long finish, great complexity. Great texture – good resistance and distribution of crystals. Nice crunch in the paste.
Cracker Barrel The Vintage Cheddar Special Reserve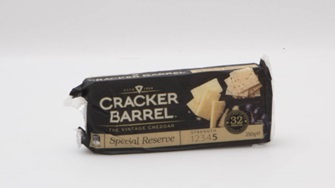 Score: 87% ($20.00 per kg)

Tasting notes: Good presentation with great vintage texture – good resistance and lovely small crystals – showing real age. A delicious, strong flavour, savoury and nutty. Strong acid but well balanced, with a pleasant astringent pull on tongue.
Mainland Epicure Aged up to 36 Months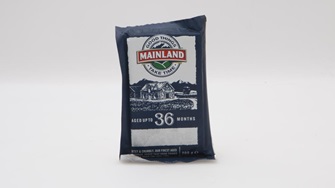 Score: 84% ($24.00 per kg)

Tasting notes: Good crumbly mature cheese, great vintage texture with nice bursts of flavour from crunchy crystals, slightly sharp acid but clean, fruity flavour with reasonably long finish. A 'bitey' cheddar.
Emporium Selection (Aldi) 20 Month Aged Cheddar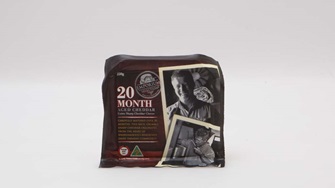 Score: 81% ($15.96 per kg)

Tasting notes: Good texture – dense and slightly crumbly with a slight crunch of evenly dispersed crystals. Milder vintage flavour, with good acid and salt balance.
Find out how the other cheeses on test scored in our table.
Is it mature, aged or vintage?
Terms such as 'mild', 'mature', and 'vintage' are frequently used on packs of cheddar, but what do they actually mean?
Dairy Australia classifies cheddar as mild (matures for one to three months), semi-matured (matures for three to six months), matured or tasty (matures for six to 12 months) and vintage (matures for 12 to 24 months). But according to our experts, these definitions aren't strictly adhered to.
Some manufacturers use pack colour to indicate age – generally you'll find 'mature' cheddars in a red pack, and 'vintage' cheddars in black. And some provide a strength indicator with a lower number indicating a mild (or young) cheese, and a higher number indicating vintage. But these systems are really only useful for comparing products within a brand, as the age represented by each colour and the strength number scales aren't consistent between brands.
Cheddar cheats?
To make cheese, two important ingredients are added to milk: cultures (special bacteria that convert the milk lactose to lactic acid) and enzymes (rennet). Depending on the desired outcome, the resulting cheese can be left to mature. The species and strains of bacteria used in the starter culture can affect the texture and flavour of the matured cheese.
Our experts told us that some manufacturers use different adjunct cultures to enhance cheddar flavours in a shorter period of time. But while a more mature flavour can be manipulated, an aged cheddar texture can't be faked – crunchy calcium lactate crystals in the body of the cheese, a typical feature of aged cheddars, only start to appear after long periods of maturation.
And not all cheddars are the real deal. Some are what's known as 'club' — made by milling one or more cheddars and forming them back into a block under pressure. Club cheddars have a smooth, creamy texture, very different from that of traditional cheddar, and some have flavours (such as onion or pepper) added to them.
Our experts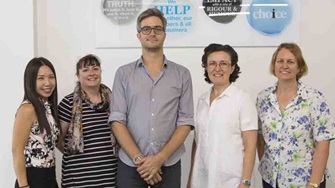 (Left to right) Petra Sugiarto, Penny Lawson, Hugh Nicholas, Sonia Cousins, Tiffany Beer
Petra Sugiarto has an academic background in food technology and microbiology and has been working in the dairy industry for 17 years. For the last 12 years she has been on the judging panels of state dairy products competitions including Dairy Industry Association of Australia NSW and VIC competitions, the Sydney Royal Cheese & Dairy Produce Show and for Dairy Australia's Australian Grand Dairy Awards.
Penny Lawson is a self-diagnosed "curd nerd", with 20 years' experience in the food industry, including dairy judging at Royal Agricultural Society produce competitions in Sydney and Melbourne. She has been at the forefront of the specialty cheese sector as a retailer and commentator and is a passionate supporter and promoter of Australian producers. You can find her working with cheese at Danks Street Cheese Affineurs, Waterloo.
Hugh Nicholas is the owner of - and cheesemonger at - Cheese etc., a Sydney-based cheese retail, events and catering business. He is trained in sensory evaluation and judging of cheese and has been both an associate judge and judge for the Sydney Royal Cheese & Dairy Produce Show.
Sonia Cousins has worked as a cheesemonger for more than 12 years. As well as judging regularly at cheese shows in Australia (and occasionally overseas), she runs a cheese education and consulting business called Cheese The Day, which presents cheese appreciation classes for the public, and workshops covering cheese sensory evaluation for industry professionals.
Tiffany Beer is a consultant food technologist who works in food safety and compliance. She is passionate about good food and is a dairy products judge and associate cheese judge for the Sydney Royal Cheese & Dairy Produce Show and dairy products judge for the Australian Grand Dairy Awards.
How we test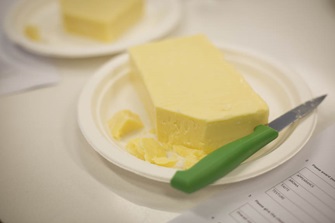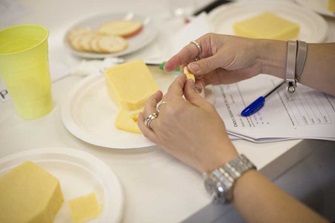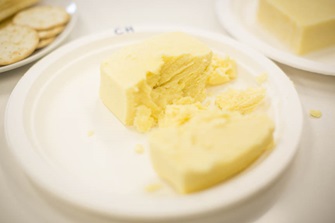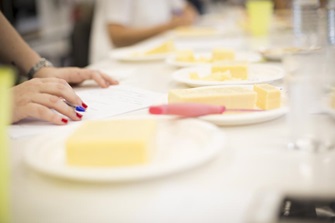 Products We included pre-packed cheddars described as vintage/mature/aged cheddar available nationally in at least one of the major supermarket chains. Where a brand has multiple products that meet the above criteria, we selected the most premium cheddar(s) from their range (as determined by price and/or number of months aged/claimed 'premium-ness' and/or its most widely available/popular).
Tasting The experts tasted the cheeses blind (without knowing the brands) in a randomised order, which was different for each expert.
Scores Experts independently judged all 18 cheeses, giving a score out of 10 for each of the following criteria: flavour, aroma, texture and appearance. The overall score is the weighted average of these scores (taste 50%, aroma 20%, texture 20%, appearance 10%).
Cheddar cheese product comparison
We tested 18 supermarket cheddars, ranging in price from just under $14/kg to more than $50/kg. We've listed them below in alphabetical order. To order by another criteria, simply click on the column headings.
Brand/product name
Pack image
Score*
Price/kg ($)**
Maturation time
Strength rating/
statement
Country of origin
statement
Rennet is
non-animal***
Contains added
preservatives?
Mainland Vintage Aged up to 24 Months


88
18.00
Aged up to 24 months
ns
Packed in Australia from New Zealand cheese
ns
no
Cracker Barrel The Vintage Cheddar Special Reserve
87
20.00
Matured up to 32 months
Strength = 5 (on a scale of 1 to 5)
Made in Australia
yes
no
Mainland Epicure Aged up to 36 Months
84
24.00
Aged up to 36 months
ns
Packed in Australia from New Zealand cheese
ns
no
Emporium Selection (Aldi) 20 Month Aged Cheddar Extra Sharp Cheddar Cheese
81
15.96
20 month aged cheddar
Strength = 5 [on a scale of 1 (extra mild) to 6 (intense)]
Made in Australia
yes
no
Great Ocean Road Vintage Cheddar
79
13.60
Aged to perfection
ns
Product of Australia
yes
no
Warrnambool Heritage Vintage Cheddar
79
22.76
Matured up to 16 months
ns
Product of Australia
yes
no
Premier Selection Grand Reserve Cheddar
78
40.00
Typically matured for 18 months
ns
Product of the UK or Ireland, Packed in Australia
yes
no
Collier's Powerful Welsh Cheddar
77
40.00
Aged
ns
Product of Wales
yes
no
Coles Australian Vintage Cheddar
76
14.00
ns
Strength = 5 [on a scale of 1 (very mild) to 6 (vintage)]
Made in Australia from at least 97% Australian ingredients with Australian milk
yes
no
Bega Strong & Bitey Vintage
75
24.00
ns
ns
Product of Australia
yes
no
Devondale Our Special Vintage Matured One
73
20.27
ns
ns
Made in Australia
yes
no
King Island Dairy Surprise Bay Cheddar
72
51.71
Matured over 12 months
ns
Made in Australia
ns
no
Barber's 1833 Vintage Reserve Cheddar
69
36.84
Aged for 24 months
ns
Product of the UK
yes
no
Maffra Cheese Co Mature Cheddar
69
40.00
Mature
ns
Made in Australia
yes
no
The Original Dorset Drum Aged Cheddar Cheese
68
34.95
Aged
ns
Product of England
ns
no
Mersey Valley Original Club Cheddar Vintage Sharp & Crumbly
64
31.70
ns
Milder cheddar flavour
Made in Australia
ns
yes (202, 221)
Ashgrove Aged Full Flavoured Vintage Cheddar
60
37.50
Aged
Strong
Product of Australia
yes
no
South Cape Vintage Club Cheddar
60
42.86
ns
ns
Made in Australia
ns
yes (202)
Table notes
ns not specified
*Score based on Taste 50%, Aroma 20%, Texture 20%, Appearance 10%
**Price based on price paid in Sydney in March 2017.
***Rennet enzymes were traditionally extracted from the stomachs of newborn calves, but non-animal microbial rennet, which is suitable for vegetarians, is now commonly used.
Vintage cheddar cheese scone recipe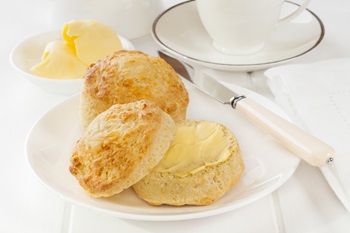 Home economist Fiona Mair tests ovens for CHOICE each year and in the process bakes approximately 1500 scones using this simple recipe. Now that's what we call tried and tested!
The addition of vintage cheddar cheese simply elevates the scones to a new level.
Makes approx. 20 scones
Ingredients
500g self-raising flour

Pinch salt

Pinch

cayenne pepper

90g

butter

, cut into cubes and slightly softened
150g

vintage cheddar cheese

, grated
300 – 350mL

milk
Method
Preheat oven to 230°C (210°C fan-forced).
In a large bowl combine flour, salt and cayenne pepper.
Add butter and rub into flour using fingertips until mixture resembles fine breadcrumbs.
Add cheese and milk and use a butter knife to mix together lightly to form a soft dough.
Turn out onto a floured surface and use fingertips to gently knead the dough for 20 – 30 seconds.
Roll to 2cm thickness, cut into 6cm rounds and place onto a greased scone tray approx. 2cm apart. Repeat until dough is used up.
Brush with milk, sprinkle with extra grated cheese then bake on middle shelf of oven for approx. 12 minutes, or until browned.
Serve warm with lashings of butter.
---
Join the conversation

To share your thoughts or ask a question, visit the CHOICE Community forum.